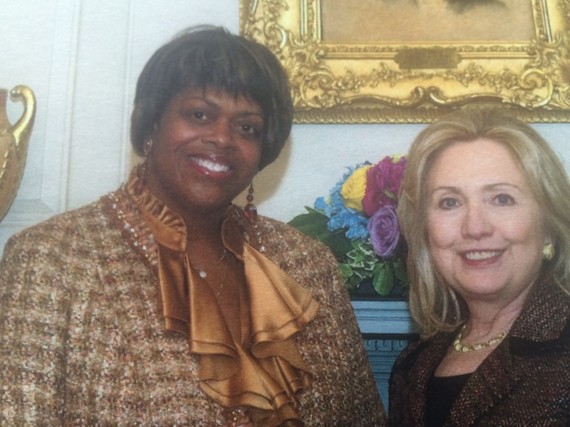 I'm with her!!!! Hillary Clinton becomes the first woman nominated on a major party ticket!!!
Today, we are still feeling the power. The place is pumped. The DNC has a new woman at the helm, Donna Brazile, and the Democratic Party is on "fiya". Hillary Clinton has become the first woman nominated by a major party, to be President of the United States of America. Hugs, high fives, kisses, tears of joy, all of the above, were exchanged . Yes, we are living to see it in Our lifetime. And I have to give it to Bernie Sanders. He conceded with class, and now the Democratic Party can move forward with unity.
I had the privilege and honor of attending and participating in the opening day of this historic Democratic National Convention. This was my fifth time attending, from doing the opening prayer for President Bill Clinton in l992, to speaking on the "One America Initiative" on the stage for Al Gore, in 2000, to being in Denver, in 2008, standing next to and WITH Hillary Clinton, as a candidate, to NOW, being a commentator with CNN at the convention where the first female in American history will be nominated for President of the United States. And it will be Hillary Clinton.
I've had the pleasure and privilege to work with her, and know her, from her time as First Lady of the USA, when I served with President Clinton as a Domestic Policy Advisor, to helping her become US Senator, and being at my church where I was then pastor, the last Sunday before the election, to walking and praying her through the Denver DNC, to serving with and being nominated by her as a US Ambassador, and traveling with her, at the U.S. Dept of State.
My day began at 5 a.m. as I went to the set of CNN, for the "live" conversation on the Carol Costello show. How ironic is life, that I sat next to Stephanie Schrock, head of Emily's List, who'd help me begin my own campaign for Congress. Although I did not win that race, just three weeks ago, I now know more than ever the importance of supporting women who have the courage to run for public office.
Prior to and after the show, there was breakfast and a reception for contributors/pundits and others, and in walked Donna Brazile, who is now assuming the leadership of the DNC. I saw the strength, coupled with humility and "Fight" power, of this activist sister leader who is ready, willing and ABLE to lead.
So many were trying to focus on Debbie Wasserman Schultz's exit, as a distraction, but none of us let that be the news, nor dominate the conversation. We focused on Moving forward, and helping a Woman Win!!!
The day was filled and sprinkled with events, from the Eleanor Roosevelt's Legacy Committee's reception, where they honored women leaders in politics in New York State, to the Faith Caucus for the DNC, to sitting in the Wells Fargo Center, and being present at the convention with the thousands of supporters., and hearing speaker after speaker who endorsed Hillary Clinton.
The highlights of the evening for me, were Senator Corey Booker's "America, we will rise!" and Michelle Obama's I'M WITH HER" speech.
Black, white, Asian, Latino, Caribbeans, Evangelicals, - Americans from all walks of life- packed the room. It was electrified! It was CHARGED!!
We are ready! We are going to help elect Hillary Rodham Clinton as the first WOMAN president of the United States of America!!!
We're not only making History; we're telling HERSTORY!!!
And tonight will be Bill Clinton's moment to share about the woman he knows, his spouse, who just might get the first female President.
I can't WAIT to be in the room when she accepts the nomination on Thursday evening! I'm WITH HER!!!!
Thank you Hillary Clinton!!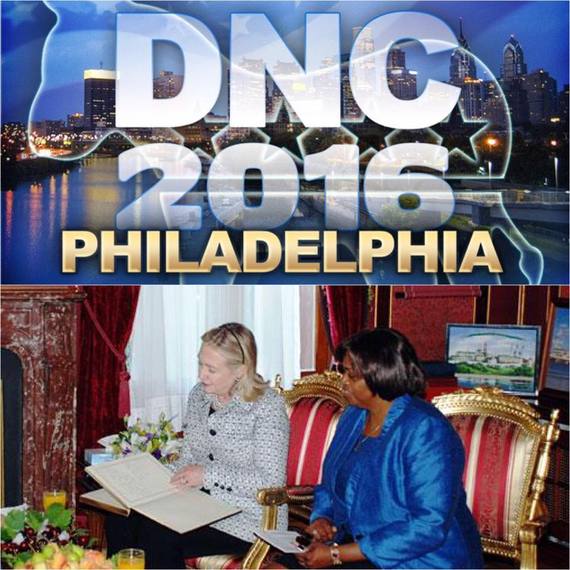 Ambassador Suzan Johnson Cook, nominated by Hillary Clinton and appointed by President Barack Obama, as the first female and first African American US Ambassador at large for International Religious Freedom, is a Huff Post Columnist, and a frequent contributor to CNN, MSNBC and other media; a Union Theological Seminary Scholar/activist Fellow, and the leader of the PRO VOICE/PRO VOZ Movement for Women Leaders, that helps Black and Latina women leaders come together, build bridges ,gain access ,and a seat at the "table" She can be reached at :ProVoiceMovement@gmail.com
Calling all HuffPost superfans!
Sign up for membership to become a founding member and help shape HuffPost's next chapter