I have not always been a fan of Hillary Clinton. I grew up in a very Republican county in upstate New York, where I absorbed the language and posturing of those around me in a tiny farm town in the midst of Hillary's Senate campaign. The hatred, the vitriol, the ugliness lobber towards her, it was all quite normal within and across the many homes planting "Lazio For Senate" signs on their front lawns.
By that point in my life, I had been involved in the world of public health for quite some time, helping to initiate and finalize a grant proposal for a group called the Delaware County Ash Kickers, an anti-smoking group, and rising to serve on Governor Pataki's Adolescent Tobacco Use and Prevention Advisory Council, as the only youth voice on the committee.
At the national level, I worked hard to empower youth to take on the tobacco industry directly, via my work at the American Legacy Foundation in D.C. Along with a handful of other young activists, I was to be honored in New York for my work in public health. The keynote speaker was set to be Senator Clinton.
I was still feeling the grip of my Republican upbringing, and complained about having to meet Senator Clinton to anyone who would listen. But in the green room, Senator Clinton hugged me, and said simply, "Thank you. I am so proud of you, and the work you have done."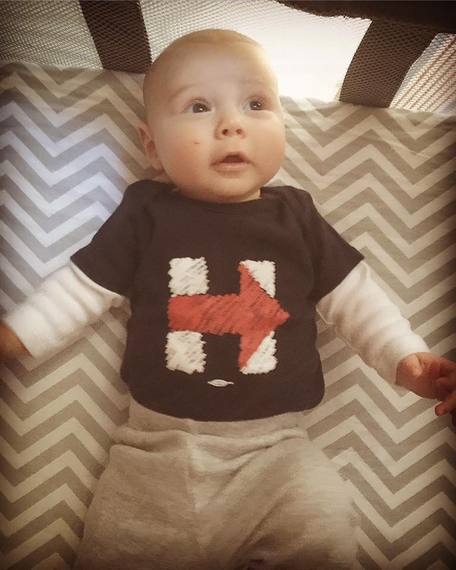 With college came the awareness that maybe I wasn't actually a Republican after all. As I learned more about myself, my positions, the issues that mattered most to me, I realized how much I had in common with Hillary Clinton, and how many of our policy positions were completely aligned. And on the issues where we did not have total agreement, I reminded myself of something: There is no perfect politician, with whom I will forever be in lockstep.
I blame my 10th grade U.S. History teacher, Matt Roberts, for my love/hatred/obsession with politics. He guided our class through the 2000 Bush v. Gore election and subsequent Supreme Court battle in real time. Mr. Roberts was an exceptional teacher. He stoked the flames of political fascination in me, and pushed me to work hard to defend my own positions, and to make a logical and fact-based opinion count. It's a lesson I will pass onto my son Gabe as he gets older.
My love of politics stayed with me after meeting Senator Clinton, and I began to support her outwardly, much to the regret of my friends and family at home. As we approached the 2008 election season, I decided to work to elect Hillary as President.
I was proud of the work she did as First Lady, working across the aisle to expand healthcare coverage through the Children's Health Insurance Program, facilitating health care for 8 million children. As a senator, she worked to get 9/11 first responders the care that they need in the wake of a heinous terrorist attack. So in the nascent phases of her 2008 presidential primary campaign, I started a fundraising group called "Hockey For Hillary", and worked to raise as much money as possible for her campaign.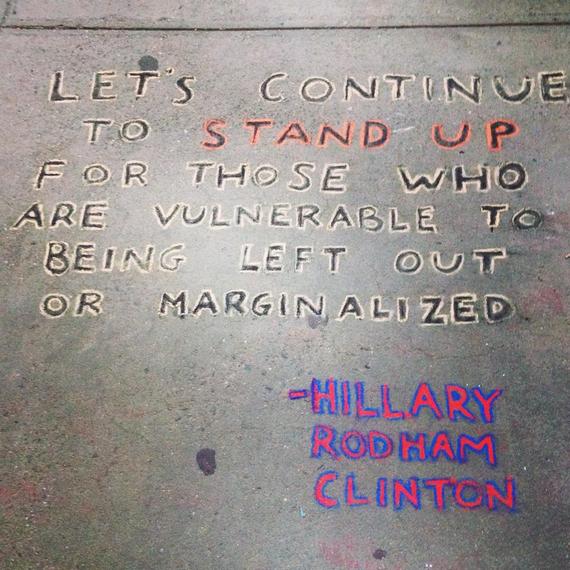 As the 2008 campaign slogged on, there was increased pressure for Hillary to drop out, to concede the race to (then) Senator Obama. I was so offended by Senator Obama's surrogates and leadership team, who were speaking daily about the mathematical impossibilities of Hillary's continued candidacy. I felt that Hillary deserved to stay in the race until the last vote had been counted, to honor those supporters across the country, like me, who had worked tirelessly on her behalf.
And in the end, Senator Clinton supported Senator Obama. I voted for Hillary in the primary contest in New Jersey. From a young Republican in a very red county, I had now cast my very blue vote for a woman to become our President. It's safe to say, when it came to Hillary, I had evolved.
And you know what? It's okay to change your mind. It's okay to think one thing, get more information, and then realize you feel a different way than you've expected. It is a sign of strength to seek knowledge and allow it to change your thinking. Evolution is the natural order of things.
I get asked almost daily by Bernie Sanders supporters how I can support Hillary for president, with her history on LGBT issues, with my husband and son sitting at home. The focus on Hillary's positions here is exclusive, and doesn't discuss in any way that Senator Sanders, too, has evolved on this issue. But I don't begrudge the senator his past non-support of same-sex marriage, because like any rational person, he's given the issue a considerable amount of thought, and is now in full support, as is Hillary Clinton. What matters most to me is that they are both on the right side of the issue now.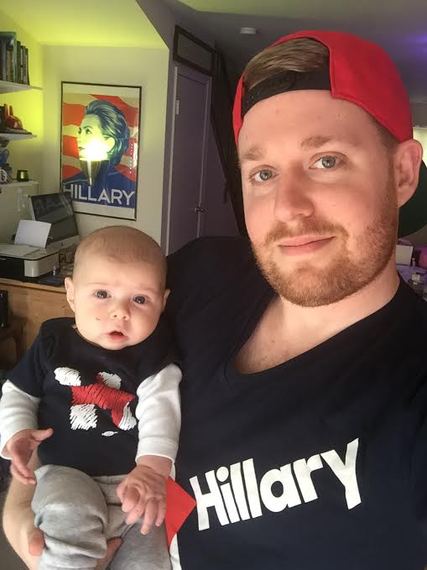 And so we find ourselves now looking in a mirror that feels too much like 2008, with the Clinton and Sanders campaigns working hard for every state, every county, every vote. And yes, every delegate, pledged or otherwise. Informed by the bitter taste in my mouth left by the assault of Hillary's 2008 campaign, I would never pressure the Sanders camp, or its adherents, to exit the campaign. I think it is within reasonable expectations that Bernie wants his supporters to have an opportunity to vote for him.
But friends, with the respect afforded to a candidate who represents an essential voting bloc needed to capture the Presidency, it is important that we look at the remaining states with nothing but the clearest of eyes; Bernie Sanders cannot win the nomination. I am unequivocal on this, I love Bernie Sanders. He has forced the dialogue to the left, and has pushed my candidate into solid footing for a general election; loving someone does not mean that he or she is the most qualified to be President, and it doesn't mean that the mathematics of the thing suddenly change. Love can move mountains, but it can't make one plus one equal three.
I have taken the time between the 2008 election and this one to check within myself, to be sure that my respect for Hillary has not turned to blind devotion. These reassessments are important, and prevent us from becoming the Trump people.
Recently the trend has focused on the super-delegate system, with Sanders supporters expressing outrage that these individuals are able to cast a weighted vote that isn't coupled with or married to state voting outcomes. I argue that this is the way our party has run since long before this election started, that each candidate knew the rules of the game before they sat down to play. But if we look at the voting results at this point in the election, we see that the outcomes to this point do not even warrant an argument about the super-delegate system: Hillary is pulling both the popular vote by 2.5M, with votes from marginalized groups whose voices and votes matter. It leaves me to wonder what the Sanders camp is really asking for.
Railing against a rigged system is noble, but defying the will of the popular vote and asking super-delegates to vote for you reflects an obtuse understanding that our country is a diverse one, and that comes with voting outcomes that may reflect beliefs and priorities that are different from our own. Super-delegate outrage is only appropriate if the system isn't aligned with what the public wants.
We are at a crucial intersection of ideologies in our political process, with the power the Tea Party has wrenched from the hands of well-meaning but often misguided Republicans now threatening to force upon our nation a candidate whose racist, misogynistic, xenophobic and bigoted philosophies represent the greatest threat to free-thinking democracy, national security, and economic stability that we have faced in generations.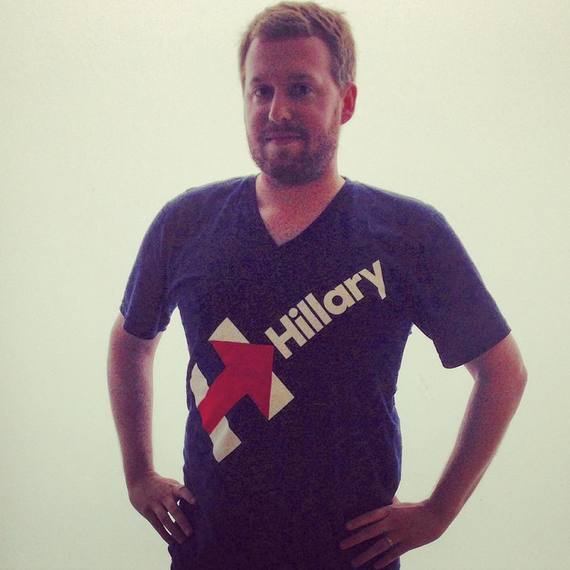 Bernie Sanders supporters, please hear me. We need you. Not as Hillary supporters, but as supporters of the Democratic Party at what is a precipitous time in our nation's history. Our Supreme Court hangs in the balance, my very marriage, the reproductive rights of half of our population, all of this is at stake if we allow the Republicans to win this election. Why are we wasting time savaging each other over the preferences of superdelegates?
After these votes have been cast, there needs to be a coming-together of both camps. The #NeverHillary hashtag scares me so deeply, because I know this emotion, a deep indignation and a feeling of disenfranchisement. Your candidate didn't win, so you're going to sit on your hands or write-in your candidate. But this election isn't 2008. If Hillary doesn't get the nomination and Bernie does, you can bet your ass that I'm running to a voting booth in November to cast my vote for Bernie Sanders.
I urge you to defer to facts over feelings. Bernie Sanders lives in the world of facts, where income inequality isn't politicized, it is an immutable issue of numbers that do not work for folks like me and my family. Facts are basic, and they are more important than anything. It's that sense that I appeal to.
Internet memes do not a reality make. If independent committees on Benghazi have proven that Hillary isn't guilty of wrongdoing, it trumps your feeling that she did. If a reporter who has covered Hillary's career for over two decades has shown Hillary to be honest and trustworthy, it weighs more than your suspicion that she is not.
Facts matter, they do. And if we allow facts and logic to govern our actions instead of fear-mongering and lies, we are able to define a clear line in the sand between ourselves and the Republicans who seek to roll back the progress of the Obama administration, to distinguish ourselves in both principle and practice.
When I met Hillary at the beginning of her book tour for Hard Choices, I had an opportunity to finally return the gratitude that she had shown to me a decade ago. As she signed my book, I was able to look her in the eyes and say, "Madam Secretary, thank you. I am so proud of you, and the work you have done."
Here's to continued evolution.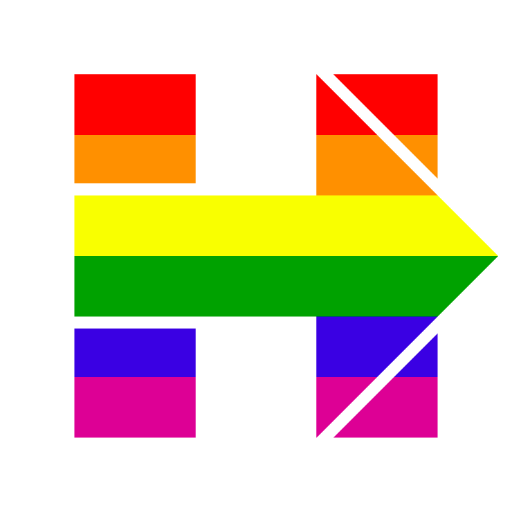 REAL LIFE. REAL NEWS. REAL VOICES.
Help us tell more of the stories that matter from voices that too often remain unheard.