Sound familiar? You need to read this.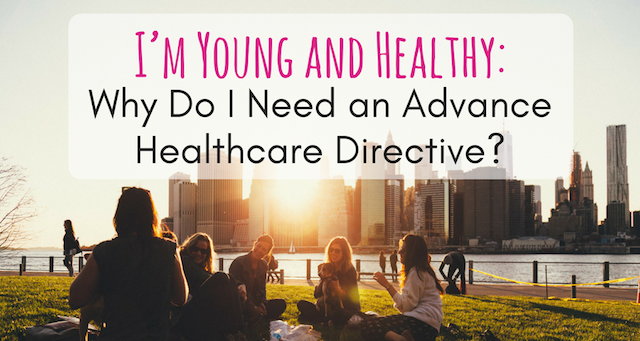 Many young people are guilty of hiding behind the cloak of youth and health.
We use it to excuse everything from our poor diet, to our aversion for physical activity. We ignore research and expert advice about taking better care of ourselves, drawing on a warped sense of invincibility that runs through us like a bottle of red on a casual Saturday night.
So what chance is there of convincing my fellow millennials of the need to plan for the hypothetical of falling seriously ill?
How does one best push a generation who lives by a "live-fast, die young" mentality to legally document their future health care decisions by making a living will or medical power of attorney?
Advance care planning will never be a hot topic, especially when the thought of our own mortality is so far from our young minds. But it's time we made some grown-up decisions about our future health care - before it's too late.
As you will learn, creating an "advance directive" is vital regardless of age or health status. Here are 5 answers to pressing questions about advance health planning that will help you better understand their importance:
Advance health care planning addresses the hypothetical situation in which a medical crisis leaves you unable to communicate your end-of-life care preferences and values. According to the National Institute on Aging, it involves "learning about the types of decisions that might need to be made, considering those decisions ahead of time, and then letting others know about your preferences, often by putting them into an advance directive."
1. Living Will: A Living Will is a legal document which sets out instructions regarding your end of life medical care and treatment. Creating a comprehensive Living Will will help ensure that your wishes regarding such matters as organ and tissue donation, extended artificial life support, and refusal of medical care, are duly respected.
2. Medical Power of Attorney: Also known as a durable power of attorney for health care, a legally-binding Medical Power of Attorney gives authority to a "health agent" to make health decisions on your behalf when you are unable to.
"Without having an advance health care directive in place, your wishes are likely to be ignored if you become unable to speak for yourself."
Can you ever be "too young" or "too healthy" to make an advance directive? The consensus amongst experts is an emphatic no. "None of us knows when or under what circumstances we may become unable to make decisions about the health care we want to receive and—as importantly—the care we do not want," said Ruth Linden, Founder and President of Tree of Life Health Advocates in San Francisco.
"Without having an advance health care directive in place, your wishes are likely to be ignored if you become unable to speak for yourself. Someone else's wishes may end up substituting and contradicting yours." Linden even goes so far as to warn that without one, you forfeit one of life's most critical rights; self-determination.
Attorney and award winning author of The Practical Guide to Health Care Advance Directives, Jo Kline Cebuhar, similarly urges people to get organized now. "Advance health care planning is no longer just about aging or end-of-life care," she said. "It is now crucial to maintaining patient autonomy in any medical situation, whether it involves preventive, routine, emergency, or end-of-life care."
The complexity of today's medical conditions and life extending treatment options are two major reasons Cebuhar advocates people not to delay making plans. Another equally pressing reason for planning is "the perfect storm of aging demographics, a scarcity of financial and human resources and the lack of health literacy that is already impacting health care in America."
People often mistakenly assume that close family members will perfectly carry out their wishes regarding end-of-life care. However, Nathan Kottkamp, Founder and Chair of National Healthcare Decisions Day (NHDD), a 50-state annual initiative to be held from April 16-22 to encourage advance care planning, believes this assumption has serious consequences.
"Someone has to decide, but they do so based on guesswork, rather than having some instructions from the individual," Kottkamp shared with me in an exclusive interview.
"Among other things, including conflict among family members, this guesswork can result in lasting questions for family members about whether they did the right thing for their loved ones when they could not speak for themselves and left no guidance about how they would make decisions based on their values."
The opportunity to relieve family members of such pressure and heartache is reason in itself to make advance health care plans. This was the realization estate planning and elder law attorney Rachel T. Schromen came to when deliberating the topic with her own mother.
"My mother told me she wanted me to make her medical decisions should she ever be unable to make them for herself," Schromen explained. "I asked that she not only make this decision legally known by preparing a health care directive, but also that she include detailed instruction and information regarding her wishes."
She considers her mother's decision to make advance health care plans an "immense gift", as not only do the plans clearly set out her mother's personal health care choices, they also serve to relieve Schromenn from the burden of deciding—should it ever come to it—to pull the plug or not. "If I am ever faced with that decision, I do not have to weigh the options and make the call to the extent I would have to if she did not have a health care directive."
Not necessarily. The law is designed to uphold itself - not your personal values. If you think this sounds harsh, consider the case of Terry Schiavo. After suffering a cardiac arrest which lead to severe lack of oxygen and brain damage, Schiavo fell into an irreversible persistent vegetative state.
Her husband and legal guardian believed, along with the backing of her doctors, that she had no hope for recovery. He elected to remove her feeding tube on the premise that in such a helpless situation, Schiavo would not have wanted to prolong artificial life support. On the contrary, her parents argued to continue administering her artificial life support, believing her to be conscious and able to recover.
Relying on the law to assume and carry out your particular health wishes is not only impractical, but naive.
Both sides fought so bitterly to have the law on their side, that Schiavo ended up spending nearly half of her life in a vegetative state. The Schiavo case "involved 14 appeals and numerous motions, petitions, and hearings in the Florida courts; five suits in federal district court; extensive political intervention at the levels of the Florida state legislature, then-governor Jeb Bush, the U.S. Congress, and President George W. Bush; and four denials of certiorari from the Supreme Court of the United States."
Her case is not an isolated one; the cases of Karen Ann Quinlan and Nancy Beth Cruzan, amongst others, also illustrate how incredibly complex the issue of "the right to live or die" can become. These cases may seem extreme, but none of these women, nor their families, could have envisioned they would become embroiled in such tragic circumstances.
Relying on the law to assume and carry out your particular health wishes is not only impractical, but naive. The only way to have some assurance that your health choices will be respected is to legally declare them in writing.
Yes, there are a number of reasons advance health care planning holds particular pertinence for women. First, the life expectancy for women is longer, so we must prepare thoroughly for the uncertainties of our future health. "The fact that women outlive men makes it even more important for them to have an advance care plan that provides instructions about their values and goals regarding health care," Kottkamp pointed out.
Pregnancy is another critical factor. Kottkamp divulged that he had seen several variations of cases in which pregnant women had postpartum complications, but the father wasn't legally recognized as a family member. Despite being an active member of the family, the father had no legal rights to make decisions on behalf of the mother or their child.
Had there been an advance directive naming the father as an agent, he would have been able to legally assert a decision making role in the process. The lesson to be learned here is that an advance directive is unique in its scope to give significant people in your life legal decision making powers, which they wouldn't otherwise have.
Women, moreover, often hold an influential position in their family to shape dialogue about future health care planning. "The reality in many families is that if mom insists that something is going to happen, it will," said Kottkamp. If we recognize the value of advance directives, and spread this knowledge to our family, we have the potential to make a real difference to the future health of our loved ones.
The fact of the matter is, the number of Americans with advance directives is alarmingly low. A 2014 study published in the American Journal of Preventive Medicine found that only 25% of Americans adults were found to have advance directives. It also identified a lack of awareness as the most pervasive barrier to advance directive completion.
Now that you have the knowledge, it's time to make an informed choice about your future health care. While it's never going to feel like the "right" time to draw up a living will, or to name a loved one to be your medical power of attorney, that doesn't detract from the importance of doing so.
For those who still question if they're still too young and healthy to make an advance health care plan, perhaps it's best to leave the final word to the National Healthcare Decisions Day, whose theme for this year eloquently encapsulates the argument for advance directives: "It Always Seems Too Early, Until It's Too Late".
Support HuffPost
A No-B.S. Guide To Life
Related
Popular in the Community