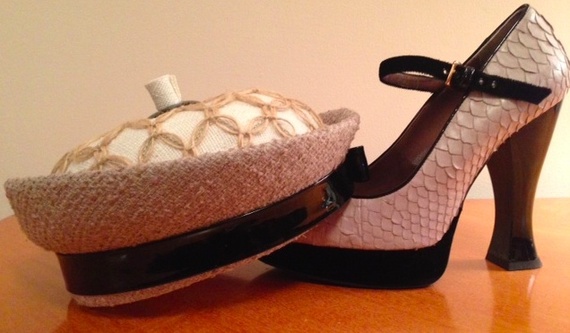 If Facebook is passé, well, when an affiliate group of an art museum converges to live-chat fashion during a red carpet preview, then I guess one might as well be chipping away at a block of limestone... Stone age? Or might it be a twist on high tech baroque when it's this lively and bright?
The Indianapolis Museum of Art has a number of affiliate groups that regularly redefine and elevate the concept of fun in events and gatherings that serve beautiful, arts-based causes and historic reverence and preservation. The groups likewise bond participants in friendship founded on these mutual interests. Ours is called the Fashion Arts Society, a fledgling group in its fourth year, which does its thing under the guidance of Textile Arts Curator, Niloo Paydar. Come May we will hold our third annual Hats Off Lecture and Luncheon, and in recent past we have hosted the venerable likes of Oscar winning costume designer James Acheson and documentarian Deborah Riley Draper. In between, we enjoy smaller, casual "friendship raising" events that give us lovers of all things wearable choice opportunities to chat on fashion at every level, which of course leads to all manner of wonderful discourse.
Last Sunday evening's 2014 Academy Awards found FAS members in our respective homes, warmly ensconced against yet another late winter snow, with laptops and phones at the ready during the pre-awards red carpet show (and after with faves noted) to share our impressions of the styles worn. Here are some of them:
Serious bling, vintage and contemporary, shone as brightly as any single celeb star, and was chosen well. And though this may not have been a red carpet parade for the ages, it was one for the progressively styled books; for indeed, some of the best looks trended decidedly to the understated AKA contemporary tasteful. Even the plunging Vs, which were everywhere, were superbly fitted and balanced to the entire gown/ensemble. Among the best were Lupita Nyong'o's triumphant sky-blue Prada and Kate Hudson in one of the best Versaces ever. This deep-V success had for once no celeb (but for one anonymous, middle-aged "blonde" in a black TMI scoop neck) looking like they were accidentally-on-purpose airing the twins for purposes of camera time.
As for the gorgeous non-colors we saw everywhere, Cate Blanchett ruled in Giorgio Armani, with a nod to Sarah Paulson, both gowns done in exquisitely embellished, barely-there nudes. There was Angelina's somehow matronly take on the same, Meryl Streep draped like a portrait in a hint of ivory, Portia DeRossi in an artfully exquisite ivory Naeem Khan, and though Sally Hawkins's armor-level embellished Valentino was an overall miss as choice, it did possess that great off tone as well. Even host Guilana Rancic's gown hit the mark with its dusky, pale mauve color. I'd tie into this group both Penelope Cruz and Camilla McCounaughey's blush gowns, though one FAS member accurately did point out the added benefit of the arm candy that was devoted hubby Matthew. Fun to use the term fer a fella!
After the non-colors, we enjoyed the rich navy colors for both men and women. Sandra Bullock's Alexander McQueen and Amy Adams' amazing Gucci were faves. Several gorgeous tuxedos likewise sported the sporting color, tying together a batch of looks equally diverse in collar styles and finish. My faves on that note: Jason Sudeikis, Tyler Perry (the bar pin on the lapel!) and Ellen Degeneres' first ensemble (can you imagine that awesome jacket with a crisp white blouse and jeans?). And I don't know exactly why, but Kevin Spacey looked a little like a lounge singer...
After embellishment, what claimed the red carpet best of all were the architecturally sculpted, columnar gowns, in the looks of Amy Adams most especially as well as Jennifer Lawrence's sleek Dior, Naomi Watts in Calvin Klein (though her gelled bangs reminded me of that scene in "There's Something About Mary") and Kristin Chenowith, who nailed her Deco-evoking Cavalli along with her gorgeous, layered bob. Notable here too, as with the well executed deep-V necklines, were the superbly (at last!) fitted bodice tops, which held busts in place without squishing armpits up and out as in so many years past -- one of my ongoing fashion laments as regards all sleeveless gowns. But for Laura Dern -- so beautiful and deserving of a better fit -- the looks suggested construction know-how and a very contemporary regard for the women's bodies: sheer architecturality of design to enhance an overall elegance while not broadcasting body parts and overt suggestions of flesh barely contained.
Eyebrow raising might have been Liza Minelli's jammies, but she gets a free pass, down to the blue streak in her hair. Anyone who could rock her signature look as she did for eons deserves one. Outright cringe-worthiness goes not to any one "horrible" look but to the water-logged turf that soaked hemlines, Kerry Washington's most notably in the pre-show press. Ick. And though IMO one of the eve's visual fails in his waiter's jacket and prommie bow tie, I'd like to credit Jared Leto for the beauty of his acceptance speech -- an ode to love, creativity, and the True North dedication of his mother. Makes for one heck of a Mom's Night Out, eh?
Thanks to FAS members and friends Jody, Leslie, Maria, Leah, Rita, Cathy, Heather, Beatriz, Sandy, Scott, Madison, Murph, Crystal, Deborah, Lanie, Rob, Candy, Joe and Nate for clicking and quipping and lending their stylin' presences to our online FAS FB chat!
Related