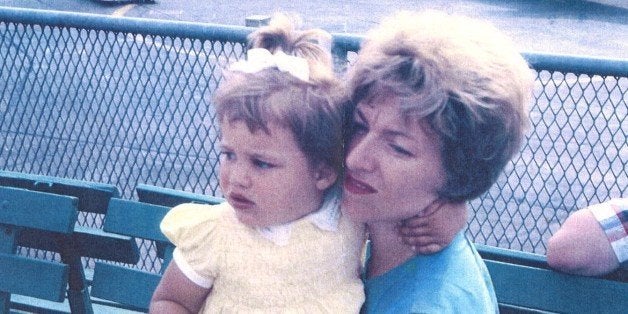 I came across a photo of me and my mom that I've seen many times before. But as her 80th birthday approached (Sept. 8), I saw it in a different way. The photo was taken at the Cincinnati airport back when you could go and sit outside and watch jets land and take off. I'm probably 3 years old, sitting sideways on my mom's lap, my arm around her neck, nails pressed into her with a look of fear on my face. A note attached to it explains that I was scared of the noise.
When I looked at her in the photo this time, I saw a strong, protective, caring woman. I saw my mentor, my anchor, my best friend. I lost her two years ago, but it may as well be two days ago. It hurts so much. I wonder if she knew then how much of an influence she would have on my life or how she would teach me to be independent, to be kind, to reach for goals and to never leave the garlic in the sauce pot after it's browned.
She's solid and strong in the photo. It will be years before Lupus ravages her health and attacks her kidneys. Did she even imagine that I'd give her a kidney one day?
I looked at the photo and thought, We hadn't even had our first fight yet about her making me go to bed with pin curls in my hair.
I thought, There's the woman who's going to teach me how to make meatballs, to use only the best ingredients, to let the milk/eggs/bread crumbs/parmesan cheese mixture sit before adding the meat and to use a meat fork to mix it and roll them lightly, otherwise they'll be tough.
I looked at that photo and I saw the woman who sat with me in the dressing rooms of Shillito's and McAlpin's while I tried on clothes that never fit me. She fought weight when she was growing up and knew what I was going through. She was always encouraging and I was always feeling sorry for myself. But she just kept searching for separates in sizes that would fit. And she taught me how to mix and match them and wear a classic look.
Sometimes now when I'm at the mall, just the smell of the department store brings back memories of shopping with my mom, as a child, a teenager or even a grownup, when she was in a wheelchair and I would push her around the aisles. Once I saw a woman in a wheelchair, waiting for her daughter as she paid at the register. I froze. The woman had my mom's hair, she was as thin as mom was in her later years and she was wearing "mom" clothes. And then I smiled. I remembered all those shopping trips -- from the hell of high school fat clothes to the joy of buying a great dress and a suit when I got in shape.
In the photo, I see the woman who wrote a simple note when I was getting ready to go away for a big weekend with friends, "PLEASE, PLEASE, PLEASE, PLEASE, PLEASE, PLEASE... (over).. HAVE FUN! Love, Mom."
I see the woman who always told me to stay focused and work very very hard at everything I do. "Believe me -- hard work is its own reward. It has paid off for me in so many areas," she wrote in a letter.
I see the woman who wrote inside my college graduation card that she was my most loyal fan and how proud she was that I had already achieved one of my goals -- an internship in Rome. "It's exciting to know you are ready to take that big step into the bigger world that is waiting for you. I know there are good things ahead -- you have given me the best possible evidence -- believing in yourself!" I was 22, excited and scared to death.
I see the woman who told me, "be polished. Be poised. Be professional," at the office. "Don't gossip. Don't laugh out loud on the phone. Just get your work done."
I look at that photo and I see the woman who taught me how to entertain, who always made sure everyone in the family had somewhere to go on Christmas. She taught me how to set a holiday table and make a centerpiece. I've had big dinners for friends for several years, including an annual holiday party. No one leaves without a tin of cookies.
I have a collection of email messages from my mom and one from 2002 could be the caption for this photo: "Do you remember that your mother loves you? Nothing can happen to you."
REAL LIFE. REAL NEWS. REAL VOICES.
Help us tell more of the stories that matter from voices that too often remain unheard.