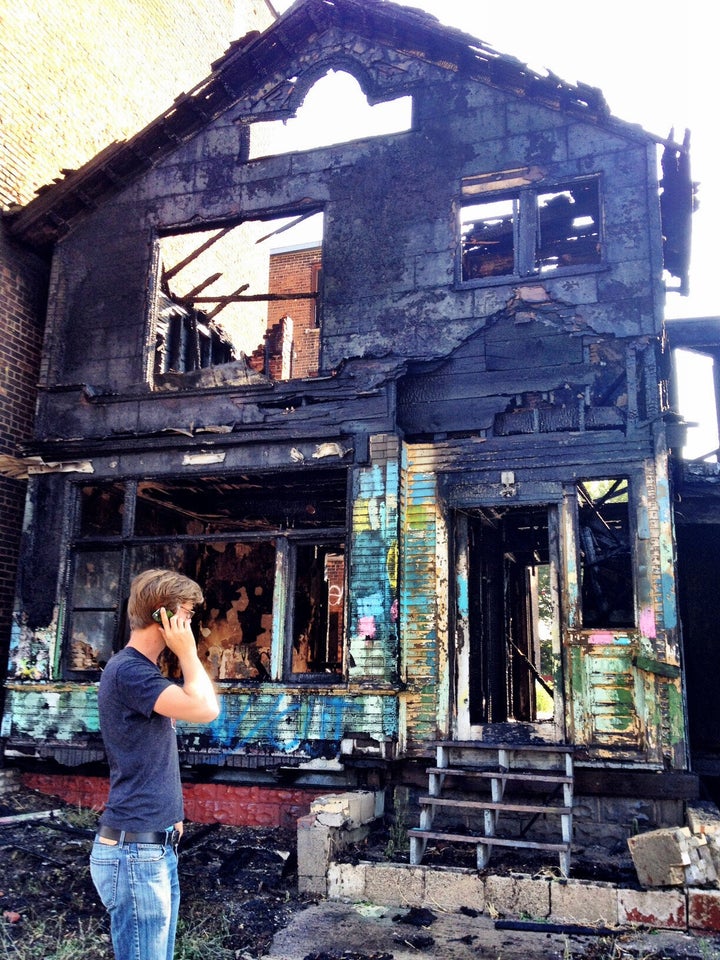 Detroit's Imagination Station, a nonprofit project aiming to rescue two blighted homes facing Corktown's Roosevelt Park and the Michigan Central Station, caught fire this morning around 7:45 a.m. Despite extensive damage to the interiors and roof, much of the external structures at 2230 and 2236 14th Street, dubbed "Lefty" and "Righty," were saved. That's due to a quick response from the Detroit Fire Department, who got the call while fueling up at a nearby gas station and arrived promptly. No one was injured in the fire. It's unclear now whether arson is the cause of the early morning blaze.Scroll down for photos of the Imagination Station after the blaze.
Jerry Paffendorf founded the Imagination Station with Mary Lorene Carter in the summer of 2010, purchasing the two abandoned homes for $500 each. When they bought the damaged properties, "Lefty," an 1890 original, already had extensive damage from a previous arson fire. "Righty," built in 1900, had three squatters. The home was full of garbage and the backyard was overgrown.
"These are the last two of what used to be 50 houses in the whole park," Paffendorf says. "They tore down a big part of the neighborhood to make way for Michigan Central Station and Roosevelt Park." And even though both homes were in poor condition after years of neglect, Paffendorf says, "there was never a clear win just to tear them down and throw them out."
So Imagination Station volunteers began searching for a different approach: trying to preserve what they could, and reuse what they couldn't. The homes were painted in bright, bold colors and whimsical graffiti designs. An adjacent grass lot was purchased for $5,000. The Imagination Station entered into a payment plan to settle almost $25,000 in back taxes on the property -- Paffendorf says they're close to paying that bill down completely. Volunteers from the neighborhood and beyond devoted thousands of man hours to saving the homes.
"The back deck [of 'Lefty'] when we tore down the arson parts before, started functioning as a stage. We had a lot of performances here, talks, artists working here," Paffendorf said.
He was also in talks with people interested in purchasing the Roosevelt Hotel next door. "We were at the point where we were getting out of the DIY stage and trying to create something that was more sustainable."
"It's the myth of the $500 house," continues Paffendorf. "How much did it cost? How long do you have? Do you count hours in that?"
Now, the better part of two years of work is still smoldering. Paffendorf says he plans to make some phone calls and put up fencing around the burned-out buildings.
"I think where the houses were at before, they became the most inviting blighted houses in all of Detroit," he remembers. "They were like so many houses in the city, but we kind of shaved them away so they were safe to walk in, and there was kind of a permission to come take a look. That's an interesting state. I don't think they're in that state right now."
When asked about his emotions, Paffendorf stayed positive. "I gotta look at it like a blessing in disguise in some way. I don't know which way, yet," he says. At least, he notes, nobody was injured, and the fire was controlled.
"I know there's a lot of love for these houses," he says.UPDATE: 11:49 a.m. -- Developer and real estate broker Ryan Cooley, who has helped revitalize the Michigan Ave./14th Street district with brother Phil, says he was "devastated" when he heard the news of this morning's fire at the Imagination Station.
"It's really frustrating," says Cooley, a Corktown resident. "Obviously, there are houses that catch fire in this city. But, many times, people have already left these places behind. There's no energy and time behind them."
He thinks the most severe damage from the fire will be to the enthusiasm of the hundreds of volunteers and visitors to the Imagination Station. "The people that put so much time and effort into it and what it does to them ... that's really the hardest thing to watch," he says. "They've given so much time and energy. It's just hard to get things started here. It's hard to get financing in this city, I don't know. It really, really sucks."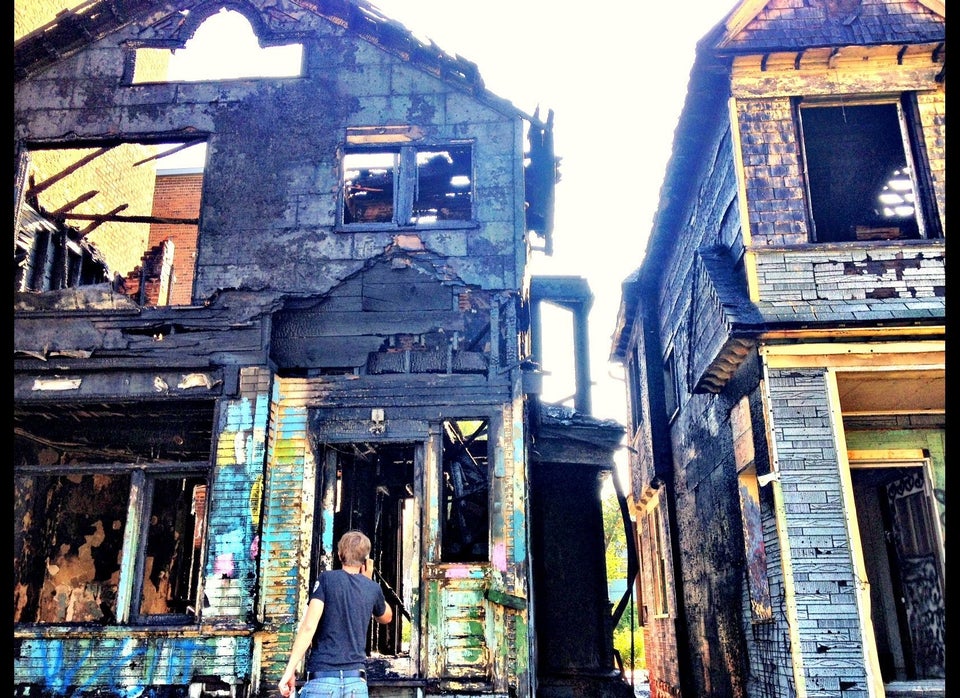 Related
Popular in the Community