My Conversation With Gary White, Co-Founder, Water.org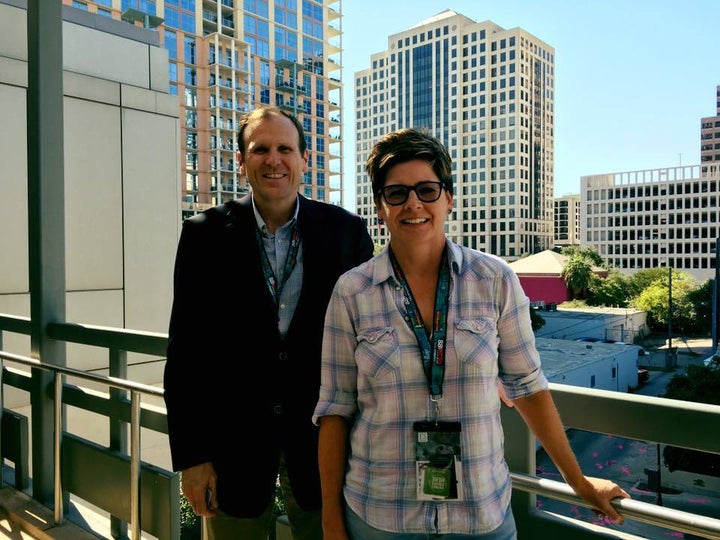 "It's really expensive to be poor."
That's a rock star, quoting a celebrity. Well, a water rock star.
That's Water.org co-founder Gary White quoting his friend and colleague Matt Damon.
I recently got to spend time with Gary at the South By Southwest Eco Conference in Austin, Texas, and he told me how he cofounded Water.org with Matt Damon and how it's different from other water nonprofits.
"When I first started working on this water project in the '80s, the number that was being thrown around then was 1.2 billion people without access to water," Gary told me.
Recognizing that you can provide millions more people with access to water by connecting them to existing infrastructure in urban settings versus digging and trying to maintain water wells in rural communities, Gary tapped into the world of microfinance.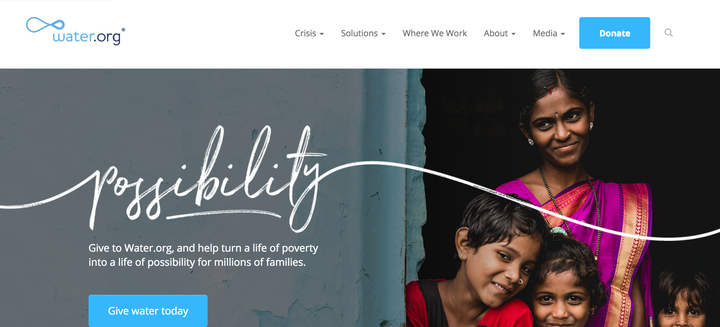 "First of all, do you remember Muhammad Yunus (Nobel Prize Winner who believes "that credit is a fundamental human right") and the Grameen Bank?" Gary asked me. "That is what this is. He is known for creating the whole concept of loans–small loans to poor women and it is just billions of dollars around the world now. … And so when we started into this concept, we didn't want to go and reinvent all of that, but when we looked around no one was doing this for water and sanitation. So, that is why we pushed out through that network."
To date, Gary, Matt and Water.org have helped more than 4 million people get access to water and sanitation via "smart subsidies" with 60 microfinance partners.
"These are microfinance institutions that are already lending money to poor women," said Gary. "We are just having them add on a different loan product, if you will. So that smart subsidy capital really unleashed a new market there."
A new market that has leveraged $7 million in Water.org smart subsidies grants that have provided $200 million in microfinance loans to mostly women around the world.
Why women? Gary told me 93 percent of Water.org borrowers are women, and that they repay their loans at a 99 percent success rate.
"Women are in charge of health and water in the home, and they tend to be the ones that the microfinance institutions work with because they repay their loans more and can stay focused on what they are taking out the loan for–whether it's a small business, or a cow to produce milk, or a sewing machine to sew clothes," said Gary.
Microfinance loans for women are not just helping to get tap water and toilets into homes in poor communities across the globe. They are also protecting the health, safety and dignity of women.
Shockingly, Gary described to me how women with no access to toilets wait until night to defecate for more privacy.
"They can 'go' on the edge of their village, on the river, or on the train tracks," explained Gary. "It leads to all kinds of problems. So think of the health impacts of not defecating all day when you need to, and the safety issues of going out at night. Just two years ago, two girls were raped and murdered when they went out to a river to defecate. So, that has driven the desire to take toilet loans."
As a woman living in a country that takes its water infrastructure for granted, I'm pretty horrified–and enlightened. I've never considered the concept of lack of access to a toilet leading to rape and murder.
And what did Matt mean when he said "It's really expensive to be poor"?
Gary explained we're living in a world with "this completely upside-down system where it's being completely subsidized for people who can afford [having water] and are washing their cars, filling their swimming pools, staying in five-star hotels. But the people who need it the most are paying [exorbitant fees in poor countries to bring water into their homes] because they can't get over this financial hurdle of the connection fee."
I grew up in an America where it was pretty common household cliché for moms to say, "Eat all your breakfast! There are people starving in this world!"
But how effective have these idle American kitchen-table threats been? Not at all, in my opinion. In fact, we've likely become even more wasteful over the years. According to a recent report in The Atlantic, ("Calories are cheap, and people are picky") "wasted food is also the single biggest occupant in American landfills."
Two weeks ago, I returned from several days at Standing Rock, where, for months, Native American "Water Protectors" have been camping out to prevent an oil pipeline from being drilled beneath their water source, the Missouri River. Frustrated by the lack of media attention to this volatile, dangerous situation in North Dakota, I recently posted a related video on my Facebook feed. It's called "The World is Watching," and I asked, "But are we?" One of my friends commented, "Sadly, no one is really watching. For too many of us, if it does not impact us directly (and at the moment), it is only a meme, news blurb, or simply a non-connected event."
I want to be angry, but I'm not because this is so true.
So, how can we get the average American to give a damn about water and toilets in India, much less to not take them for granted in their own homes?
Consider the idea of an inverted water pyramid.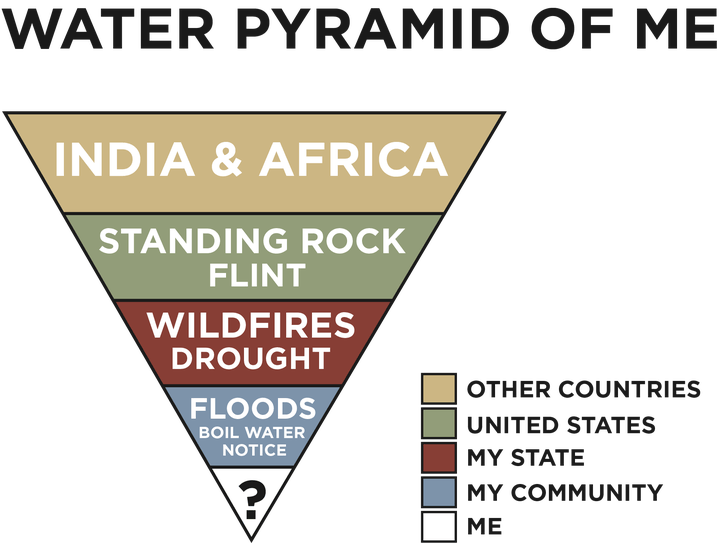 Other Countries: The most people affected (in fact 663 million without water, and 2.4 billion without sanitation) are way outside our water-concern realm. Places like India, where women without toilets are putting themselves at risk by "going" outside at night. So what, right? America comes first!
United States: Places like Standing Rock, and Flint, Michigan. Not me.
My State: Drought in California, Texas, and now Tennessee, where it's so crispy-dry, wildfires destroyed hundreds of homes this week, and people died. Sad for Tennessee.
My Community: Maybe a flood took out a bunch of homes and families lost everything, or a water main burst and areas of town had a "boil water" notice for days. Still, not my neighborhood.
Me: Pardon the crass pun, but it really is a crapshoot. Disaster may strike. Or not. My region might be in extreme drought, but last time I checked water still came out of the tap and my toilet flushed.
So, what do I want you to do? Nothing. It's your life, your home, your family, your community, your country, your world, your water.
Just remember: Some have said water is not a God-given right. Water may come from the heavens, but it takes man and money to bring it to you.
Related
Popular in the Community