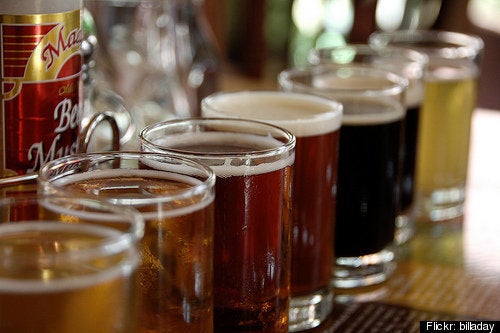 As far as this writer/craft beer imbiber is concerned, what makes a city a great beer city is that it has worthy local breweries, a wide selection of regional offerings on tap, and a culture clued-in to the enjoyment of flavorful beer. In addition to Denver, there are several other shining examples of great beer cities: San Francisco and Portland, Oregon spring to mind, to name but two.
However, it's unlikely that any other American city has ever gone as far out of its way to position itself as The Great Beer City in quite the way that Denver is going about it through this next week.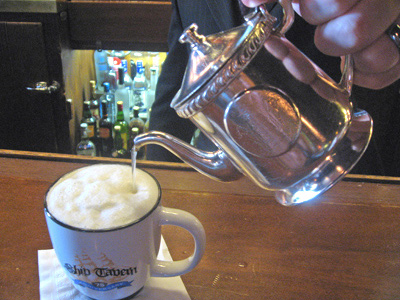 A prohibition-style "High Beer" serving of Ship Tavern Ale at the Ship Tavern bar at the Brown Palace Hotel.
Scores of events comprise Denver Beer Fest. Throughout town there are beer tastings, beer-food pairings at fine local restaurants, brewery tours, and meet-the-brewer talks at local bars. All of which will be capped off by the mighty annual Great American Beer Festival at the Colorado Convention Center -- a three-day event with over 2,000 beers to choose from, discriminately or not so discriminately.
All combined, it's a little over the, you might say, pop-top -- even for a city already dubbed by local boosters the "Napa Valley of beer."
I dropped in at two Denver Beer Fest spots on Friday night.
Denver's Mayor John Hickenlooper had originally been scheduled to tap the ceremonial first keg at the city's Oktoberfest celebration. However, a more pressing matter called: an event coordinator told me, at least, that Hickenlooper instead needed to greet members of the Obama administration who had flown into town. (Presumably, the Mayor needed a beer afterwards.)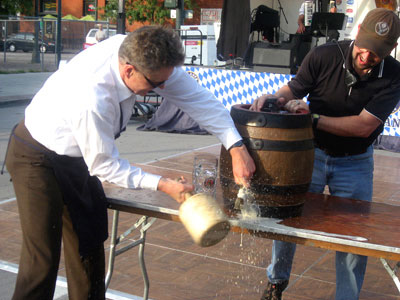 Bernhard Bleise, the Honorary Consul for Germany in Colorado, taps the first keg at Oktoberfest Denver.
So, the task of tapping the first Oktoberfest keg fell to Bernhard Bleise, the Honorary Consul for Germany in Colorado. Bleise pounded the tap with a heavy wooden mallet several times in order to drive it into the barrel. (I'm not sure if Bleise had ever done this before.) After a few more strikes, eureka! The keg sprayed forth the authentic reddish-amber Oktoberfest beer, Paulaner, within it. (Paulaner is one of the breweries sponsoring Munich, Germany's Oktoberfest, as well.)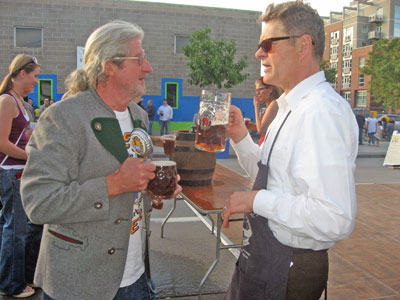 Honorary German Consul Bernhard Bleise (right) sharing an Oktoberfest beer with a fellow German speaker.
While there weren't exactly tens of thousands of people at 22nd and Larimer -- like there are celebrating Oktoberfest in Munich today -- the smattering of folks seemed to enjoy listening to the traditional German beer hall music. (I could almost hear my late, Bavarian grandmother yodeling along.) At one point, the band encouraged folks to do the "Chicken Dance" -- and, good Lord, they actually did it. Bratwurst and weisswurst sizzled smokily on grilles, providing a sensory counterpoint to the oom-pa-pa tunes.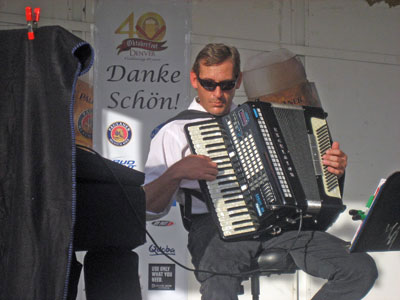 A member of The Continentals performs German beer hall tunes at Oktoberfest Denver.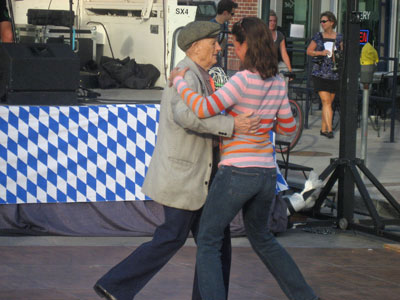 An intergenerational dance team enjoying Oktoberfest Denver.
This is the 40th year that Denver has hosted an Oktoberfest celebration -- a milestone in its own right. (Oktoberfest Denver continues next weekend, as well.)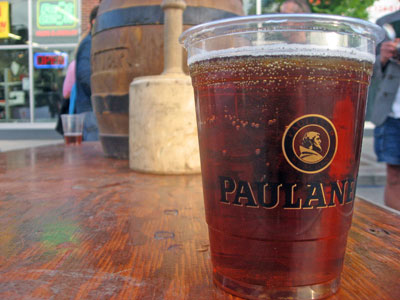 Paulaner Oktoberfest beer released from its barrel at Oktoberfest Denver.
Speaking of hearkening back to tradition, the Ship Tavern at the Brown Palace Hotel has temporarily revived a novel twist on beer serving. In a look back at how the hotel used to surreptitiously accommodate tipplers during prohibition, the Ship Tavern is serving its beer poured into mugs from the same tea pots usually found at its High Tea. It's also serving a selection of food with beer used as an ingredient. Like the John Wayne Chimay Grand Cru Beer Cheese Soup made with Chimay beer and Chimay cheese from Belgium. Sounds rich and tasty -- but I wonder if The Duke would approve.
I tried the Brown Palace's ice cream made with Lindemans Framboise beer -- a beer which some consider a dessert on its own. Lindemans Framboise, which is made with raspberries and a mouth-puckering strain of wild yeast, can be called an adult version of a sourball candy: a richly sweet-and-sour concoction. Within the ice cream, the beer's tart note came through handily, despite the addition of whole raspberries into the ice cream batch. Unique. Do eat the sugary ice cream; it's sour! (More on beer ice cream later in the week.)
Perhaps that ought to now be amended to "Celebrate the Great Beer City."
Calling all HuffPost superfans!
Sign up for membership to become a founding member and help shape HuffPost's next chapter