This week, Denverites were seriously encouraged to sample -- as French-speaking Belgians call it ever so classily -- La Cuisine a la Biere ("beer cuisine").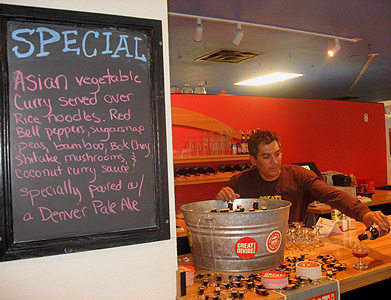 Chris Munzer of the Great Divide Brewing Company pouring some Hoss Rye Lager at WaterCourse Foods. The restaurant listed its special meal that night paired with Great Divide's Denver Pale Ale.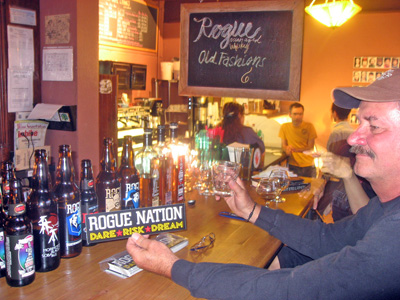 The "Rogue Nation" invades City, O' City. Ed Miller offering tastes of beer and spirits from the Oregon brewery, Rogue.
Sweet! Sweet Action Ice Cream (between 1st and Ellsworth on Broadway) is currently offering six ice creams made with Colorado beers. Flavors include Double Chocolate Stout, White Chocolate Raspberry Ale, ESB Oreo, Coffee Yeti Stout, Nutty Nut Brown Ale, and Oatmeal Stout. Each has unique malt and hop overtones flavoring the creamy goodness.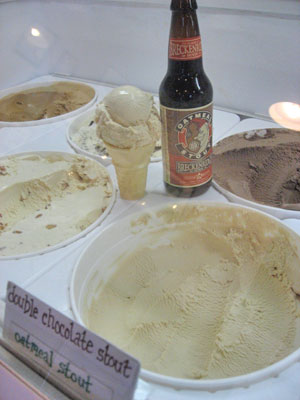 A scoop of Oatmeal Stout ice cream, made with beer from the Breckenridge Brewery, at Sweet Action Ice Cream in Denver.
One of my big fat beer meals this week came courtesy of the Vine Street Pub on 17th Street (the offshoot of Boulder's Mountain Sun brewpub). About 30 or so people paid $55 to attend the sold-out, four-course beer-food pairing.
For the second course, the solidly hoppy XXX Pale Ale accompanied the succulently-sweet roasted butternut squash with arugula, roasted beets and warm chipotle bacon vinaigrette. The vinaigrette's spicy-chile flavor lingered even longer than the beer's -- which was remarkable, given that the beer is such a hop bomb in a glass. Fortunately, it only encouraged another welcome swig of the brew.
Mountain Sun brewer Brian Hutchinson holding aloft a pitcher of XXX Pale at the Vine Street Pub's Autumn Brewer's Dinner.
But when it came to the brewery's barrel-aged beer, Cabernet Nihilist Imperial Stout, offered alongside the main course of braised buffalo short ribs in its own natural liquid ... well, let's just say that the wood-enhanced-sourness of the beer not only lifted the residual fat off of the palette, it was capable of sending one's tongue to Venus.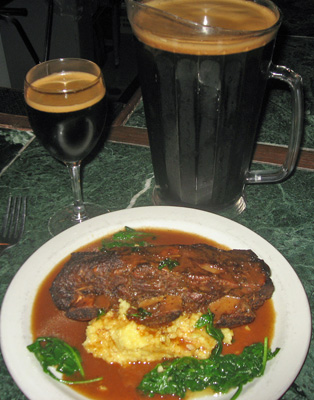 Braised buffalo short ribs on polenta along with Cabernet Nihilist Imperial Stout at the Vine Street Pub's Autumn Brewer's Dinner.
That meal was a warm up for what I would experience Wednesday night at, of all places, the Governor's Mansion. The event's $100 entry fee went towards the mansion's historical preservation. And it offered access to the beers of 15 Colorado breweries (members of the Colorado Brewers Guild were on hand to chat), as well as the fare of the Culinary School of the Rockies.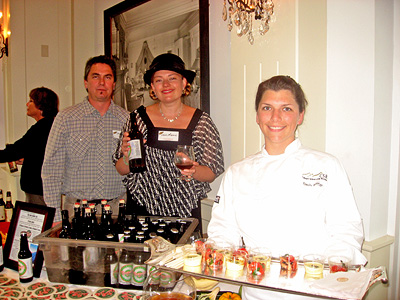 At the Governor's Mansion, Emily Keffler of the Culinary School of the Rockies displays some of the evening's appetizers, while Lainie and Erik Maxson of Carver Brewing Company show off the barleywine they brew in Durango.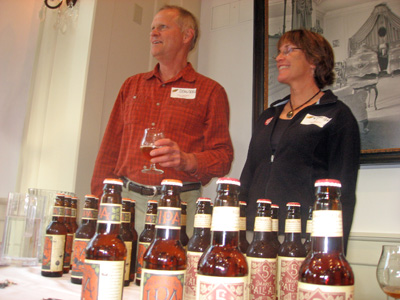 Doug and Wynne Odell of Fort Collins' Odell Brewing Company at the Governor's Mansion.
As for the food, call me proletarian rather than refined, if you like: I kept going back for more of the potatoes. Granted -- it was Haystack Mountain Goat Cheese and Potato Gratin, with a nicely-baked crust on top. But it was, after all, only small potatoes, when compared with Cassoulet of Rabbit, Confit of John Long Pork with Macerated Peaches, and Grilled Lamb Sirloin with Salsa Verde.
Pity. My fellow Huffington Post blogger -- Governor Bill Ritter -- happened to be out of town and couldn't attend the event. All I'll say is this, governor: I hope they saved some leftovers and a mixed six-pack of Colorado beers for you. You don't know what you missed!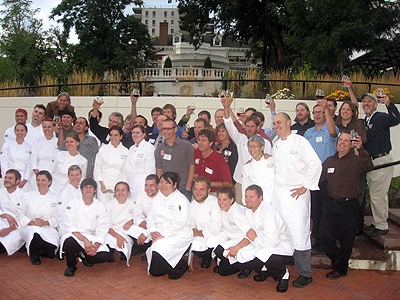 Students of the Culinary School of the Rockies, together with members of the Colorado Brewers Guild offering a beer salute, at the Governor's Mansion.
During my walk home from the Governor's Mansion, I briefly engaged a homeless man in conversation at Speer and Grant. He wasn't inebriated. He seemed to possess his senses. He had lost his job, he said, as an airplane mechanic at Centennial Airport. When he couldn't afford to pay for his storage unit any longer, he forfeited his $20,000 worth of tools -- the tools of his trade. He said he's hooked-up with the city's social services and charity agencies, but it's been a rough go for him. At least he could still laugh, he said, mustering a chuckle.
I gave him a buck, as well as one of my extra bags of high-end Too Haute Cowgirls chocolate-covered popcorn, which I'd been graciously bestowed with at the Governor's Mansion.
But owing to my own selfishness -- even more so than not wanting to be perceived as an "enabler" -- I kept both of the beers I had in my backpack, for myself.
P.S. Happy 250th Anniversary to Ireland's Guinness Beer! They're celebrating the occasion down at Katie Mullen's pub on the 16th Street Mall. (And probably whatever else the patrons can figure out to celebrate.) May we all survive as long as the St. James's Gate Brewery!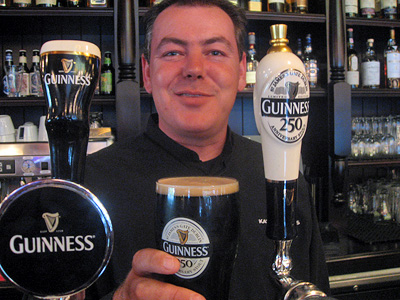 Bartender Hugh Moran of County Waterford, Ireland celebrating the 250th Anniversary of Guinness at Katie Mullen's on the 16th Street Mall.
(Stay tuned for my final Denver Beer Fest posting, covering this year's Great American Beer Festival. I'll report on which Colorado breweries won medals ... and whatever else I can make of my beer-stained, ink-smeared, hand-written notes, after the event itself.)

Calling all HuffPost superfans!
Sign up for membership to become a founding member and help shape HuffPost's next chapter