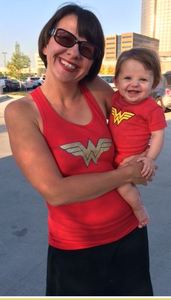 One afternoon in the summer of 2013, 6-month-old Hugo Garcia was hungry and his mom was out of his beloved purees.
Rather than going to the store, Anne Garcia decided to make her own. It came out fine and she enjoyed doing it. The part she didn't like was using separate tools for grating, grinding and milling.
So over the next few months, Anne came up with something more efficient: a single 3-in-1 device. She put it on a crowdfunding website and generated enough support to launch The Gourmand's Grater.
Here's where the story zigzags in a most unexpected direction.
The following summer, Anne gave birth to a girl, Ariana. Six weeks later, the baby had a rough night. What seemed like a small breathing problem turned out to be the first sign of a rare, serious heart problem, one that would require several major operations.
The Garcias got lucky. Ariana came through like a champ. But that wasn't enough for Anne.
Strange as it may seem, she discovered a valuable intersection between the development of her kitchen tool and her family's journey through pediatric cardiology. She believes in it so much that she's devoted her life to improving pediatric heart surgery.
Here is her amazing tale.
In 2011, Anne and Sergio Garcia were living in Houston when they realized they were burned out on corporate life. They took a sabbatical and set out for a year abroad.
Spain rekindled their zest for life, so they settled down in Madrid. Hugo was born there in February 2013.
Anne had been a lawyer specializing in banking and finance. Overseas, she became fascinated by making her own products. She started with a salad tosser and a portable changing station.
About the time that second career was taking off, so was the emerging technology of 3D printing. (While a traditional photocopy is basically a picture, a 3D print is more like a replica -- an actual three-dimensional model that looks and feels like the original.)
Anne thought 3D printing could help her... eventually. Now, it was too expensive and not refined enough. So she used a machinist to crank out prototypes.
A machinist wanted $7,000 to create a prototype. A 3D printer could do it for $700; it'd be ready faster, too.
"Some of the blades weren't as sharp as I needed," she said. "Even so, to have the ability to play with it, to hold it in my hands and troubleshoot other areas, it was $700 well spent."
In May 2014, Anne went to China seeking partners for the grater and other creations. Soon after she returned, Ariana arrived. And far too soon after that came a night with labored breathing.
Allergies, Anne thought. Still, it seemed serious enough to go to the hospital.
Doctors initially thought it was an infection. When oxygen didn't help, they pushed for more answers.
Ultimately, they discovered that her heart formed the wrong way.
Think of it as faulty plumbing. Instead of oxygen-poor blood coming into the heart and oxygen-rich blood going back out, the oxygen-poor blood was going right back out while oxygen-rich blood was going right back where it came from, the lungs.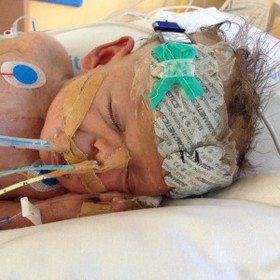 An operation called an arterial switch can correct it. However, Ariana was too sick for that. So doctors performed another procedure to improve her oxygen levels so she'd be healthy enough for the switch.
It didn't work. Days later, she needed an open-heart operation. The surgeon, Dr. Enrique Garcia (no relation), cut a hole between the arteries so the oxygen-poor and oxygen-rich blood could mix. Almost a month later, Ariana was ready for the switch.
By then, Dr. Garcia, had become a trusted friend of Anne and Sergio. He'd also described his preparation for such a complicated procedure: The afternoon before, sitting at his desk, he studied the 2D images and sketched a plan.
"He even dreams about the surgery he's going to perform in the morning. It's like he's practicing in his sleep," Anne said. "I was like, 'Wow, that's intense.'"
After 10 hours of surgery, Ariana's arteries were finally where they belonged, and blood was flowing the right direction for the first time in her life.
Soon, necessity again began gnawing at this inventive mother.
What if we hadn't been so lucky, she wondered.
What if their surgeon hadn't been such a good dreamer?
Then she started pondering all the other skills needed to be a good surgeon: encyclopedic knowledge of conditions and solution, calmness, dexterity and more. She realized how many things had to go right.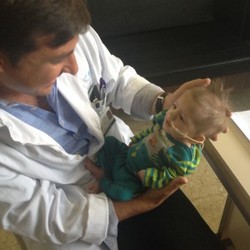 That's when it hit her.
"Wouldn't it be cool if I could use 3D printing to help Dr. Garcia?" she thought. "Not only would parents be able to better understand their babies' hearts, but it would allow him to actually practice -- and perfect his plan -- on a model before the surgery."
She brought the idea to Dr. Garcia, explaining how MRIs and ultrasounds could become life-sized models using 3D printing, letting him practice on something akin to the real thing. Her mild-mannered friend became quite animated.
"How did you think of this?" he said.
She explained about her background. Then she asked if he really thought it could help.
"You have no idea what this could do," he said.
During Ariana's hospitalization, Anne connected with a friend of a friend, a pediatric heart surgeon in Oregon.
Fueled by Dr. Garcia's excitement, Anne called him with a hypothetical question: What if you could put a patient's 2D images into a folder on your desktop, and then a service would grab that information and turn it into a real-life, 3D model?
"Where is it?" he said. "How can I get it?"
Anne knew she was definitely onto something. She also soon learned she wasn't the only one with this idea.
In fact, a conference on 3D printing of medical devices was coming up. The event was at the headquarters of Materialise, the leader in 3D modeling and printing. And it was in Belgium, just a short plane ride from Madrid.
So, off she went, this mother of two whose creative resume was dotted with items you might find at Bed Bath & Beyond, rubbing elbows with worldwide experts in high-tech, life-saving devices.
Anne gained a crash-course in emerging medical technology.
She also crashed into this realization: the world she'd envisioned creating already existed.
Software already was taking thousands of 2D images and creating a single 3D heart. Hardware was so advanced that models of hearts were being made using multiple colors and a variety of materials -- flexible or rigid, depending on a surgeon's preference.
"Initially, it was disappointing -- there was no space for me," she said. "Then I got a better view of what was going on and I realized there was actually a better space for me. I'm a lawyer and a project manager. They needed people with my skill set."
Anne saw her role as someone who could help with scalability, a proponent who could vault 3D printing from an experimental option to a standard tool for all pediatric heart surgeons.
Considering how little margin for errors doctors have, it's risky for them to rely on anything unproven. So her first goal is building a body of evidence -- proof that it works.
So Anne is the project manager of a proposed study involving Children's Hospital of Philadelphia, Texas Children's Hospital, Children's National Medical Center and Phoenix Children's Hospital, with more hospitals still being recruited. It will compare pediatric operations with and without 3D hearts to see which have better outcomes.
The aim goes beyond persuading doctors and hospitals. The biggest difference-maker is the insurance industry. Getting them willing to pay for 3D prints would lead to much wider use.
Her pitch to insurers is pretty compelling: A single day in a cardiac unit can exceed the cost of a 3D printer and its materials. So if an operation using these prints gets a single child home a single day sooner, the investment in that printer would quickly pay for itself.
There's a second layer to Anne's crusade, another role she is uniquely qualified to fill -- that of a parent who's been through it.
She offers support ranging from emotional to practical. She can provide families the resources they need to become self-advocates seeking the best care possible for their children.
Anne has coordinated her efforts into a single organization: OpHeart.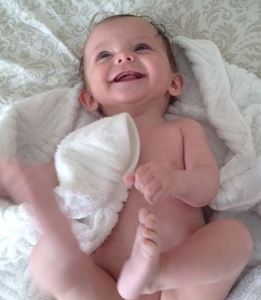 Ariana turns 1 on June 17, and is catching up on various developmental charts.
One big change is that the Garcias have moved back to Houston. Part of the reason is for her ongoing care with the experts at Texas Children's Hospital. Being in the U.S. also makes it easier for Anne to run OpHeart.
As a lawyer, she fully understands all the delicate nuances involved in bringing 3D models into pediatric cardiac operations.
As the parent of such a patient, she knows how necessary it is.
"This is one of those rare times where the answer is really elegant and very simple," she said. "Practice hearts make perfect surgery, and by ensuring that this tool is available for the benefit of all kids, more kids will live. It's too important -- and too easy -- not to do."