WARSAW - If you've ever been to Ireland, then you know it's a magical place. If you haven't been, you still know it's magical thanks to the branding of Lucky Charms...
When I found out there was a team from Ireland I thought to myself, "You know, they'll probably be really nice and know how to slam back a few pints of Guinness." While I can't confirm the latter, you'd have better luck sobering up Lindsay Lohan than finding a team here who has more heart than team ImagiNote.
Dublin Institute of Technology student Nikola Nevin conceived the idea for the project after her grandfather, an avid guitar player, developed Parkinson's disease and could no longer play. ImagiNote now gives him the opportunity to express himself through music again.
The technology behind ImagiNote is sound beam. When a player interacts with the beam, they generate sound and visuals.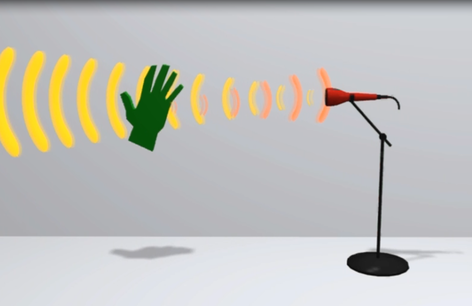 "The Irish government just had these sitting around," Nevin said. "They were originally used for music therapy, but kids got bored of hearing the same sound."
She and her teammates Jonathan Lynch, Marco Castorina and Phillip Kananagh are all passionate about music and, like a traditional instrument, have devoted time to practice the ImagiNote. Nevin is able to play the drums to Queen's "We Will Rock You" and did a rimshot after telling a couple jokes.
"There is a bit of skill to it," Nevin said.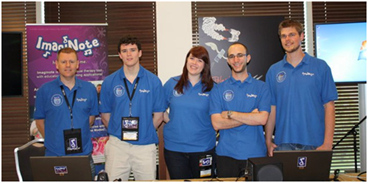 Already being used in four schools in Ireland, the team thinks this technology has the potential to help students with disabilities, since it's accessible and can be used by anyone. Seriously, all you have to do is blink or move your eyeballs.
Nevin also said improvement in mathematics may result after playing in Numbers Mode, which requires players to reach a goal by solving equations. And in Letters Mode, players must catch letters to spell various words. The team thinks this may help students with dyslexia.
While ImagiNote did not make it to the second round, they were hands down the most talked about team outside the finalists. Even Microsoft General Manager of Education Strategy Jon Perera said it was one of his favorites and was sad to see them eliminated.
The team said they want to develop a more three-dimensional version with Microsoft's Kinect, which uses a 3-D camera to follow a player's movements and recreates them on screen. For ImagiNote, this would not restrict users to 2-D nature of the sound beam and allow them to play multiple instruments at once. So move over, Rockband. The future of playing music on a video game will take a little talent.
Calling all HuffPost superfans!
Sign up for membership to become a founding member and help shape HuffPost's next chapter