Imagine Dragons front man, Dan Reynolds stopped by AOL's BUILDseries studio in New York City on 11/15/16 to publicly discuss his latest projects. Here are 5 takeaways from his conversation with Rolling Stone contributing editor, Joe Levy.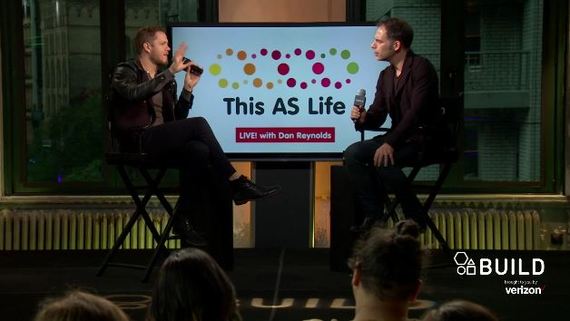 1. Dan Reynolds was diagnosed with Ankylosing spondylitis (AS).
Right around the time Reynolds and his Imagine Dragons band mates signed the record deal with Interscope, he noticed a strange painful sensation in his lower back. Reynolds described it as if "someone was drilling in my nerves, [and also] it felt like someone had a hold of your nerves." He compared it to the drilling you would get at a dentist office when your cavity gets filled.
"It was this really strange pain and it got worse and worse. It got to the point where I couldn't sit down for a long time, to the point where I was immobile. I played a couple of shows where I stood in front of a microphone which for Imagine Dragons is a strange show because it's a very mobile show, very active. There was a point where I thought 'Ok, this is going to ruin the career, this is going to be the end of the career right when the career is starting because of Ankylosing spondylitis (AS)'. It took a year and a half to get it fully diagnosed. Honestly I blame myself more so than doctors because I was really stubborn. I thought I was healthy and didn't believe I could have a disease which is what most people think. So I put it off and I saw doctor after doctor and finally I went and saw a specialist, a rheumatologist and they did some genetic testing and said 'Oh, you have this marker, this is clearly AS, try taking this different round.' We did some different kind of medications and lifestyle changes. It took a couple of years of even that to really find the right path for me. But finally I've really gotten it under control in the last couple of years here."
2. His siblings also have AS.
Reynolds disclosed to the audience that two of his brothers has AS too. Reynolds added that AS is an "autoimmune disease where your body thinks your joint is a disease and attacks your joint and it inflames your body." In simpler terms, your body is practically attacking itself and if it goes untreated for a long time the worst case scenario would be fusion of the spine! Fortunately for Reynolds, he caught it in its early stages so he won't be suffering that awful fate anytime soon and hopefully not in the distant future too.
3. Yoga, exercising, and eating healthy has helped Dan lead a seemingly normal life again.
Despite the AS diagnosis which he kept private for seven years, Reynolds gives credit to yoga for helping him stay nimble and flexible with his body. Here's the moment of him reaching his toes on the BUILD stage: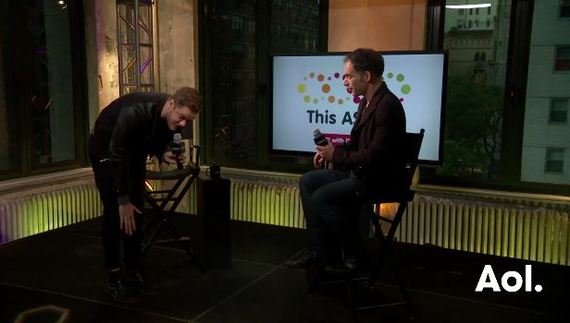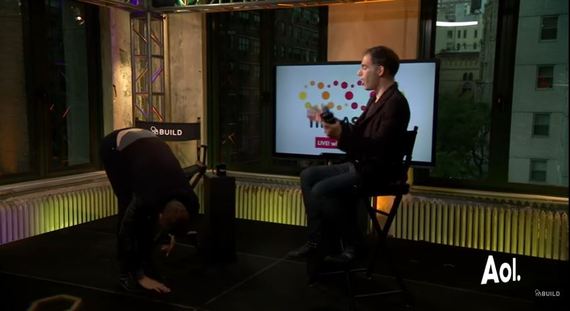 In addition to doing yoga, he said:
"I'm super disciplined with what I eat and exercise. That's really the main thing that helps me maintain. You have to be super super active! So, 3x/week I'll do yoga, 2-3x/wk I'll go to the gym and do athletic training. Those two things together as well as eating really healthy has worked for me."
He hasn't suffered any flare ups due to this active regimen in six months!
I commend him for his bravery to speak out on his AS diagnosis and for using his celebrity status to broaden the focus on this disease. It's certainly not an easy thing to do in revealing a personal and private matter to the public. But once you overcome the idea that an AS diagnosis [or any diagnosis] is "shameful" as he described during the interview, you feel more "passionate" for your goals in life. In his case, his passion for music has been greatly enhanced via the emotional and physical pains he suffered. It will also be evident in the upcoming "This AS Life Live" series hosted by Reynolds himself!
Reynolds explained that this platform "is a place, it is a voice for AS, it's a community that people can turn to, to hear other people's stories who have AS." He will conduct a series where he gets to interview AS-stricken people who've fought this disease or just freshly been diagnosed by the disease. Look forward to the first video premiering sometime in early 2017 here. It will definitely be an informative series to watch so stay tuned for that! But for now you can read AS related news articles and stories from other patients at the aforementioned link.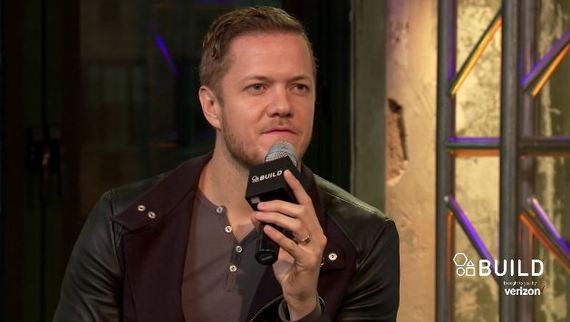 5. Imagine Dragons 3rd LP Prospects
Finally, it's worth noting that along with his This AS Life side hustle, Reynolds and his Imagine Dragons band mates are in the process of recording a new studio album in Las Vegas. He told the audience that:
"I feel like, at least for myself I'm really am in the healthiest place I've been in a long time. This last year and a half has been really healthy for me, mentally, physically. It's cool to create music from that place because it's a different place and I feel like the music is different, it's an evolution for us. It's one that I'm excited about! Hopefully the fans will be the same as well. I'm really excited how things are coming together!"
So with that tease being said, what do you guys think? Let me know in the comments box down below, what kind of sound you think Imagine Dragons would have for ID LP3? What's been your favorite song(s) so far and why? How many ID concerts you've attended?
Calling all HuffPost superfans!
Sign up for membership to become a founding member and help shape HuffPost's next chapter