"There's not a day that goes by that I don't get an email from someone who is angry with me and tells me they're not going to let their kid listen to Imagine Dragons anymore," the 31-year-old Nevada native told HuffPost. "I've seen comments in articles, too, where people say, 'This privileged, white, heterosexual man is trying to be a part of a cause for reasons other than…' It just is what it is. I believe so much in the cause that it's all just noise to me."
For the second year in a row, Reynolds has organized the LoveLoud Festival Powered by AT&T, a day-long Utah music festival benefiting LGBTQ advocacy groups and organizations. Last year's event figured prominently in the 2018 HBO documentary "Believer," which explored Reynolds' efforts to reconcile his LGBTQ advocacy work with his Mormon upbringing.
This year's LoveLoud Festival, scheduled for Saturday at Salt Lake City's Rice-Eccles Stadium, is even more ambitious. It aims to raise $1 million for LGBTQ organizations and will feature performances by Imagine Dragons, Neon Trees' Tyler Glenn and Tegan Quin of Tegan and Sara, among others. Olympic freeskier Gus Kenworthy, singer-dancer Julianne Hough and Apple CEO Tim Cook are among the notables slated to appear.
In between preparations for the festival, Quin and Reynolds spoke to HuffPost about their plans for this year's event, their commitment to LGBTQ causes and why they feel music can be the most political art form.
Congrats on year two of the LoveLoud Festival! What are you most looking forward to this year?
Dan Reynolds: It feels like Christmas is coming up or something! The last LoveLoud was the best day of my life, really. I know that sounds so corny, but the amount of love, emotion and magic that was in the air was just so indescribable. I can't emphasize enough how incredible it was to look out and see so many families that were having a real moment of coming together. That's a beautiful thing to witness with 20,000 people, and this year it's even bigger than that. I'm looking forward to seeing the transgender kid standing next to their uncle, who has never supported them, with their arms around each other. That's just magical to witness.
Tegan Quin: I wasn't there last year, but watching the documentary about it, I was so moved. It really inspired me to get involved. It's such a positive thing, especially in this day and age when the news is full of so much negativity, strife, conflict and disagreement. Imagine being in a sea of people who are all coming together because they want to experience something positive! It could possibly be the best day ever.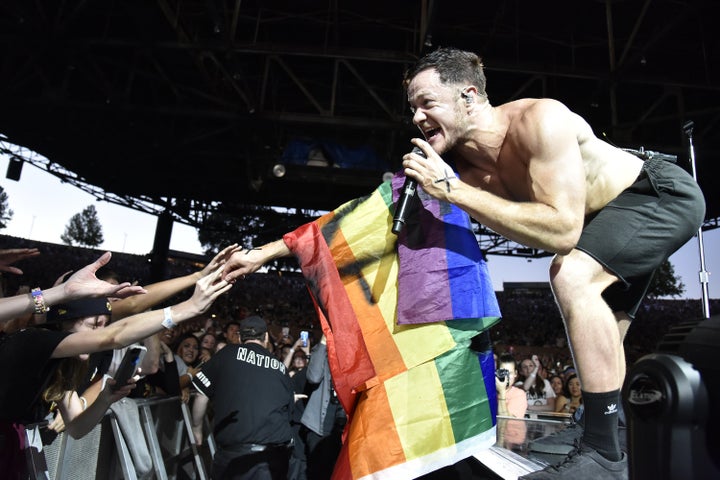 Given the mission of the show, have you received pushback from critics?
Reynolds: Absolutely. Any time you're trying to bring people together on two sides of an issue, I think you're going to have people who are suspicious or have [mixed] feelings about it, and that's OK.
Quin: The first conversation I had with Dan, he was so eloquent on this topic. Dan is in a place of privilege, and it's unfortunate that too often, people who have a platform, access and opportunity don't get involved. I think the fact that Dan is so invested in this is just a testament to how truly serious he is about the cause.
As a queer woman … it's hard to get people to care, hard to get people even within my own community to show up. We all have different perspectives, but one thing we can agree on is that it feels good to come together, have a conversation and celebrate. What Dan is doing is so inspiring to me because he is showing up.
What role do you think artists and musicians have in changing or shifting cultural dialogue, whether that be about LGBTQ rights or any other cause?
Reynolds: Music speaks to people in a way that breaks down boundaries that words and actions sometimes can't. Especially in today's climate, it's more important than ever for musicians to speak up. I'm about as privileged as you can get. I'm a white, male, heterosexual front man of a rock band. So the weight I feel every day is, "What are you doing with that?"
If you're not doing anything, well, then you don't deserve to be where you are. I've spent way too many years voiceless, living inoffensively, living scared. I don't want to be that person anymore, and I don't want to leave that example for [my daughters Arrow Eve, 5, and Gia James and Coco Rae, both 1]. I want them to be ferocious and to speak their truth regardless of consequence. It's sad to me that was a realization I had when I was 30 years old, but now I feel more of an urgency than ever to speak my truth. I wish that had been 10 years ago.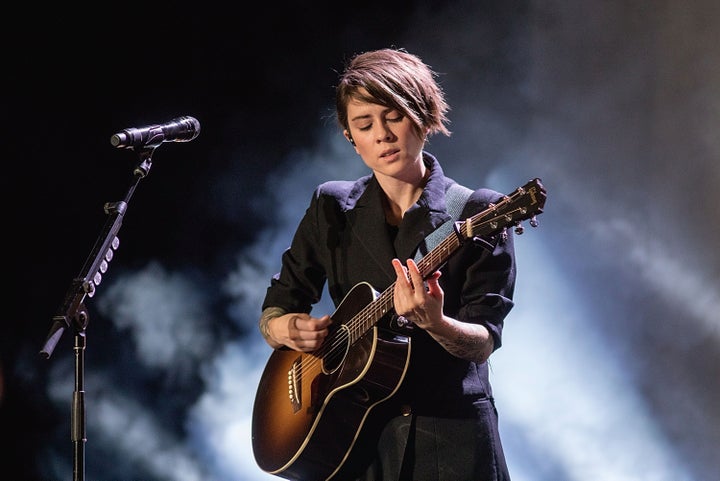 Tegan, have you ever felt any responsibility to represent the LGBTQ community in any specific way through your work as an artist?
Quin: I recognize the privilege of [being] middle-class, white, cisgender and Canadian. We grew up in a really political household and we were encouraged to use our voices from a young age. That definitely had consequences, but when we started our band, it was no question we were going to be out and speak out about what we believed in. I felt compelled socially, politically, even personally to speak out and help those in my community.
As musicians, we're given leeway that even actors aren't. We're allowed to speak about the things that we think matter, and our audience is allowed to not care if that's what they want.
Sometimes I feel tired, too. I don't wake up every day going, "Yeah, this is awesome." Sometimes I think, "Well, I wish I didn't have an opinion." I look at some other artists who don't seem to have an opinion or don't care, and I think, "I wish I could just put selfies up."
"I'm about as privileged as you can get. I'm a white, male, heterosexual front man of a rock band. So the weight I feel every day is, 'What are you doing with that?'"
What do you hope fans most take way from the LoveLoud Festival?
Reynolds: I hope everyone feels like there's a place at the table for them. The urgency around this issue is so dire. We're losing our LGBTQ youth to suicide, [and] depression and anxiety rates are skyrocketing. Until we change the culture … those statistics aren't going to change. If our leaders don't change, the people must change and they must speak louder.
Love is an empty word without full acceptance and without … telling your child or friend they are beautiful and unflawed in their sexuality. My hope is that everyone will walk away with changed perspectives.
The official ride share partner of the LoveLoud Festival, Lyft will donate $5 for every ride taken to the festival using the code LOVELOUD to the LoveLoud Foundation.
Popular in the Community