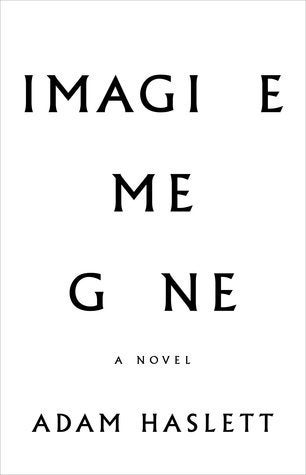 "What do you fear when you fear everything?" reflects Michael, a man consumed by an anxiety disorder he seems to have been born with. "Time passing and not passing. Death and life."
It's an almost uncomfortably bald description of his emotional state, but then, that's Michael: he's wildly smart, inventive and attached to a handful of loved ones, on whom he depends for support. There's Margaret, his doting and traditional mother, Celia, his practical sister who tends toward serial monogamy, Alec, his theatrical younger brother who's driven by his fear for his unstable journalism career. And then there's John, his equally troubled father, whose absence is as painful as his presence once was.
Adam Haslett's latest novel Imagine Me Gone is narrated by this cast, as each describes attempts to move away from their family's tragic past, forming individual lives of their own. For Alec, escape was found in words, and in sex -- he comes out at 17, and proceeds to hook up with strangers, not risking intimacy, until he meets Seth, a young man who's as forward emotionally as Alec is physically. For Margaret, facilitating daily activities with coworkers at the library where she works helps bridge the long periods separating visits from her children. For Celia, building a solid foundation upheld by a steady job and a lasting romantic partnership grants her peace. And for Michael, who grapples with generalized anxiety, talking about his fears with his loved ones helps quiet them, at least temporarily.
Haslett is at his strongest -- that is, most inventive, and most moving -- when bringing Michael's neuroses to life. As a preteen, his reeling mind constructs fictional scenes of escalating absurdity in a series of letters to his aunt, meant to describe the family's cruise-bound move from the Northeast to London. Later, after a doctor prescribes him Klonopin and he's seeking to up the dosage, he fills out a standard office form with wending self-analyses, revealing his failed romances, the reprieve he finds when listening to disco, and his academic interest in the suffering of black Americans.
The latter theme, woven throughout the book, is tricky. Haslett uses Michael's fixation on what he calls "transgenerational haunting" as a lens through which to examine both the character's liberal guilt and his reckoning with his family's own sordid history. It's an effective metaphor in parts, but on the whole can feel like appropriation of a specific cultural problem for the purpose of a neat storyline -- which is precisely something Michael himself would chastise.
Michael writes that stories about suffering make him feel understood. But, when discussing victims of the slave trade, he adds, "The comparison of my dread to theirs would be grotesque." Why, then, does the author make such a comparison? Haslett's thesis -- that communities, especially nuclear families, both bolster and wreck the individuals involved in them -- is made clear enough by the book's touching final pages.
An ambitious book about music, anxiety, and a family determined to stick together after fracturing loss, Imagine Me Gone is proof that realistic stories have immense power.
What other reviewers think:
Publishers Weekly: "This is a book that tenderly and luminously deals with mental illness and with the life of the mind."
Kirkus: "As vivid and moving as the novel is, it's not because Haslett strives to surprise but because he's so mindful and expressive of how much precious life there is in both normalcy and anguish."
Adam Haslett is the author of Union Atlantic and You Are Not a Stranger Here, a Pulitzer Prize and National Book Award finalist.
Anyone interested in familial dramas, realistic stories and mental health.
"As I stepped out of the cabin, whiteness blinded me. The snow-covered yard glistened under the full sun. Icicles lining the roof of the shed dripped with meltwater."
"I have the passing terror that it isn't so simple, that in these ultimate matters time is collapsed into a single moment in which you are forever in danger of having the knife tilt the other way, as though, if I am not careful between here and the parking lot, I might go astray and she will be canceled, stolen back by not-being, like a thief grabbing her through an open window. But we make it to the car, and she tosses her bag over her shoulder into the backseat and puts her feet up on the dashboard."
The Bottom Line is a weekly review combining plot description and analysis with fun tidbits about the book.