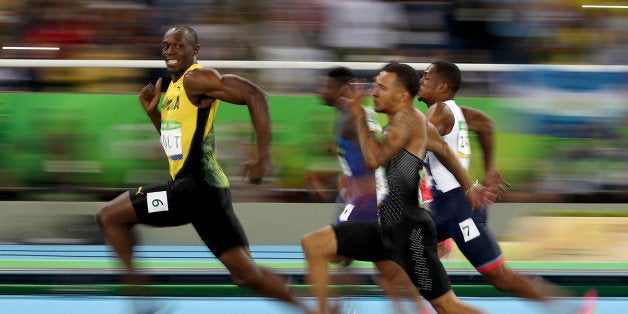 In less than 24 hours, the image of Usain Bolt turning to the camera to make sure it gets his better side in the snapshot has become iconic. Everyone else looks like they're fighting for their life, clawing for each breath, the air burning as it enters their lungs. Bolt? He's previewing tomorrow's sports section cover. Bolt comes to the Olympics 100 "Usain Bolt Appreciation Event" Meter dash to give you the perfect headline and the photo go to with it. Everyone else comes to maybe, hopefully have a shot at silver.
Now go back and watch that race again. Watch the start. Watch carefully. You'd expect the fastest man in the world explode out of that gate like some sort of futuristic Millennium Falcon entering hyperspace, instead he leaves the starting line like a beat up Fiat with transmission problems. It doesn't matter, because halfway through he turns into a Ferrari, if Ferrari's were equipped with that SpaceX interstellar engine.
There are only two people I can think of faster than Usain Bolt, and both of them are fictional. One is the Road Runner, capable of bending fictional perceptions (tunnel drawings) int reality. The other is a much maligned comic book hero that DC doesn't seem to know what to do with. That's all I got because comparing Usain Bolt to anyone else seems criminal. Winning three 100 meter events is not only historically unprecedented. It unimaginable. It was fictitious. Until it wasn't.
Now imagine Bolt irons out his well documented issues on the starting block. Imagine he fixes that and darts out of the gate straight as an arrow ahead of everyone. Imagine he doesn't have to play catch up for the first two seconds of the race. Is any other athlete even in the photo when he turns his head slightly to his left and flash you that smile? If he does that he doesn't just shatter the world record, he makes sure it never gets broken again until we're competing against either aliens or X-Men. He breaks the sport he is already the very best in both presently and historically. Maybe our understanding of space and time breaks with it. Maybe he folds into another dimensions and comes out three years in the future before coming back to warn us about the perils of a Trump presidency. Or maybe, just maybe, we get a better photo of a man all alone racing against no one but himself. Because that's what transcending sports legends do. And Bolt is one, make no mistake, but just imagine. Imagine his starts were perfect.
Calling all HuffPost superfans!
Sign up for membership to become a founding member and help shape HuffPost's next chapter