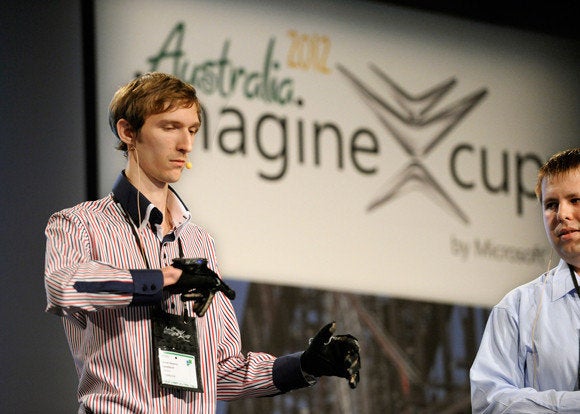 At the 2012 Imagine Cup, students from across the globe have developed and presented a whole range of technology-based solutions to the world's problems. It is up to students to identify and justify the problems they have looked to solve, and many of them have tackled issues in education, and provided educational technology solutions to those problems.
It is encouraging to see students developing solutions for the world that they are very close to and know so well -- the classroom. What is more encouraging is the fact the way these students speak about and attempt to solve the issues of access, inclusion and engagement in education, is with a comprehension of the importance of developing 21st century solutions and disrupting the current way education is delivered.
While, it isn't surprising that these students would develop solutions for problems that they know and may even experience -- what is surprising is the diversity and the depth of understanding of the problems within education systems and structures by the students.
Educational technology developers should take a close look at what the students at Imagine Cup are doing, because they understand the language and needs of students, teachers and the education system in a nuanced way that many others don't. In my discussions with different teams I heard them talk about the importance of designing tools that support non-linear learning, of developing educational tools that allow for student driven learning and providing solutions that were personalized, but did not require excessive planning by teachers. They were not interested in drill and skill, not interested in simulating the 19th century classroom -- instead at Imagine Cup 2012 we saw projects that were redesigning the classroom for the 21st century.
Some of the highlights in education technology at the event were:
This team consisted of two brothers from Brazil. Eduardo and Roberto Sonnino are impressive young men who have been competing in the Imagine Cup for over five years. Their tool is most innovative in its ability to address two issues that the young men have identified:
The need to turn standard linear education content into non-linear content.
Developing a creation system that is easy and very, very time effective for teachers.
Their Eureka System is allows for the development and sharing of interactive lessons across platforms, uses responsive design and allows teachers to re-purpose all of their existing content (no matter what format) and include it in a non-linear platform that allows students to take responsibility for their learning in a self-directed way. The tool offers open-ended activites and learning, but also the development of close-ended testing and quizzes. The focus is on learning and teaching however, not on testing and metrics. So refreshing! They have identified a key issue as the limited time teachers have for planning and lesson development and have made that a core problem to address. This tool has all the right elements to be successful.
The Fifth Element
This project was the winner of the Coca-Cola Health Awareness Award. However, it is really a dynamic educational and therapy tool for children with autism. By using Kinect technology across networks, the team has developed a remote therapy solution that is complemented by a series of educational apps and tools that can be customized and personalized by therapists.
This solution demonstrates that the team recognizes that an autism diagnosis is not standard, each individual has different developmental needs and goals, so they have provided a tool that allows the therapist to design programs that reflect that diversity. Another great aspect of the Fifth Element project is the alignment of the games and therapy tools to existing therapy. The tool includes the ability for therapists to include notes, to engage with the family more broadly and use the digital environment as an interactive, discursive space. It takes learning and therapy for children with autism in remote locations to another level and deals well with the strain that intervention and therapy services to manage such large numbers of clients.
Math Dash
This project very much deserved to be the winner of the Mobile Games Award at the Imagine Cup 2012 by Team Drexel Dragons. Math Dash appears to be another math app for primary aged children, but the thought put into the design makes it an app that engages children minds in a deeper way. Rather than offer a series of multiple choice answers to problems, the team provided the answers to algebraic questions and offered a wide range of numbers for students to formulate
Others worth a look are:
Team Arbel: a tool that solves educational problems using interactive whiteboard tech, powered by Wiimote, LED pen, and Kinect.
Team Wake Up: Wake Up aims to maximize the benefits of new technologies in behalf of children with Down syndrome allowing them to use Kinect and games based on natural interaction, color detection, gesture recognition and artificial intelligence to enhance their motor skills, attention, memory, perception and communication.
Calling all HuffPost superfans!
Sign up for membership to become a founding member and help shape HuffPost's next chapter