 With time off over the holidays and the Russian adoption ban, I have had time to think about orphans in a more personal way. I am usually eager to write about and advocate for orphans. This week I was interviewed on CNN and wrote a piece for The Daily Beast. I railed against the injustice of this ban and I articulated the real issues facing orphans left to rot in institutions in Russia. I was "the expert," but at the end of it all, I awakened today very vulnerable. My sober and smart talk about the cruel treatment of millions of orphans around the world finally wore me out.
Today, I write about my sons, and what all of us who are parents through adoption feel after Putin's ban on Russian adoption.
As families wait in Moscow for a decision about whether they will be permitted to adopt their children and bring them home to the U.S., I agonize about what might have happened to my sons and to all the families with whom I have worked over the past 25 years as an adoption medicine specialist.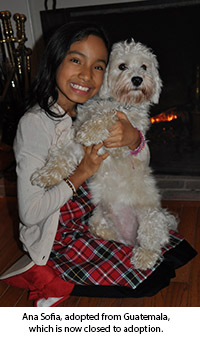 Over the past week, I spent a lot of time with my 12 and 14-year old sons, Ben and Des, both of whom were adopted from overseas. I watched them play Wii and XBox. They went sledding and built forts in the snow. I took them skiing in Connecticut and observed them on play dates with their buddies. They went to the movies to see The Hobbit, Cirque du Soleil, Les Miserables, and the new Tom Cruise film. They slept late and I kissed them as they lay heavy with dreams in the middle of the night. I haggled with them about more XBox games at Target and fed them pizza, Chinese food and Dunkin Donuts. I had many awesome conversations with them about life including the meaning of the movie Les Miserables. Des told me that the movie was about "redemption" and Ben said, "forgiveness."
I feel proud of my sons daily, but this week I stepped back and did something I don't often do: I imagined my life without them. And then I did the most dangerous thing: I imagined them as orphans in their own home countries of Vietnam and Ethiopia. Their adoption gave them permanency and even though I am a pretty neurotic American parent, they have been safe and secure in Maplewood, New Jersey and are well-educated and happy boys. What would happen to all the children left behind without the services of an outside agency like Worldwide Orphans Foundation, which I created to help orphans be successful in their own communities?
They might have become like all children who have been institutionalized throughout history. The U.S. is included in the long list of countries whether rich or poor, that dumps children without parents into bad foster care homes and/or orphanages where they become feral creatures without intimacy and connection. They are shaped without love and affection to become nothing, but bodies surviving and never reaching their potential. Even with resiliency they would have sustained the pain of loneliness and abandonment. One minute of this is inexcusable and just outrageous. It seals a fate worse than death. It can lead to criminality, prostitution, homelessness and endless expenditures to manage the intergenerational transmission of poverty and more orphans.
Why do we tolerate a moment of this? Why is this not an emergency moment where we convene global meetings to end the maltreatment of children? Why is there a Malala Yousafzai? Why was a young woman in India raped and murdered this past week? Why were 20 American children shot to death two weeks ago?
Where is our humanity? There should be an outcry internationally to censure Putin for his evil act to lock up and ruin hundreds of thousands of children. He hides Russian offenses against children with this ban. He summarily ends a discussion about his personal lack of responsibility to orphans in his own country. He gets away with more isolation and secrecy about cruelty to the most vulnerable children in the world. He might as well be exterminating children. It is a holocaust for sure.
I watched Spartacus with my older son, last night. He loves a good "bad" movie with heroes and foes and history that might even be slightly exaggerated or even wrong. He talks about what he knows of the history and enjoys the overly dramatic acting and the old-fashioned romance. I identified Sir Laurence Olivier, Peter Ustinov, Kirk Douglas and Jean Simmons, wistfully remembering when I first saw the movie. I say "early '60s" and he Googles and yes, 1960 is when I saw Spartacus for the first time. We will finish the movie today and Des will adore the scene where all the slaves say, "I am Spartacus." He will understand this moment whether it is hokey or not because he has a heart and a soul and is loved. He is revered and respected and treasured, as every child should be from their first breath at birth. And I am blessed with two lovely sons who thrive and grow in our family. This is what should be available to all children around the world.
Dr. Jane Aronson
Founder and CEO
Worldwide Orphans Foundation
Popular in the Community