Muslim leaders from across the globe paid tribute Holocaust victims this week during a visit to Auschwitz, the former Nazi concentration camp, where they prayed at the Wall of Death for those who were killed by genocide and suffered under violent anti-Semitism.
The imams, who hailed from Saudi Arabia, Jordan, Bosnia, Palestine, Indonesia, Nigeria, Turkey and the United States, performed Islamic prayers while facing Mecca as part of a Holocaust awareness visit funded in part by the U.S. State Department.
"What can you say? You're speechless. What you have seen is beyond human imagination," Imam Mohamed Magid, President of the U.S.-based Islamic Society of North America, told Agence France-Presse.
"Whether in Europe today or in the Muslim world, my call to humanity: End racism for God's sake, end anti-Semitism for God's sake, end Islamophobia for God's sake, end sexism for God's sake... Enough is enough," said Magid, who leads the All Dulles Area Muslim Society in Northern Virginia.
The visit, which runs through Friday, is scheduled to include a tour of Warsaw's new Museum of the History of Polish Jews, a kosher dinner with Polish Chief Rabbi Michael Schudrich, and a meeting with the Polish Righteous Among the Nations, according to JTA. The group of imams, which includes Muzammil H. Siddiqi, president of the Fiqh Council of North America and the former president of the Islamic Society of North America, is also scheduled to meet with Muslim, Jewish and Catholic leaders in Poland.
"We thank [the imams] for their willingness to come. Our task is to encourage proper understanding between our faiths in ways that stress our common humanity," said Rabbi Jack Bemporad, who is the Executive Director of the New Jersey-based Center for Interreligious Understanding and is leading the visit. "Understanding our particular histories will help us better understand each other so that we can unite in combatting prejudice against all religions."
"I think that the imams that came here having very little knowlege in many cases of the Shoah are now convinced that any kind of Holocaust denial or Holocaust revisionism is simply out of the question," Bemporad said.
Ahmet Muharrem Atlig, a Turkish Muslim and former imam, said that despite being educated in "much informaiton about Auschwitz-Birkenau and the Holocaust," the visit was a "turning point" for him.
"As soon as possible, I will bring my family here ... I will organize Turkish imams and muftis to go to Holocaust sites. My people don't know what happened here. It's not an agenda. It's a reality. This is not Jewish heritage, it's world heritage. Jewish people were mostly affected but the lessons are global," Atlig said.
This week's visit is not the first time Muslim leaders have visited Auschwitz. In 2010, eight American imams took part in a similar trip.
"The U.S. imams told us that their trip was transformative and they shared their experiences with their American Muslim communities. We thought a trip with an international group of imams and religious leaders to be of vital importance," said Catholic University of America law professor Marshall Breger, an Orthodox Jew and former Reagan White House liaison to the Jewish community who helped organized both trips.
"Increasing compassion and preserving man's humanity starts with unveiling falsehoods that shore up bigotry. Unfortunately, one of those is Holocaust denial. Muslims and millions of others also suffered and Holocaust denial denies them, too, not just Jews who perished," Breger said.
Related
Before You Go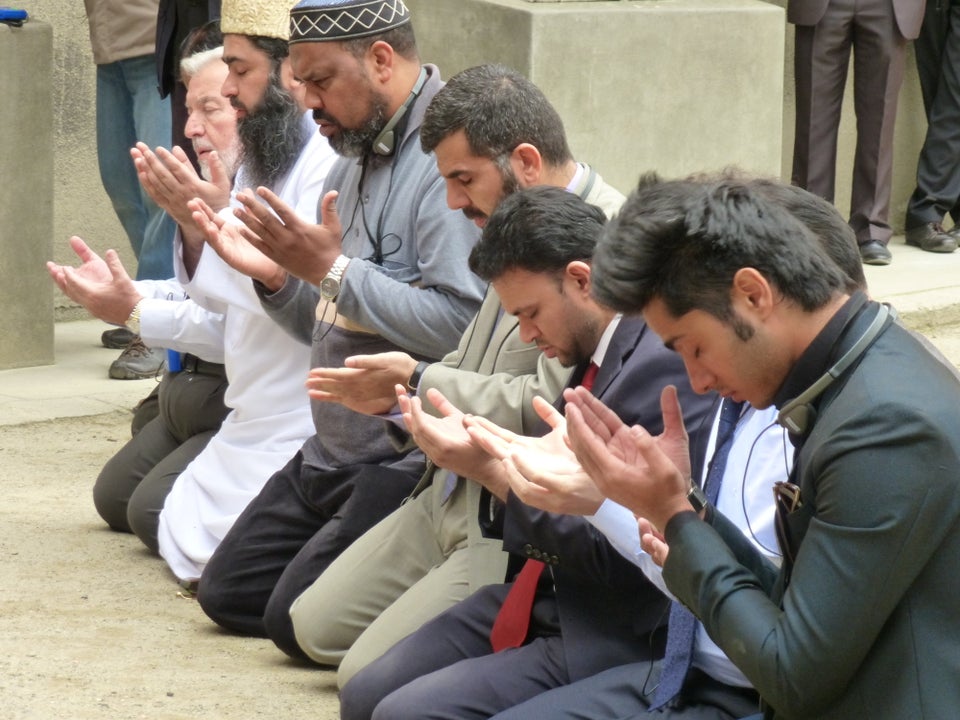 Imams visit Auschwitz and Holocaust-related sites
Popular in the Community