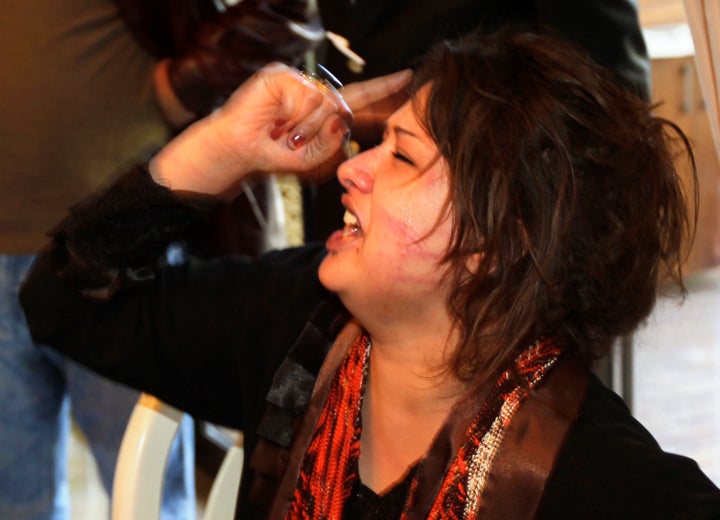 TRIPOLI, Libya -- A woman who rushed into a hotel to tell foreign reporters that Libyan troops had raped her is free and with her family, the government said Sunday.
Iman al-Obeidi was tackled by waitresses and government minders as she told her story to journalists Saturday after running into the hotel where many are staying. She said that troops had detained her at a checkpoint, tied her up, abused her, then led her away to be gang-raped.
The Associated Press only identifies rape victims who volunteer their names.
The government says four men were interrogated in the case, including the son of a high-ranking state official.
The son of a high-ranking Libyan police officer is thought to be among five people arrested after a woman claimed she was raped and tortured by men connected to Colonel Gaddafi's regime.

In a conversation with Sky News, Libya's deputy foreign minister Khalid Kaim said the men were being detained as part of a criminal investigation into the rape allegations made by Iman al-Obeidi.
Government spokesman Moussa Ibrahim claimed in an interview with The Associated Press that the woman was a prostitute who refused to undergo a medical examination, and that she is now with her sister in the Libyan capital.
"This girl is a prostitute. She has her rights completely, but the girl is not what she pretended to be, this is her line of work," he said. But at a news conference in Tripoli several hours later, he did not repeat that allegation.
He said she had named her attackers, which claimed was against Libyan custom.
"It's about the honor of family of children and people," Moussa told reporters.
Al-Obeidi had said she was detained by a number of troops at a Tripoli checkpoint on Wednesday. She said they were drinking whiskey and handcuffed her. She said 15 men later raped her.
"They tied me up ... they even defecated and urinated on me," she said, her face streaming with tears. "The Gadhafi militiamen violated my honor."
Then hotel employees and security personnel jumped her and dragged her out of the hotel as she tried to tell her story to journalists on Saturday.
Her story could not be independently verified.
The waiters called her a traitor and told her to shut up. She retorted: "We're all Libyan brothers, we are supposed to be treated the same, but this is what the Gadhafi militiamen did to me, they violated my honor."
The scene quickly turned chaotic, with journalists attempting to protect the woman from government minders who physically attacked and intimidated her.
Journalists who tried to intervene were pushed out of the way by the minders. A British television reporter was punched, and CNN's camera was smashed on the ground by the minders.
Calling all HuffPost superfans!
Sign up for membership to become a founding member and help shape HuffPost's next chapter