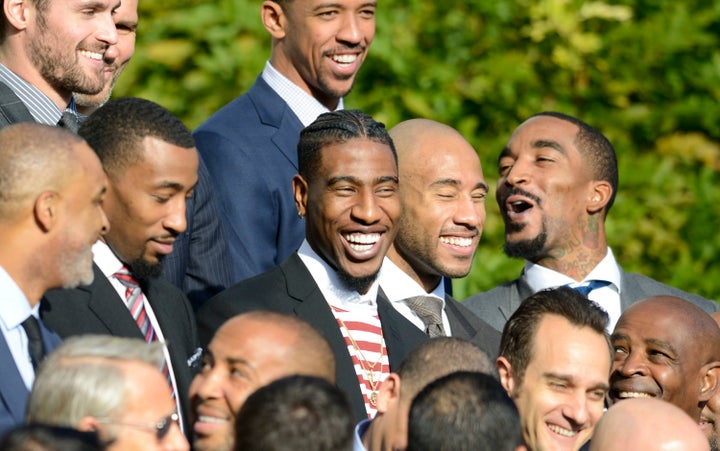 Miss Manners probably wouldn't approve of turning down an invitation before it's offered, let alone publicly criticizing your presumed host. But Iman Shumpert is choosing getting real over being polite.
"I'm not going to the White House," Shumpert said in the interview published Wednesday.
I understand people's stance on Trump. I can't get caught up in the racial, sexist bullshit he's got going on. That's his personal thing, ya dig? But I just don't think he can make anything shake like that. He not finna start no civil war out here. I do think he's crazy—straight up. I think he did that stuff to get people to think he's willing to shake it up. But did I vote for him? No. The other stuff that comes with him, I can't get with. But now that he's here, I'm not finna drag my feet. I gotta work here, at least until the offseason, if I wanna go get a crib in the Islands.
Obama also blew Shumpert's mind with his ability to move a presidential lectern:
 On a more serious note, Shumpert expressed gratitude for the chance to meet the president and first lady. 
Shumpert's teammate, LeBron James, has also denounced Trump, though not quite as forcefully. 
"We'll have to cross that road," James told the Akron Beacon Journal. He said the election result was "difficult," but urged people to move forward and work on making the country better.
"I don't know how you go about it, if you're a person of color today or a Latino," Van Gundy said. "Because white society just said to you, again ― not like we haven't forever ― but again, and emphatically, that I don't think you deserve equality."
Shumpert also seems pretty fearless when it comes to fashion — which is what he spent most of the time talking about with Complex — whether he's wearing an extravagant designer jacket to the arena or walking around New York City in a crop top. 
"I also have a $6,000 Phillip Lim coat with pockets that are big enough to fit a sandwich," he said. "That's why I got it." 
REAL LIFE. REAL NEWS. REAL VOICES.
Help us tell more of the stories that matter from voices that too often remain unheard.
BEFORE YOU GO
PHOTO GALLERY
Cleveland Cavaliers 2016 NBA Champions