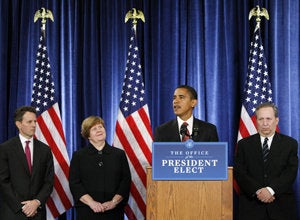 WASHINGTON -- The International Monetary Fund's top economist generally endorsed the incoming Obama administration's approach to economic stimulus, and urged countries to consider offering a kind of "recession insurance" to companies and individuals.
President-elect Barack Obama's economic team is weighing a stimulus plan that would cost somewhere between $675 billion and $775 billion over two years, and would be used largely for construction and other government spending. The package is likely to include a temporary tax cut of as much as $1,000 for middle-income families.
Olivier Blanchard, the IMF's chief economist, said "the size corresponds roughly to what we think is needed." He backed the Obama approach of targeted tax cuts, saying the money should go to consumers who are "truly credit constrained."
Support HuffPost
The Stakes Have Never Been Higher
Related
Popular in the Community