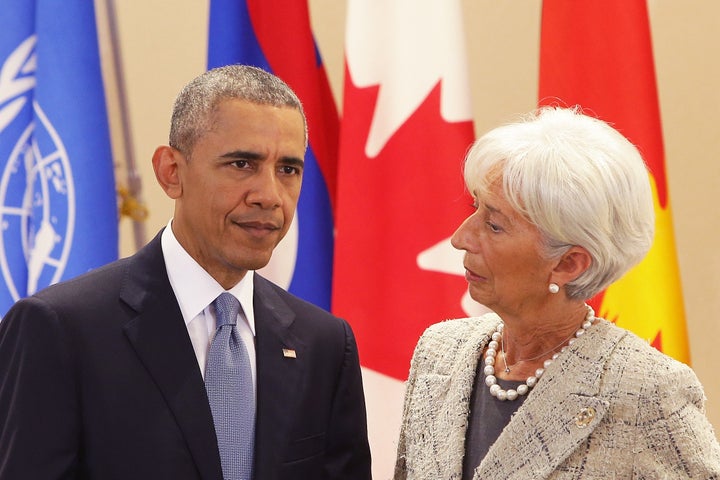 Three International Monetary Fund economists appeared Thursday to call on governments to reconsider the value of austerity and openness to foreign capital.
The article, simply entitled, "Neoliberalism: Oversold?" is making waves precisely because it came from an institution considered one of neoliberalism's chief salesmen.
Neoliberalism refers to the re-emergence of classically "liberal" ideas about capitalism in Western academic and public policy circles in the 1970s and 1980s. The school of thought holds that sustainable economic growth is best achieved by reducing many forms of government intervention in the economy. In practice, that means encouraging the privatization of previously public services, the reduction of budget deficits and the opening up of economies to international competition and investment.
Neoliberalism has been the guiding philosophy behind the reforms the IMF has imposed on the nations it lends to -- including Greece, where an intractable debt crisis has shaken Europe at its foundation.
Now, the ideology is a hot topic in the U.S. presidential race, with populist candidates in both parties -- Donald Trump and Sen. Bernie Sanders (I-Vt.) -- capitalizing on a public backlash against neoliberal policies.
(For those feeling the Bern, neoliberalism is a fancier way of saying what the Vermont senator often calls "establishment economics.")
Bernie supporters in particular will find a lot to like in the IMF researchers' new paper.
Its authors, Jonathan Ostry, Prakash Loungani and Davide Furceri, offer a damning indictment of two key tenets of the neoliberal agenda: fiscal consolidation, commonly known as "austerity," and the free flow of capital between different countries. Surveying global data, they decide that the two policies produce "increased inequality" that ultimately "hurts the level and sustainability of growth."
"I think it's good that the IMF research department is recognizing what I have been writing about for more than 15 years."
The paper suggests a possible change of heart from the lender, especially after the intense controversy over austerity in the wake of the 2008 financial crisis and subsequent global recession. The authors' idea -- that austerity depresses demand and, implicitly, risks trapping countries in the very cycles of contraction and debt accumulation they seek to avoid -- is by now conventional wisdom among progressive economists in the U.S. and Europe.
"I think it's good that the IMF research department is recognizing what I have been writing about for more than 15 years," said Mark Weisbrot, co-director of the Center for Economic and Policy Research.
But experts warn that it is easy to overstate the significance of a paper from a few IMF researchers. The research does not represent an official change in philosophy at the powerful lender, to say nothing of an about-face in the terms of the loans it issues.
Peter Doyle, an economist and former senior manager at the IMF who resigned from the lender in protest in 2012 over its handling of Greece, dismissed the paper as nothing more than "what three guys at the IMF think."
"This has no broad sanction. It has no status," he said. "Three different guys might have produced a different article."
"The liberal commentariat in the U.S. and Europe applaud them, and then the IMF goes back to doing something else behind closed doors."
Even if one considers it significant that the IMF is even funding this kind of research, it is aimed at the wrong countries, according to Doyle. The paper's advice is directed at developed nations, to which the IMF does not lend directly and over which it therefore has little influence.
"Any person looking at this would say, 'Who cares what the IMF says about the U.S.?' But people care very greatly what it says about Greece, Iraq, Malawi -- these places where it holds real clout," he said. "Perhaps it would be better to devote itself to that than to this self-congratulating stuff."
Doyle speculates that the IMF is comfortable permitting researchers to take a progressive stance on countries where its words matter little, in the hopes of "playing into this public relations thing."
"The liberal commentariat in the U.S. and Europe applaud them, and then the IMF goes back to doing something else behind closed doors," Doyle said.
Indeed, IMF economists have produced other work in recent years that has also delighted progressives.
A June 2015 paper by IMF economists recognized a link between reducing economic inequality and promoting growth. And an October 2015 paper argued that reducing the gender pay gap was a key part of easing overall income inequality.
Meanwhile, the institution's lending arm has either actively promoted, or failed to prevent, austerity policies that have kept countries like Greece trapped in a vicious cycle of deflation and debt.
For example, after demanding earlier this month that Germany and other European nations provide Greece with significant debt relief, the IMF settled on Wednesday for just assurances from those countries that they'd consider helping Greece in 2018.
"That is the problem: The research does not change the policies," Weisbrot said. "They should withdraw support from the austerity that is preventing Greece from recovering."
Popular in the Community