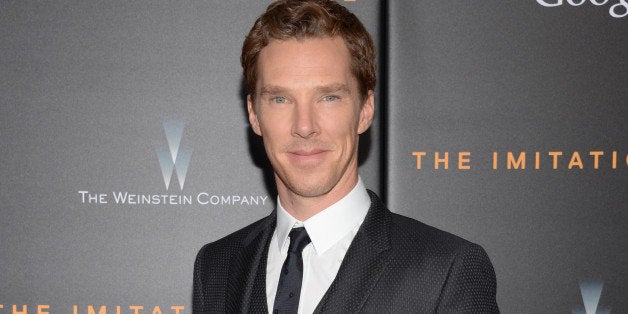 When I had the opportunity to screen the upcoming must-see film The Imitation Game, which stars actor Benedict Cumberbatch as the late British cryptographer and computer scientist Alan Turing, I was struck by a thought. The lesbian, gay, bisexual and transgender (LGBT) community has always had to rediscover the heroes of our movement. And, when you think about it, it's pretty easy to realize why.
When we come out, we often search for role models, people whose stories we can look to for inspiration. And because of that, the stories of our community -- our legendary role models -- depend on a different kind of oral tradition to survive. Instead of aunts and uncles, parents and grandparents, we hear stories from historians and directors, authors and storytellers, who help us ensure that our history is never truly lost. This is how a generation learned the name Harvey Milk, how the story of Stonewall survived decades of media blackout, how an AIDS quilt shattered political inaction.
The Imitation Game continues this essential tradition. Headed to theaters just a few short years after LGBT activists campaigned aggressively to raise Turing's profile around the world, the film is a masterpiece, and plays a vital role in sharing one of our community's most important stories.
As a member of a secret British counterintelligence team during World War II, Alan Turing developed a method of cracking previously-unbreakable Nazi codes -- a revolution that shortened the war by as much as two years and saved countless lives. Not only did Prime Minister Winston Churchill believe that Turing's cryptographic genius represented the single-biggest contribution to the war effort, but his work was also critical in the development of modern computing, artificial intelligence, and how we perceive and work with technology in our daily lives.
But Alan Turing was also gay, and in 1950s England, that was an unforgivable crime. After the end of the war, Turing was caught in a same-sex relationship, arrested, and charged with "gross indecency." After pleading guilty, he was given a choice: imprisonment or chemical castration. He chose the latter.
After two years of relentless and tortuous "treatment," Turing committed suicide. His story is tragic, all the more so because he was not alone. In Turing's Britain, where "private homosexual acts" were a crime until 1968, thousands of gay men were forced to make the same choice he did. They paid a heavy price, like so many LGBT people right here in America -- enduring relentless discrimination simply for attempting to live complete, fulfilled lives. J. Edgar Hoover's FBI tried to root out LGBT people from government jobs, firing thousands of people simply because of who they are. Because of this witch hunt, many others never left the closet, keeping quiet to stay safe.
It's precisely because there is no hopeful ending to Turing's story that telling it is all the more important. His efforts helped to defeat the spread of fascism, and in return, the British government took away his freedom. Times are changing, though. In 2009, then-Prime Minister Gordon Brown issued an apology to Turing, saying "(he) deserved so much better." For all his contributions to the human race, Turing certainly did deserve a lot more than an apology. It wasn't until December 2013, nearly 60 years after he died, that Queen Elizabeth issued Turing a royal pardon for his conviction from 1952 - a pardon petitioned by several members of Parliament as well as esteemed physicist Stephen Hawking. Few could have accomplished what he did -- achievements that should have earned him a Nobel Peace Prize, a Presidential Medal of Freedom here in the United States and royal honors in the United Kingdom. Instead, he got nothing but pain and suffering -- as did so many of our LGBT forebears, who fought in the shadows so that we may find ourselves enjoying greater freedom today.
As a community, LGBT people have our own family, our own stories, and our own heroes. Alan Turing is one of those heroes, and few have done more to save lives around the globe. He stood alone, against unimaginable odds. Thanks to The Imitation Game, now we can stand with him. He won't ever be forgotten, and, at last, he is one of ours.
Chad Griffin is the President of the Human Rights Campaign, the nation's largest lesbian, gay, bisexual and transgender (LGBT) civil rights organization.
Popular in the Community