Fake Mardi Gras was outside my front door yesterday, with Nicolas Cage's fake daughter riding in a cab with her fake kidnapper as they filmed Medallion. It was easier to say "Happy Mardi Gras" to beaded extras than make too fine a point of reality.
HBO's Treme co-creator David Simon posited at Back of Town that the show's characters ought to get some breathing room from who they may or may not be inspired by. It's tricky to determine what's real and what's fiction in a show where most musicians are playing themselves, and in a town that doesn't make that big a distinction between the meat world and the spirit kingdom.
Simon addressed fact versus fiction at Back of Town:
I would venture to guess that attributing what a character says in a fictional work to the actual voice of one of the writers is the quickest way to misapprehend the work. And given how much bullshit people have already collected under the banner of "Simon thinks so," I think it possible that some people ruined Treme for themselves even before it aired.
There's much more at the blog, he also said:
But what I think, or what Eric (Overmyer) thinks, or what Nina (Noble) thinks about such things sometimes matters a helluva lot less than what some fictional New Orleanians, operating after the near death of their city, might think and say and do at a given moment. It's really that simple.
With musicians and other locals often playing themselves (see TV critic Dave Walker for background), Treme runs through real-life New Orleans splashing onto everyone eventually. We've been extras on occasion, my husband more than I because Man with Bass fits better than Woman With Percussion Egg. Here's a primer on real and imitation:
Character Annie T is attempting to master songwriting
Real Theresa Andersson mastered the one-woman band.
Character Janette assures her Chef Jacques that Susan has connections to get him sprung.
Real Susan Spicer sued BP on behalf of her restaurant Mondo after the oil spill.
Character Harley (Steve Earle) advises Annie on songwriting as Real John Hiatt inspires them both.
Real Steve Earle will be at New Orleans House of Blues with ferocious drummer Will Rigby on July 11.
Character Davis says Joe Strummer was a flawed vehicle. He rehearses with Real Davis sitting in.
Real Davis Rogan likes Strummer just fine, as he commented at the Back of Town thread.
Character Nelson is buying up New Orleans with his under the table connections.
Real disaster capitalists are either still operating or under indictment.
Oliver Thomas is playing City Council President Oliver Thomas working with Character Nelson.
Real Oliver Thomas played himself in a play based on himself. He gets Treme's Most Meta Award.
John Goodman's character is appearing as the ghost of Mardi Gras past, inspiring the character Toni.
Real Ashley Morris, may he rest in peace, inspires the writers at Rising Tide, Back of Town and Treme.
Character Big Chief Albert Lambreau protested the closing of public housing post Katrina levee fail.
Real Big Chief Tootie Montana died at City Hall while protesting arrests of Mardi Gras Indians.
Character Antoine Batiste is thinking of ditching his band and touring with Henry Butler.
Real Henry Butler lived in Colorado post-Katrina. He's now home.
Character Sonny, a Holland import, is bouncing in and out of music until he gets straight.
Real Anders Osborne is one of New Orleans best songwriters, straight out of Sweden.
Character Delmond hosted his father in New York, complete with a bead run for Carnival masking.
Thousands of real New Orleans culture bearers are still moving between NYC, Houston and parts unknown.
Character LaDonna is staying in Baton Rouge, but running a New Orleans bar.
Real New Orleans music legend Irma Thomas owned the Lion's Den bar. It never reopened post Katrina.
Character Desiree is keeping a watchful eye over her partner Antoine keeping his J.O.B.
Real Phyllis Montana LeBlanc wrote Not Just the Levees Broke, and is one of the unsung cast heroes.
Character Aunt Mimi is producing a bounce sampler for her nephew.
Real life: I have not been able to find the cougar equivalent for that situation.
But Pigeon Town Steppers, Rebirth, Cornell Williams, Paul Sanchez, Chef Eric Ripert and many more:
Real. Stay tuned for "Carnival Time" on next week's Treme:
For a photographic reminder of fact versus fiction: this is Medallion's Mardi Gras: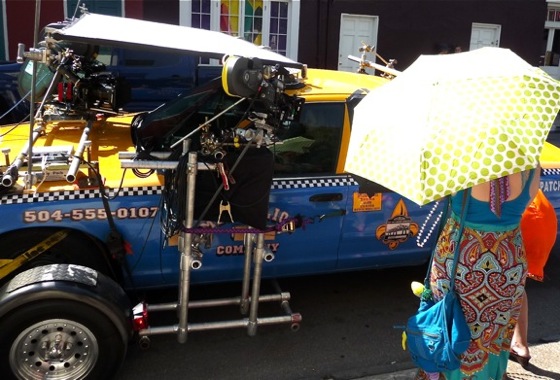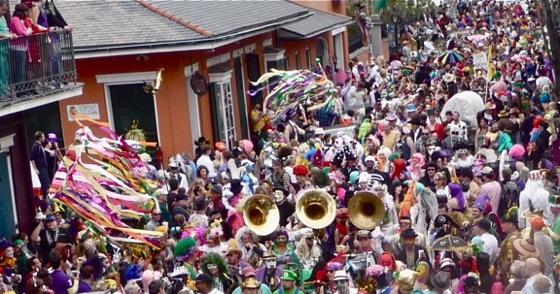 Calling all HuffPost superfans!
Sign up for membership to become a founding member and help shape HuffPost's next chapter