Robert Pruitt's Women, currently on exhibition at the Studio Museum of Harlem, is a series of 20 portraits of contemporary black women embodying such graceful restraint that they become curative in the present moment.
Drawn on brown butcher paper with conté-crayons, every single one is more majestic then the last. As stated in the description, "each figure is at once politically charged, physically grounded and fantastic -- a blend of willful self-determination and culturally conditioned myth." Whether standing or seated, they possess a magnetic poise in their hypervisibility that beckons the viewer. Pruitt's models are his friends and members of his community. His aesthetic influences, a remix of science fiction, Hip Hop and comic books refashion his subjects according to Priscilla Frank as grounded "shape-shifters" with a "cosmic sense of cool".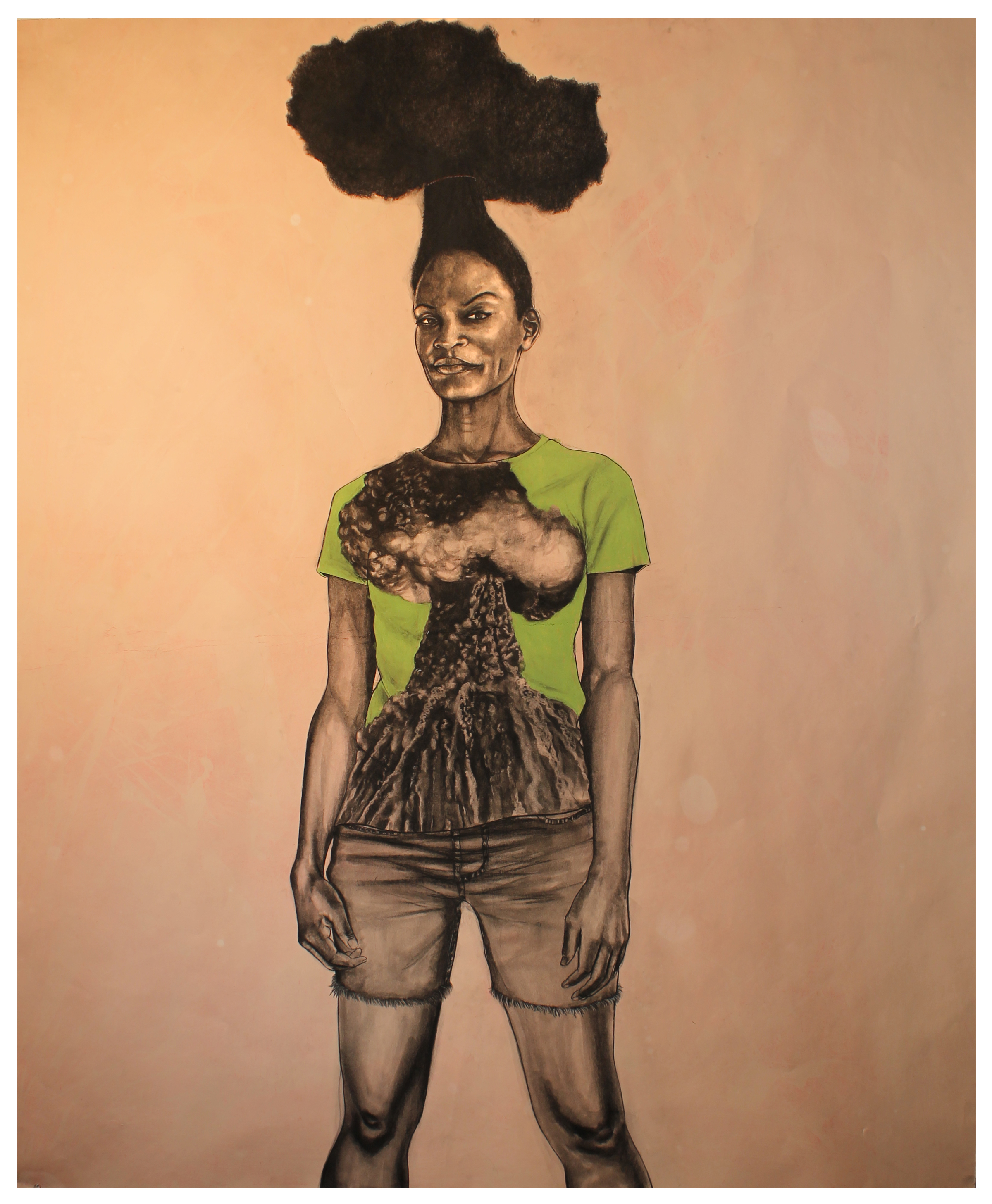 Although, Pruitt's Women may be warriors, they are not embattled. They may be of and in struggle, yet they are not fighting. Their serenity is too often denied to black women. They are keepin' it surreal" inhabiting Suzanne Césaire's state of permanent readiness for the Marvelous.
Pruitt who lives and works in Texas, prefers to leave things open to interpretation for his viewers. He said this much about the stances of the women figured in his portraits:
The poses are rooted in, and are a play on the various types of ethnographic images from colonial era Africa, and the Americas. I tend to use poses that are simple, often facing the camera/viewer, and just short of accessible. Black bodies occupy a contentious space in western minds, media, and art, and I try to complicate that space. In contrast to real world ethnography, I try to shift the notion of power in my own images. The figures in these drawings offer a posture and gaze that defies easy consumption and cataloging.
That boldness in their reversed gazes, dare I admit, had me wishing I could blend into the wall to get me even a small dose of super power. They also exude a palpable vulnerability.
Harlem-based visual artist, Dianne Smith remarked on the portraits' historical and contemporary referents: "the strong black woman, gender, emotional baggage and pain, intertwined with beauty, power, grace, humility, invisibility and rage." Smith believes "art is supposed to inspire you to make connections to the world around you... to be present". Not surprisingly she said, that she felt like she knew those women. Indeed, they awaken the verve and provoke visceral reactions.
Seeing these portraits in the aftermath of "the verdict" anchored me. They were a restorative counterpoint, however temporary, to the legally lethal "stand your ground".
Art heals. Or so the saying goes. If there was ever a time when healing is needed, it is now.
As public conversations on race and racism demand we tend to old wounds and re-contemplate the future again, Pruitt's Women are hanging out uptown, larger than life with endless fierceness and introspection that promise immeasurable inspiration.
Calling all HuffPost superfans!
Sign up for membership to become a founding member and help shape HuffPost's next chapter