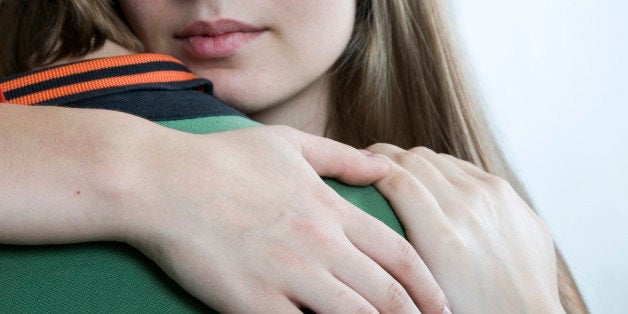 Throughout the months of September and October, HuffPost Teen is highlighting the way teens think and feel about sex through anecdotes written for our series, "Teen Sex: It's Complicated." All of the authors are teenagers who have agreed to be published anonymously. If you want to share your thoughts, join the conversation here.
My first experience was with my boyfriend of almost 10 months and best friend for years. It happened under a full moon and a beautifully star-lit sky on an unusually cold night in June. While the moment was dripping with romance and could be the climax of a teen summer romance novel, it ended up being excruciating and a pivotal moment in my conversion from adolescence to adult.
Neither of us were ready to have sex, but we were in love and he was moving away at the end of summer. I thought since he was my first love, and pretty much my first everything else, I figured it would be perfect for him to be my first partner. I was hoping he would be my only, but as I was drugged in the hormones of being a teen in love, I didn't see the reality that was screaming in my face like a train whistle.
He was moving. We were going to break up. He was going to change. We were going to change. And as beautiful the story might be from an outside perspective, the following aftermath tarnished the shining night that was me losing my virginity.
Almost immediately after the relationship was consummated, he stopped talking to me.
He could barely make eye contact. He wasn't affectionate anymore. My first relationship came to a crashing halt. So, while this boy has my virginity and we no longer talk, I still don't regret anything. I now know the reality that surrounds sex, such as: it hurts. A lot. It was a painful and embarrassing experience, as I had to stop him every few minutes to adjust to the pain that I was feeling instead of the pleasure I was expecting.
I have learned from my past relationship and am now in a better and healthier relationship that is going on six months. I have learned a few other things about sex: Condoms come in different sizes, it still hurts (but is getting significantly better) and the more you love someone, the better the sex is.
Despite getting an "A" in health, and despite strenuous research, I have discovered that the only way one can really understand the birds and the bees is to experience it first-hand. Each individual person has their own experiences that cannot be duplicated in any manner. Whether a person is 17 or 27, they should definitely wait until they are extremely sure that they are ready for sex, because even if they think they are, it is truly a life-altering action.
P.S. Don't have sex in the back of a car. Just. Don't. Trust me.