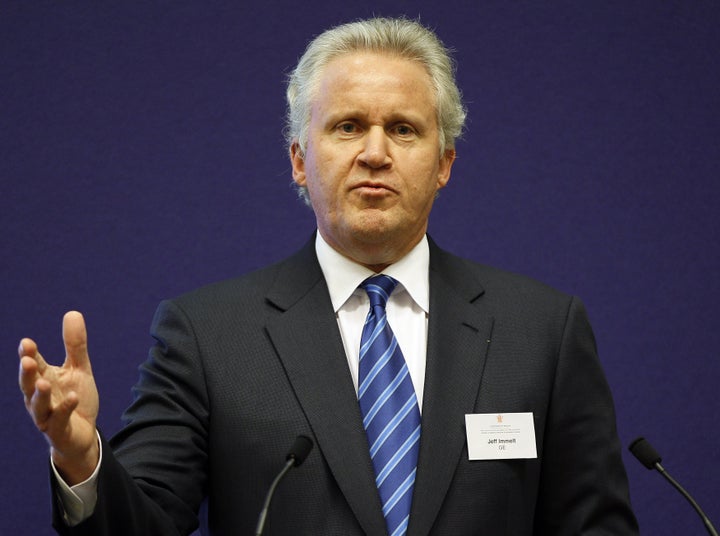 WASHINGTON -- Friday's announcement that General Electric Chairman and CEO Jeffrey Immelt will serve as chair of the President's Council on Jobs and Competitiveness has set off a bit of alarm among unions and other labor groups already concerned about the direction of White House trade policy.
Immelt has a sterling reputation within the business community, as does his company, despite the very real threat of collapse it faced during 2008's financial meltdown. But in the eyes of some labor interests, G.E. also embodies the job-outsourcing phenomenon. And Immelt's ascension to a post that has the ear of the president -- taking the place of Paul Volcker, a former Federal Reserve chairman more sympathetic to labor's interests -- has unions and their advocates worried.
"I think the challenge with Immelt, and I'm just wondering about the politics of this too, because you have the industrial heartland which is still a battleground, Pennsylvania, Ohio, Indiana, Wisconsin. They have all been devastated by manufacturing job loss, and in Jeff Immelt you have a CEO who has supported all of the policies that have led to that devastation," said Scott Paul, the executive director of the Alliance for American Manufacturing. "I think the president has a hard time convincing the American people that having an outsourcing CEO as your key adviser on jobs and competitiveness is going to be a winner for them."
The optics of the Immelt appointment aren't necessarily that clear. While the G.E. chief executive has overseen the shipping of U.S. jobs overseas, his tone and stated philosophy have shifted in recent years. "In some areas," he said during a much-remarked-upon June 2009 speech in Detroit, "we have outsourced too much."
What has followed, a G.E. spokeswoman said, has been a concerted effort to build operational roots in America, with the company "in-sourcing jobs in Kentucky, Pennsylvania, Indiana, Ohio and many other states."
In Paul's view, that effort is a charade. "They have still closed 29 factories in the states in the past two years," he said, "and they opened a few new ones and gotten good publicity for it."
A top union official, who spoke only on condition of anonymity for fear of the recriminations that might come for the White House, expressed similar sentiments.
"We are really supportive of President Obama's basic thrust of we need to be focused on jobs, and investing in America, and restoring America's manufacturing prowess," the union official said. "Jeff Immelt has been a proponent of those three ideas in the last 24 months, and I think he has been a proponent of the idea that public investment is part of that story, so we have some common ground with him. But G.E.'s corporate behavior has not been consistent with that story, and even over the past 24 months, as G.E. has said these things, their behavior has been kind of mixed."
The G.E. spokeswoman did not respond directly to Paul's assertion that 29 plants have been closed, but said, "We disagree with the uninformed characterization of Jeff as an 'outsourcing CEO.' We're creating jobs, investing heavily in innovation, bringing jobs back to the US and establishing global partnerships that will help us expand manufacturing exports."
The White House did not address concerns regarding G.E.'s corporate behavior, but an administration official clarified that Immelt would continue in his current role while serving on the advisory panel, as it is "not paid by the White House."
Some of Immelt's recent statements do offer the sense that he's struggled with issues of corporate responsibility, but the results may not soothe worried domestic labor interests. In a recent interview with Indian television, Immelt called himself a "globalist" and a "big believer" that global trade was a "win-win game." He added that "outsourcing gets a bad name" and dismissed isolationist sentiment in the United States as a byproduct of high unemployment.
"Protectionism, I think, is not the way forward, it is the way backward, and therefore we need to fight through that and we need to make a better case for globalization, because it is unstoppable at this point and I personally believe it benefits both sides," he said.
And yet, appearing before domestic audiences, he has preached the need to keep the blue-collar and white-collar elements of a company in close proximity.
"Manufacturing and technology actually have to be close to one another if you want to be competitive over the long term, this notion that you can design something in one place and make it in another place is just wrong," he said during a CNBC forum.
All of which may explain why the labor and union critics -- aside from Paul -- were a touch cautious when asked to address the appointment. For starters, it's not entirely clear who will make up the rest of the president's council. And while concern over Immelt's trade policies is sincere, so to is the belief that he can be moved. In that vein, trashing him at the onset would make little strategic sense.
"The AFL-CIO strongly supports President Obama's vision for rebuilding America's economy based on good jobs, strong manufacturing and 21st century infrastructure," said Damon Silvers, the union federation's policy director. "We are ready to work with any business leader who shares that agenda and is willing to support policies that will reverse the hollowing out of our economy."

REAL LIFE. REAL NEWS. REAL VOICES.
Help us tell more of the stories that matter from voices that too often remain unheard.