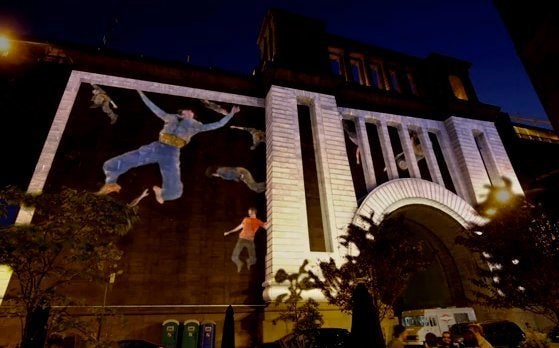 "Immersive Surfaces" will make the Manhattan Bridge come to life next weekend for the Dumbo Arts Festival.
According to the exhibition's website, "The multi-part video projection, created by over 20 international artists and curators, will cover over 30,000 sq. feet of the Manhattan Bridge Anchorage, Archway and the surrounding cityscape, through the use of cutting-edge video mapping technology."
Urban projections of this magnitude are becoming something of a trend in New York (it's already very popular in Europe). Last Fall, artists in Greenpoint collaborated for "Bring To Light", an American take on France's Nuit Blanche, a five-hour convulsing light carnival by projectionists. And in May, Cuban artist Geandy Pavon projected a giant, watery image of the detained artist Ai Weiwei on a wall of the building that houses the Chinese Consulate in Manhattan.
Immersive Surfaces has even developed a smart phone app for the occasion. After swiping a QR code and downloading the Augmented Reality App, audience members can tweet images and comments during the exhibition to the hashtag: #dumboarts. Then, according to the site, "Tweeted images will float through the atmosphere and around the installation, as self-referential surfaces of their own."
Popular in the Community