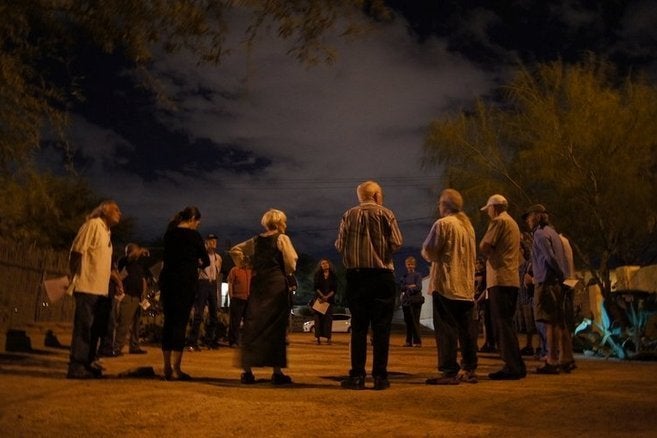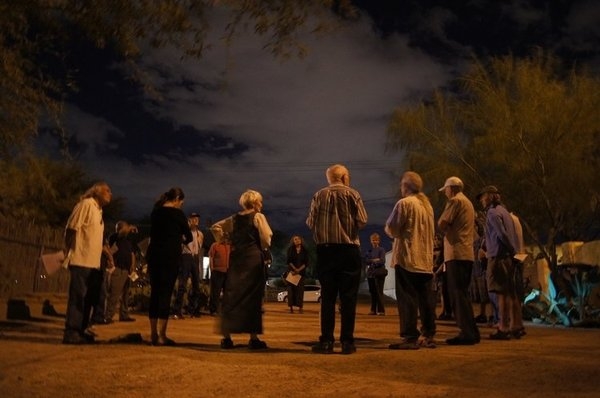 photo credit: Rachel Adler
TUCSON, AZ -- On any given Thursday evening a dozen to 30 people crowd together in a somber circle at the historical El Tiradito ("Castaway") shrine in the Barrio Viejo neighborhood of Tucson.
Faith-based and human rights groups have been meeting at the shrine, turned vigil space, every week for the past twelve years to call attention to mass migrant death and suffering in the Sonoran desert, resulting from U.S. border enforcement and immigration policies.
The vigil consists of a bilingual memorial service which includes the chanting of prayers and of singing traditional spiritual gospel hymns; oral readings of current news dispatches from the U.S.-Mexico border region on immigration issues; and the ritual of lighting candles to symbolize solidarity with those who continue to suffer and perish in the borderlands.
In 1994, the U.S. government adopted a "new policy" of militarizing urban border areas in order to reroute anticipated human migration into "geographically harsher," "more remote and hazardous border regions" (mostly through the Arizona desert), as a way of "deterring" migrants from crossing.
The new "vision" of the deterrence strategy to bring the border "under control" was outlined in a July 1994 Border Patrol planning document entitled "Border Patrol Strategic Plan: 1994 and Beyond". The planners use the perception of the border environment explicitly to demonstrate that migrants "crossing through remote, uninhabited expanses of land and sea along the border can find themselves in mortal danger." The document bases the strategy on the "prediction" that migrant "traffic will be deterred, or forced over more hostile terrain, less suited for crossing and more suited for enforcement."
Since then, the federal government's deadly "enforcement" use of the desert's most "geographically harsh" and "hazardous" areas of "mortal danger" has been playing out according to plan.
During the 12-year period of the vigil, according to local human rights group Derechos Humanos, nearly 2,500 migrant corpses had been recovered in the Arizona-Mexico borderlands alone. Along the U.S.-Mexico border the known number of the dead ranges beyond 6,000, which medical experts say is a least-of-all guess compared with those remains that have not been found.
"Arizona had become a killing field," wrote Tucson-based journalist Margaret Regan in her 2010 book, The Death of Josseline: Immigration Stories from the Arizona-Mexico Borderlands.
This Thursday (December 13) marks 656 weeks on the killing fields of Arizona, though the span should be regarded as minimal, due to communities organizing the vigil after the killings began. The duration of the vigil signifies the space created by the steady vigilers who act in solidarity with migrants.
Earlier this month, the Pima County forensics office released the number of 11 human remains recovered in November, preceded by 8 in October, and 179 over the entire 2011-2012 fiscal year period that ended on September 30.
Derechos Humanos has been operating a human remains recovery project since 2000, which marked an upsurge in desert deaths. That same year, six years after Border Patrol's new "deterrence" policy, former Commissioner of Immigration and Naturalization Service (INS), Doris Meissner, admitted: "We did believe that geography would be an ally to us. It was our sense that the number of people crossing the border through Arizona would go down to a trickle once people realized what it's like."
Meanwhile, people in human rights and faith communities began seeing what the situation was "like" clearly: 14 deaths in the year of the strategy's fateful 1994 onset jumped to 90 deaths by 2000, to 145 deaths in 2001, to 163 deaths in 2002. And as numbers of deaths kept climbing, the next year came one of those rare moments of frankness that occasionally crop up from retired government officials. Former Tucson Border Patrol sector chief, Ron Sanders, was quoted in The Nation magazine critiquing the new aggressive border policy: "By every measure, the strategy is a failure. All it's accomplished is killing people... If you had airplanes crashing in this country with the same numbers [of deaths], you'd have everybody after the FAA. But since these people [dying] are Mexicans, no one seems to care."
But death in the desert is not the only subject of commiseration at the shrine. Father Ricardo Elford, one of the vigil organizers since the beginning, stresses issues such as family reunification which account for vast numbers of border-crossings, particularly deported parents of citizen children. A survey included in a 2011 report by human rights and humanitarian group No More Deaths/No Mas Muertes entitled, "A Culture of Cruelty: Abuse and Impunity in Short-Term US Border Patrol Custody," lists 2.5 children on average to undocumented parents who had been living in the U.S. before their arrest and deportation.
Border Patrol violence and abuse is also something that invariably mixes in conversation at the vigil. Derechos Humanos organized a protest, rally and vigil on international human rights day on December 10, the signing of the United Nations University Declaration of Human Rights (UDHR) in 1948. Set at the federal courthouse in Downtown Tucson, Monday's action aimed to denounce violence by Border Patrol whose deadly shootings and altercations have claimed at least 19 individuals in the last two years, according to the group.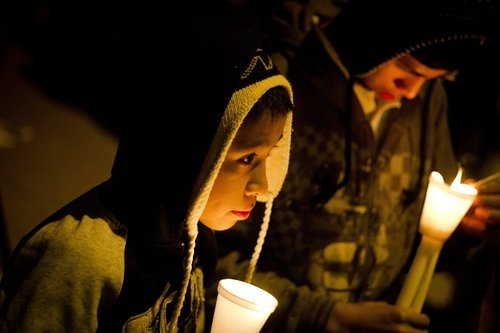 photo credit: Murphy Woodhouse
More than two dozen people attended Monday's action, several of whom are regulars at the castaway shrine.
Week 642 of the vigil was the first visit to the shrine for 19 year-old Alonso Palomino, South Tucson native and University of Arizona (UA) student. He was deeply reflective as he left the service. "I wish everyone in Arizona would come out for this," he said. "It's a human rights issue and reminds me of the Bracero Program" -- referring to the US government contract-labor program in which Palomino's "tata" (grandfather), Cuco, participated, when he migrated from Chihuahua, Mexico, to CA. Although initially invited to work in the US during labor shortages of World War Two, the Eisenhower Administration rounded up many braceros in the government's massive "Operation Wetback" in which more than a million migrants were apprehended in 1954 alone, according to INS.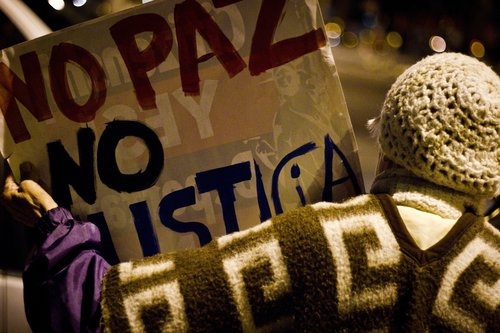 photo credit: Murphy Woodhouse
Palomino, a member of the Mexican-American Studies (MAS) youth activist group known as UNIDOS, has been enrolled in a university MAS course for which he chose as the subject of a semester research project to investigate massive Border Patrol presence in his South Tucson neighborhood. "I want to find out why Border Patrol is on the streets where they don't belong," Palomino explained.
Deserts are not the only "geographically harsh" and "hazardous" areas of current U.S. border enforcement. Week 642 of the vigil included readings from the New York Times (Sept. 7) and El Diaro de Juarez/Notimex (Sept. 10) of deaths in the community of Laredo, TX and Nuevo Laredo, Tamaulipas along the Rio Grande river on the Texas-Mexico border. Mexican counsel Miguel Angel Isidro said 60 migrants had died so far this year, up from 52 last year. All died from drowning trying to cross the Rio Grande.
Upon leaving the vigil, Palomino made a connection to the shrine's origin which, according to the plaque at the site, is the only shrine dedicated to a sinner buried on unconsecrated ground (from a tragic love triangle which alleged took place in the late 19th century). In a 21st century adaptation, Palomino said, the shrine is "part of the unconsecrated ground that migrants walk, die, and are cast away by society."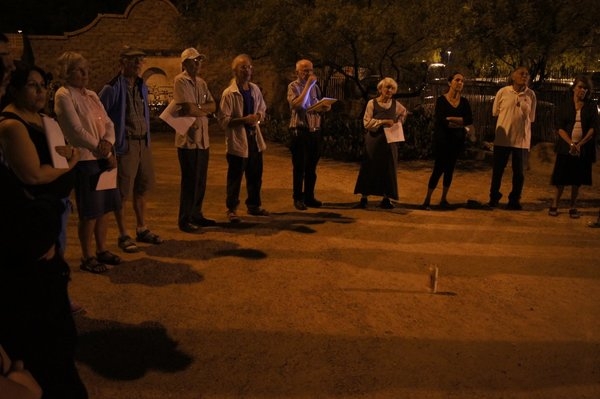 photo credit: Rachel Adler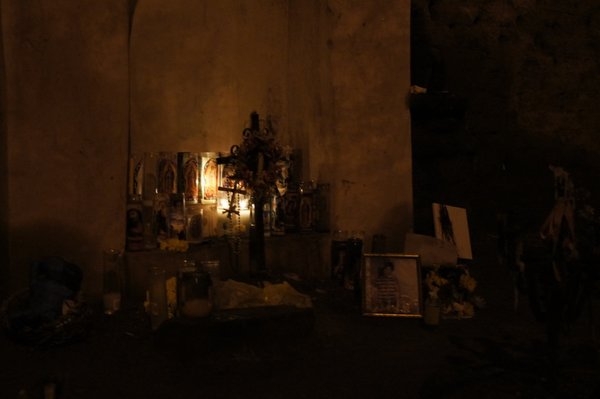 photo credit: Rachel Adler

photo credit: Mariel Cohn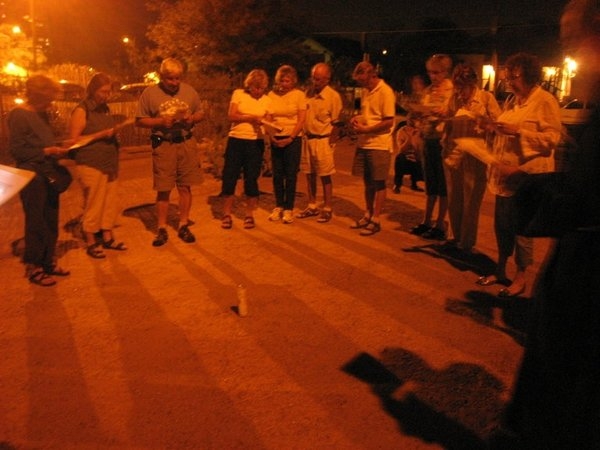 photo credit: Mariel Cohn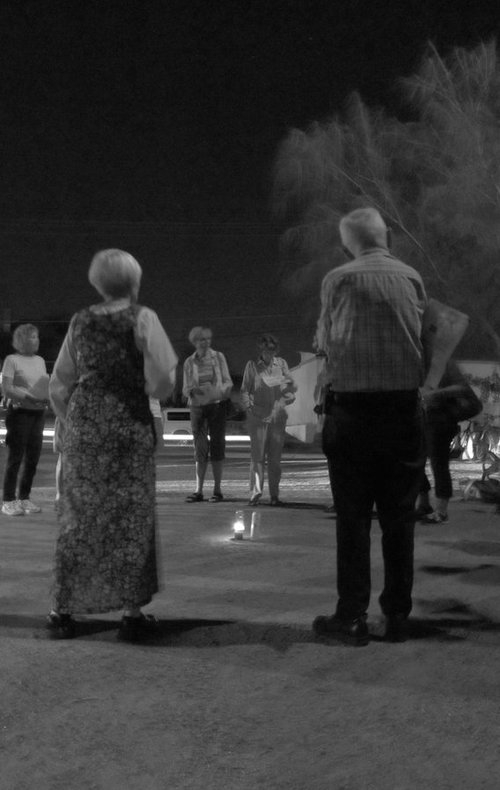 photo credit: Jeff Wilson
Popular in the Community