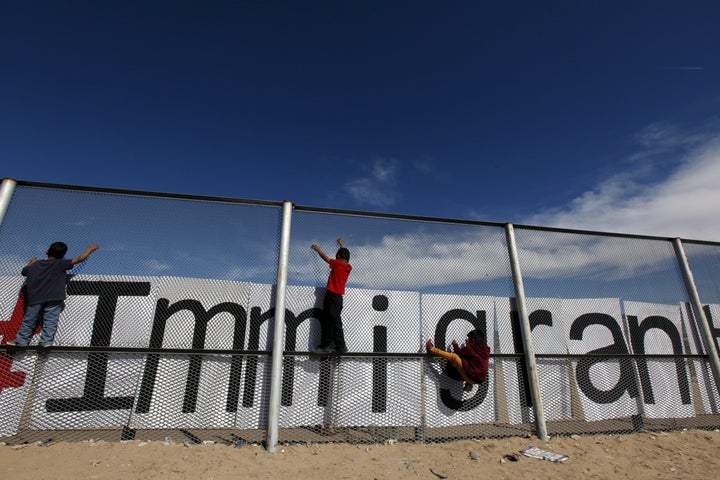 WASHINGTON ― Immigrant children who are alone in their legal battle to stay in the United States can't even turn to the federal judiciary to ensure they have a lawyer along the way.
A federal appeals court on Tuesday sided with the Obama administration in holding that migrant children in immigration proceedings don't have a constitutional or statutory right to ask the regular courts to force the immigration courts to appoint counsel for them.
This was purely an issue of jurisdiction. That means the judges were drawing lines about procedure, not ultimate justice for the kids.
The U.S. Court of Appeals for the 9th Circuit did not decide whether these children ― who may range in age from 3 to 17 and who can't afford legal representation ― should have lawyers appointed for them. (In fact, two of three judges on the panel made pretty clear they think lawyers are a good idea.)
What the 9th Circuit focused on was the distinction between the federal courts, which constitute the judicial branch of government, and the immigration courts, which are overseen by the executive branch ― and how Congress has erected barriers between those two sets of courts.
"Because the children's right-to-counsel claims arise from their removal proceedings, they can only raise those claims through" administrative channels in immigration courts, U.S. Circuit Judge M. Margaret McKeown wrote for the unanimous panel.
Still, justice can hinge on procedure.
The circuit judge noted that the administrative process, as it stands, provides a few procedural safeguards for the children: An immigration judge, for example, cannot just accept an unrepresented child's word that he or she agrees to be deported.
And the 9th Circuit held that the children may turn to the federal courts for help with that lack of legal counsel after they've exhausted all administrative efforts.
McKeown took great pains to sympathize with the children's situation, acknowledging in a separate concurrence ― joined by one other judge ― how unsatisfactory her court's technical language might seem.
"Jurisdictional rulings have an anodyne character that may suggest insensitivity to the plight of the parties, particularly in a case involving immigrant children whose treatment, according to former Attorney General Eric Holder, raises serious policy and moral questions," she wrote.
She then called on Congress and the White House to take steps to remedy what the federal government has deemed a "crisis at the southern border" ― with more than 60,000 unaccompanied minors entering the country in just 2014 and overwhelming the immigration courts.
"The net result is that thousands of children are left to thread their way alone through the labyrinthine maze of immigration laws, which, without hyperbole, have been termed second only to the Internal Revenue Code in complexity," McKeown wrote.
"The stakes are too high," she went on. "To give meaning to 'Equal Justice Under Law,' the tag line engraved on the U.S. Supreme Court building, to ensure the fair and effective administration of our immigration system, and to protect the interests of children who must struggle through that system, the problem demands action now."
"We would be naive if we did not acknowledge that having an unrepresented minor in immigration proceedings poses an extremely difficult situation."
The judge's sympathy was of no consolation to immigration advocates, who expressed frustration at what the ruling will mean for the migrant children ― and at a legislative process that has failed for decades to make needed reforms.
"We're very disappointed. The decision effectively closes the courthouse doors to thousands of children," said Ahilan Arulanantham, an attorney with the American Civil Liberties Union's Immigrants' Rights Project. He said the ruling essentially requires the minors "to litigate their own appeals" before they can even claim they have a right to a lawyer.
"The court points to Congress and the president, and it's certainly true that they can solve the issue as well, but that's also been true for the last 20 years and they haven't done anything," said Matt Adams, an attorney with the Northwest Immigrant Rights Project.
The U.S. Department of Justice, which opposed the children in court, said through a spokeswoman that it's reviewing the ruling but declined further comment.
Rep. Luis Gutiérrez (D-Ill.) suggested that he wouldn't hold his breath waiting for Congress to take up McKeown's call to arms. But in an email to The Huffington Post, he also didn't seem to buy the court's reasoning.
"Do you think a 5 year old or a 15 year old is going to get a fair day in court?When they don't understand a lick of English? They are fleeing violence and are asking us for safety," he said.
"A child's deportation hearing can have a profound impact on their lives; for some, deportation could place them in mortal jeopardy," said Rep. Lucille Roybal-Allard (D-Calif.), who supports the House version of the bill. "If our government truly cares about building a just immigration court system, it is imperative for every child in that system to have counsel."
Cristian Farias reported from New York. This article has been updated to include a response from the Department of Justice.