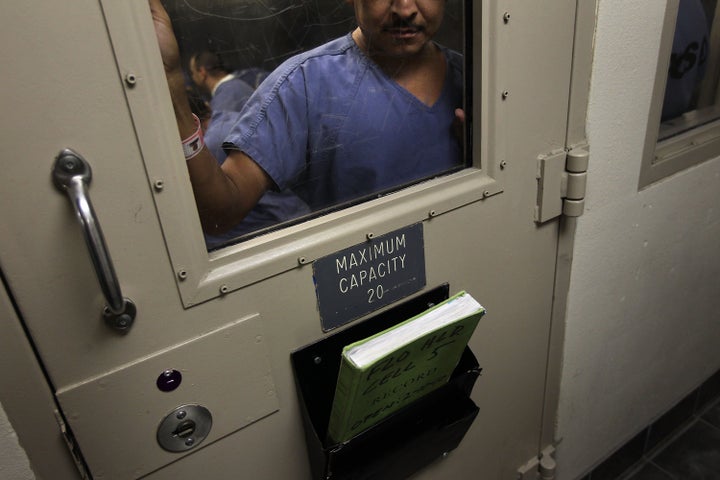 A report released Monday by two Chicago-based human rights groups calls for the Obama administration to close three immigrant detention facilities they accuse of having the most egregious violations, two of which are in Illinois.
At a time when the administration is planning to open more large-scale detention facilities nationwide, the report spotlights three county jails currently housing immigrants they classify as the worst in the Midwest: Jefferson County Jail in Mt. Vernon, Ill., Tri-County Detention Center in Ullin, Ill. and Boone County Jail in Burlington, Ky. In the report, the agencies call for these and other detention centers with frequent observed violations to be shut down.
The NIJC and MCHR are also asking for changes in immigration policy prioritizing alternatives to detention, particularly for "low-risk" individuals without criminal histories.
In their midwestern case study, the agencies found that many detained immigrants--50 percent at Boone and 40 percent at Tri-State--had not committed a crime or had committed only minor offenses, according to the report. ICE claims to exercise prosecutorial discretion in such "low-priority" cases, but in many instances the study found individuals suffering from medical and mental health issues, for whom incarceration is generally considered inappropriate, still end up behind bars.
Once incarcerated, the NIJC and MCHR report that immigrants face the most egregious human rights violations, isolated from communication with their families and access to legal counsel. Language barriers are often not addressed, and many immigrants are misinformed of their rights and obligations. Overcrowding can lead to problems maintaining ICE's National Detention Standards, which entitle detainees to medical services, at least two hot meals a day, and clean clothing and living conditions.
"Within one day of my arrival at Boone, I told the nurse that I am HIV-positive," one detainee told NIJC. "She said that she would call the clinic to obtain my medical history...almost six weeks have passed and I have never received any medication."
Furthermore, the report alleges that jails sanctioned by the Department of Homeland Security as being "deficient" against these standards, including Jefferson County, still often see their contracts renewed with ICE.
"Where you have no one watching or involved from the outside, it creates an environment when people are vulnerable to abuse and neglect," McCarthy told the AP.
Support HuffPost
The Stakes Have Never Been Higher
Related
Popular in the Community