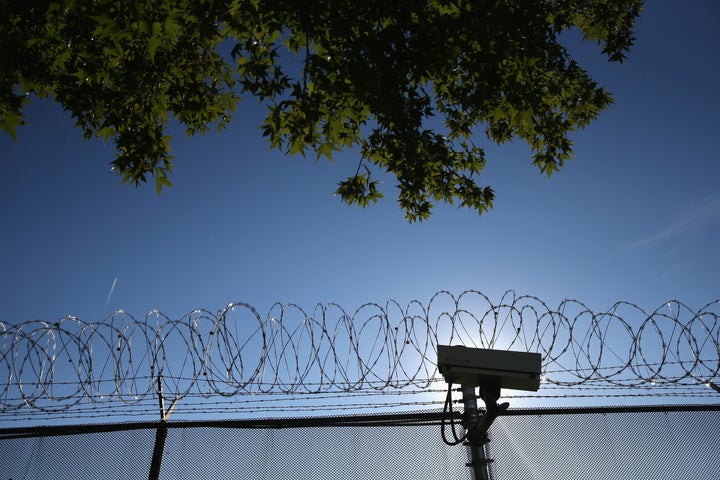 A federal judge has issued a ruling in a single immigrant's legal case that could foreshadow problems for the Trump administration's policy of detaining unauthorized immigrants indefinitely without a hearing, charge or trial.
The government has 14 days to hold a bond hearing for Augustin Sajous, a 60-year-old originally from Haiti who has been held in immigration detention since September, Judge Alison J. Nathan ruled Wednesday in New York. Authorities must release him unless they can provide convincing evidence he is a flight risk or a danger to the community, the judge ordered. 
Nathan's ruling applies only to Sajous. But it's a key part of a bigger fight over a question affecting millions of people: How long can the government detain immigrants without allowing them to go before an immigration judge to challenge their detention?
The answer to that question used to be "six months" — at least according to the U.S. Court of Appeals for the 9th Circuit, which ruled on the matter in 2013. Then, this February, the Supreme Court overturned the circuit court's ruling, clearing the way for the government to continue detaining immigrants without hearings.
The Supreme Court ruling was limited: It said only that immigrants had no specific right under immigration law to a bond hearing every six months. It didn't rule on whether holding immigrants indefinitely without a bond hearing was constitutional. 
It feels almost impossible to fight your immigration case from detention.

Augustin Sajous
Nathan's ruling offered an answer to that constitutional question — but only for Sajous. The continued detention of Sajous "without access to a bond hearing is unreasonable, and thus unconstitutional, as applied to him," she wrote. His more than eight-month detention stemmed from two offenses that were each punishable by up to 30 days in jail, she noted, meaning he has already been detained "over four times longer than the maximum sentence he faced for his underlying offenses."
The court did not create a definitive standard for when the government must provide a bond hearing.
Now Sajous' case — or a similar one, if the Department of Justice doesn't appeal — is likely to work its way up through the courts. That means the Supreme Court will likely be forced to weigh in on the question it avoided answering in February.
The Justice Department declined to comment on the ruling or whether it plans to appeal.
Sajous, who has lived in the U.S. on a green card since age 14 and has raised a family here, could be out of detention by early June. Although he is a legal permanent resident, Sajous, who has had depression and been homeless in recent years, is subject to deportation because of two misdemeanor convictions from 2015 for bending fare cards to use the New York subway without paying. Immigration and Customs Enforcement arrested him in September, and he has remained in detention since.
"It feels almost impossible to fight your immigration case from detention," Sajous said in a statement released by the New York Civil Liberties Union, which represented him. "I just want the chance to explain to the judge that I'm not a flight risk. When you're free, it's a lot easier to fight your case. A bond hearing is my chance."
Nathan's ruling means he'll get one. But the NYCLU estimates that unless courts intervene, in the next year about 200 people in New York state may be detained for longer than six months without a bond hearing. 
The other immigrants being held without hearings will likely have to sue the government in federal court to get their own — or to wait and hope for the Supreme Court to rule their detention unconstitutional.
REAL LIFE. REAL NEWS. REAL VOICES.
Help us tell more of the stories that matter from voices that too often remain unheard.
BEFORE YOU GO
PHOTO GALLERY
How Donald Trump Talks About Undocumented Immigrants