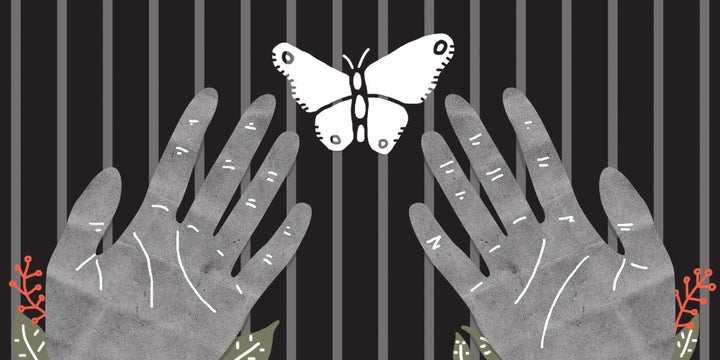 AUSTIN, Texas ― Jennye Pagoada López approached the San Ysidro border crossing that connects Tijuana with San Diego on July 23, and handed a Customs and Border Protection agent her identification and an ultrasound scan from a Mexican clinic. She was at least two months pregnant.
Pagoada, 32, was born in Honduras and had fled with her mother to El Salvador as a child after receiving death threats. She'd lived in El Salvador without documentation, but said she was forced to leave after gang members killed her brother and threatened to do the same to her and her family. She told the agent she feared being sent back.
Agents escorted Pagoada to a room filled with other Central American and Mexican women, most of whom were travelling with children. At least one other woman was also pregnant, she said. She waited there through the night, sleeping on the floor.
Early the next morning, she started feeling pain in her stomach and the urge to go to the bathroom. When she did, she saw that her underwear was stained. "I started bleeding, but a lot," she told HuffPost. "It was like that the whole morning, in pain and bleeding."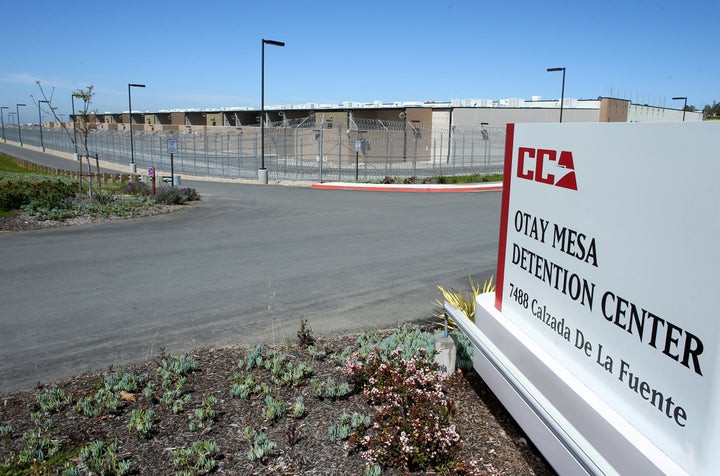 She said she asked agents for help, but was forced to stay in the holding room all day, until around 5 p.m. Instead of sending her to a doctor or releasing her with a notice to appear in immigration court, which often happens with asylum-seekers, agents then transferred her to the custody of Immigration and Customs Enforcement at the Otay Mesa Detention Center, outside San Diego. "They took my information, my fingerprints, photographs," she told HuffPost. "And I told them, 'I'm bleeding.' And they kept telling me to keep waiting."
She wasn't able to see a doctor until three days later, and it wasn't until another three days after that that another doctor informed her that she was no longer pregnant. "They didn't do anything," Pagoada told HuffPost. "They didn't even give me pills for the pain."
ICE isn't supposed to detain pregnant women
According to ICE policy, Pagoada should never have been detained at all. A 2016 memo states that pregnant women should only be locked up in immigrant detention centers in "extraordinary circumstances."
Despite this, the agency acknowledges detaining hundreds of pregnant women annually. Three of them miscarried in ICE custody so far this year, according to the agency ― the same number reported last year.
But two additional women told HuffPost they have also lost pregnancies since July, raising concerns among lawyers and immigrant rights groups that the Trump administration is detaining pregnant women in greater numbers, putting the health of women and the babies they're carrying at risk in the process.
Both CBP and ICE deny that Pagoada miscarried in their custody. A spokesman for CBP acknowledged that she was detained at the border for 27 hours before she was transferred to the detention center, and that she received "routine and recurring welfare checks" during that time.
"There is no evidence to indicate Ms. Pagoada requested medical attention or appeared to be in need of medical attention at any time during her temporary detention by CBP," the agency said in a statement. "We sincerely regret Ms. Pagoada-Lopez's loss. Please be assured that CBP is focused on the care and well-being of everyone in CBP custody."
Lauren Mack, a spokeswoman for ICE, also denied that Pagoada had miscarried in U.S. custody and questioned whether she'd lost a pregnancy at all.
"The appropriate protocols were followed," Mack wrote in an email to HuffPost. The initial pregnancy test Pagoada received at the Otay Mesa Detention Center ― the one she says wasn't administered until three days after she was first taken into U.S. custody ― came back negative, according to Mack. "Because of her claims, however, Pagoada was subsequently seen by the facility's medical staff and underwent two additional pregnancy tests, both of which were also negative."
But Pagoada's lawyer, Allegra Love, said the agency repeatedly disregarded her phone calls and emails asking to release her client or send her to a hospital because her health and pregnancy were in danger. In one email to ICE, Love wrote that her client "reports ongoing vaginal bleeding, headaches, stomach pains and lower back pain." Noting that her client had hit her head in a car crash a couple of weeks before, Love wrote that "these symptoms indicate a high-risk pregnancy and I am concerned that the stress of the accident combined with extreme conditions of detention may result in a miscarriage."
Pagoada remains in custody at Otay Mesa, though she recently passed what is known as a "credible fear" interview, the first step toward making an asylum claim, and could be released, pending a court date.
"I could not be more furious about this," Love told HuffPost. "I'm kind of used to being ignored by the government, but not when it comes to the health of a young woman and the baby she's carrying."
Hundreds of pregnant women detained annually
Last year's memo restricting the detention of pregnant women ― which makes exceptions for those who present a national security threat or those who are subjected to mandatory detention ― elaborated on a 2011 directive that also said pregnant women should generally be freed from immigrant detention.
While it was the Obama administration that implemented those restrictions, then-ICE executive associate director Thomas Homan signed the 2016 memo ― and Homan has since become the director of the agency under President Donald Trump.
Over the last fiscal year ― which began on Oct. 1, 2016, during Obama's presidency, and ends this month ― ICE detained nearly 68,000 women, including 525 who were pregnant. ICE would only provide data going back to February 2016, when the agency said it changed its methodology for compiling statistics on pregnant detainees. That data includes eight months of the 2016 fiscal year, from February 2016 through Sept. 30, 2016. During that time, the agency detained 58,000 women, including 353 who were pregnant.
"I told them, 'I'm bleeding.' And they kept telling me to keep waiting."
It's not possible without a monthly breakdown of the data, which ICE did not provide, to determine whether the number of pregnant women detained has increased significantly since Trump took office.
For its part, ICE says it "is committed to ensuring the health, safety, and welfare of all those in our care," according to spokeswoman Jennifer Elzea in an email to HuffPost. "In addition to pregnancy screenings at intake, ICE detention facilities provide onsite prenatal care and education, as well as remote access to specialists for pregnant women who remain in custody."
But advocates and legal groups who work with detained women say they've noticed an alarming trend of more pregnant women getting detained, as the Trump administration ramps up immigration arrests more generally.
"We are gravely concerned with the agency's failure to abide by its own policy against detaining pregnant women, the detention conditions that have been reported by pregnant women in various detention facilities across the country, and the lack of quality medical care provided to women who are pregnant or have suffered miscarriages while in custody," the complaint reads.
"It's incredibly disturbing to keep hearing these stories," Katharina Obser, a senior program officer at the Women's Refugee Commission, told HuffPost. "Detention is traumatizing regardless. But particularly for women who are pregnant, there's an additional issue that their health and the health of their children are at risk… There's a concern that these kinds of stories will continue unless ICE follows its own guidelines."
'They didn't take care of me or my baby like they should have'
Jackelín Hernández was en route from Texas to Virginia for a funeral last May when a police officer in Mobile, Alabama, pulled over the pickup truck in which she was riding. The driver hadn't broken any traffic laws, according to the May 31 police report, but the officer thought the truck had been following too closely behind another truck.
When the officer asked to see their identification, neither Hernández nor the other passengers could prove they were in the U.S. legally. The officer called the Border Patrol, who took custody of Hernández and her friends on the highway. ICE described her detention as "targeted enforcement," despite the fact that her arrest originated at a traffic stop.
Hernández was transferred to LaSalle Detention Center in Jena, Louisiana, where she was given a pregnancy screening, as all women who pass through immigrant detention under the age of 56 are routinely tested. It came back positive ― a revelation that her lawyer said should have led to her release under the current guidelines. But the center didn't let her go.
Hernández's lawyer, Jeremy Jong, called the deportation officer after hearing about the case, reminding him that detaining pregnant women is against protocol. But he said the deportation officer called him back within a day to tell him that ICE would continue holding Hernández because she was only in her first trimester. (No such exemption is mentioned in the 2016 memo mandating the release of pregnant immigrant detainees.)
She remained at the detention center for nearly two months.
In early July, Hernández developed what she thought was an infection, producing a yellow vaginal discharge that worried her. She said she signed her name to a sheet distributed to the detainees daily that asks who wants to see a doctor, but was never taken to see one. Hernández submitted a separate request a few days later, writing that she was worried about the health of her pregnancy. She said she was told to put her name on the list she'd already signed.
Jong was eventually able to arrange for her release on a $1,500 bond at a July 12 hearing, and is still fighting deportation, arguing that her traffic stop amounted to racial profiling. But after Hernández returned to detention following the bond hearing ― her family needed a few days to raise the money to release her ― she started bleeding on her way to the dining hall.
Nurses brought her to the detention center's clinic and gave her an IV, before an ambulance took her to a nearby hospital and gave her an ultrasound. The doctor spoke little Spanish, but Hernández understood when he explained that she was no longer pregnant.
ICE disputes that Hernández experienced a miscarriage, but declined to comment further because the agency had not received a privacy waiver from her. Medical records obtained by HuffPost show that Hernández underwent an operation to remove a "molar pregnancy," a complication in which the embryo develops abnormally, growing into the uterine wall.
The pregnancy would not have been viable whether or not Hernández had been detained.
Two doctors consulted by HuffPost said that whether to classify a molar pregnancy as a miscarriage is debatable. (Neither of them provided care directly to either of the women mentioned in this report.)
"It's a grey zone, but she lost a pregnancy," Dr. Marc Stern, a professor of public health at the University of Washington who has evaluated medical treatment for immigrant detainees, told HuffPost. "She was pregnant, now she's not."
Tony Ogburn, an OB-GYN physician, noted that "miscarriage" is more of a colloquial term to describe a lost pregnancy, most commonly applied when a viable fetus is lost. The all-encompassing term most medical textbooks use to describe lost pregnancies is "spontaneous abortion," which would include a molar pregnancy.
"I don't think there's a right or wrong answer," Ogburn said when asked whether a molar pregnancy should be classified as a miscarriage. "I would categorize it as a pregnancy that was lost or complicated and needed ready access to appropriate care."
"But the bigger issue for me as an obstetrician is having appropriate access to care when they do have complications," Ogburn added. "And access to appropriate care in those situations is complicated at best."
Despite the medical ambiguity, Hernández felt as though the conditions in detention made her experience harder to bear.
"It's difficult" in detention, she told HuffPost. "The food there isn't good. They don't treat you well. You can't sleep well, you can't rest. Nothing, nothing there is good. They didn't take care of me or my baby like they should have."
She said she met other pregnant women in the center, one of whom was seven months pregnant. "It doesn't seem right to me that they were there," she told HuffPost.
An uneven policy
Another miscarriage, which ICE does not dispute, occurred at Northwest Detention Center in Tacoma, Washington, earlier this year. Jacinta Morales, a Honduran national, was detained in April, where she learned from a urine test that she was pregnant, according to local radio station KUOW.
Within days of her arrest, Morales received the notice that she would be deported within a week, and forced to leave her 11-year-old, U.S.-born son behind. She grew despondent, cried and told a doctor she was suffering from pain and nausea. On April 29, she woke up bleeding. A doctor called an ambulance, and when she got to the hospital, she was told that she'd miscarried, according to KUOW.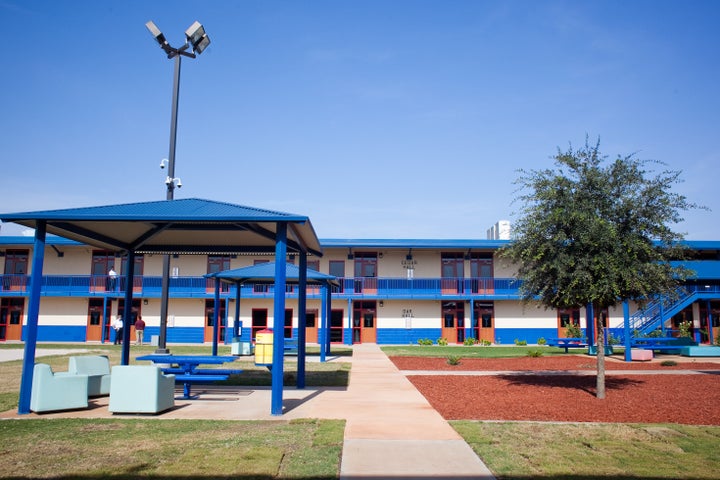 Since the Obama administration expanded family detention in 2014 in response to a surge in the number of Central American parents crossing into the U.S. with their children, visibly pregnant women travelling with kids have routinely been given notices to appear in immigration court instead of being detained, according to Amy Fisher, the policy director of RAICES, a nonprofit that offers legal services to immigrant detainees. For women who were in earlier stages of pregnancy, ICE would generally administer a pregnancy test at one of the centers and then release them, she said.
But in recent months, legal groups that work with women at the country's two largest family detention centers, which are both located in Texas, say that ICE has been detaining pregnant women pending their credible fear interviews, in which an asylum officer decides whether to allow them to stay and make a humanitarian claim before an immigration court.
"If they're not following the guidelines in the family detention context, I think it's safe to assume they aren't following it in the adult detention centers," Fisher said.
Immigrant advocates and women's rights groups worry that trend will increase the number of lost pregnancies in detention, since detention centers aren't ideal settings to care for pregnant women.
Elena Alderman, a paralegal volunteer with the Tijuana-based Border Rights Project who has worked with detained women for the last three years, said that continuing to detain pregnant women would naturally lead to more miscarriages.
Detention centers don't generally have obstetricians, gynecologists or maternal-fetal medicine specialists on staff, but instead refer women with complications to off-site specialists. And detention itself is a traumatizing experience, adding another healthcare complication.
"They don't have any facilities to deal with high-risk pregnancies," Alderman told HuffPost. "And these women shouldn't be there in the first place."
But if there has been a shift in policy at ICE or CBP, it is occurring unevenly. One woman, who recently crossed into the U.S. from Tijuana to San Diego just as Pagoada had, said she was given a notice to appear in immigration court instead of being detained. Two months later, she gave birth to her child.
"My beautiful son is about to turn one month old," the woman told HuffPost. "I give thanks to God because I may have suffered, but I'm here with my baby."
Popular in the Community