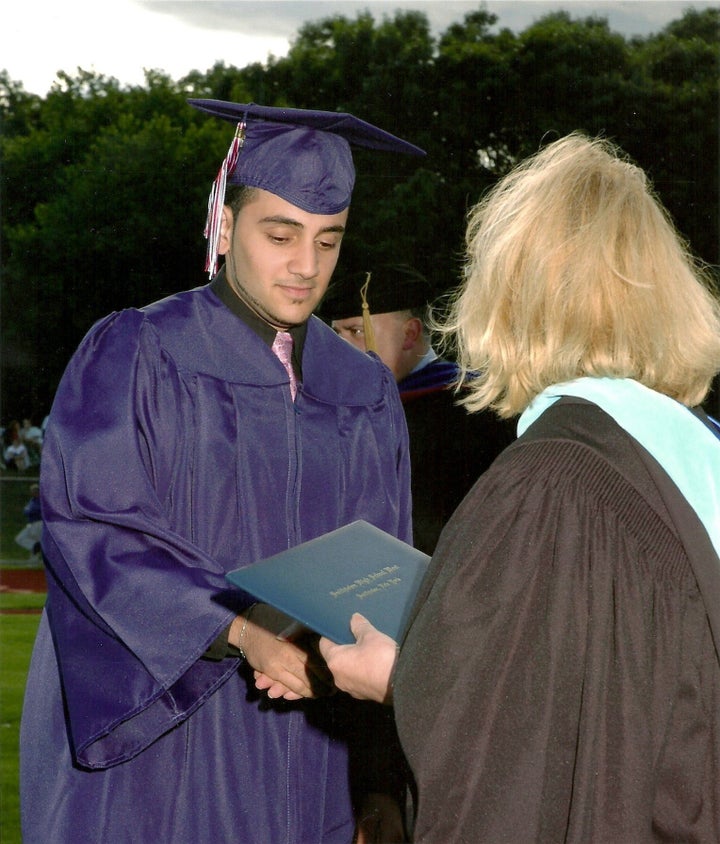 WASHINGTON -- Balal Parveez, a 22-year-old born in Pakistan, underwent a chest surgery on Thursday. No family members were there to comfort him afterward, even though he has nine siblings, two parents and a wife. And a few hours later, he left the hospital and was returned to an immigrant detention center, to recover in a room with half a dozen other immigrants slated for deportation.
Parveez's family has repeatedly pleaded with the federal government to release him from detention as his health has deteriorated over the past 11 months. So far the family has received little response from Immigration and Customs Enforcement. Still, the family's vowing to keep fighting until he is allowed to remain in the United States.
"I told him, 'I promise you I'm not going to let him deport you,' " Nosheen Dean, Parveez's younger sister, told him when she visited on Sunday, three days after he underwent a bilateral mastectomy to remove painful growths on his chest. "I don't know what it's going to take, but I'm going to keep that promise."
She said he had three-inch cuts with stitches on each side of his chest, leaving him hunched over in pain. A former high school quarterback, he had lost weight and said it was difficult to stand without intense pain after the surgery.
Parveez found out he would undergo the surgery, which his family had been requesting for months, on Wednesday, the day before the surgery. He told his family the procedure was going to happen, but Dean said the detention center was unable to provide information on how the procedure went. The Parveez family finally found out when a friend of Parveez's called his father to give an update that their son and brother was alright.
"The worst is the feeling that you can't do anything," Dean said. "This is so wrong. When someone gets surgery like this, you don't send them back to a jail cell."
Parveez came to the United States from Pakistan when he was a young child, after his family experienced persecution for his father's pro-U.S. political beliefs. Because he entered with an aunt rather than his parents, his family said, his asylum case was considered separately, and he was the only member of his family who didn't receive naturalized citizenship through political asylum -- although his family did not know it at the time.
Parveez grew up as an American, his sister said: His family quickly adopted local customs; he played high school football and started to attend community college. He married his high school sweetheart in 2009.
But in early 2010, Parveez was turned over the Immigration and Customs Enforcement. It was the first he and his family had heard of his lack of immigration status, Dean said. He fought deportation, but was sent to Pakistan in May 2010.
Once he entered the country, he experienced persecution because of his father's political views, his sister said. Parveez could face danger if he is once again deported to Pakistan, she said.
He returned to the United States in seven months later. Immediately after Parveez got off the plane, Immigration and Customs Enforcement officers apprehended him, although he received no criminal charges for re-entering the United States. He has been in immigrant detention since, mostly in the Broward Transitional Center, a privately-run facility that primarily holds people with clean criminal records who are slated for removal.
The facility Parveez is detained in is in Pompano Beach, Fla., more than 1,200 miles from his family and wife in Long Island, N.Y. They try to visit as much as possible, Dean said, but many of them can't because of work or illness.
Dean said she received a response to her requests on Oct. 24 that assured her that Immigration and Customs Enforcement "makes every effort to handle these measures fairly, professionally and in accordance with the law." The Department of Homeland Security could not immediately respond for comment on Parveez's case, citing privacy laws.
"I understand that detention processes can create hardships on family and friends," a representative for Immigration and Customs Enforcement wrote in the Oct. 24 letter. "I can assure you that ICE's enforcement policies and procedures are designed to be mindful of this impact."
But for Parveez's family, this is not enough. His lawyer put in a request for him to be released under prosecutorial discretion, referring to a memo released in June by Immigration and Customs Enforcement Director John Morton and a new deportation policy announced in August. Under those policies, the agency will review about 300,000 immigration cases, closing those deemed "low-priority" because they involve non-criminals and those with strong family ties in the United States. Parveez may not be eligible because of his re-entrance into the United States, but his family hopes his clean criminal record and large number of citizen family members will help in their effort.
"I still believe that the government is trying to do the right thing, but they're just not implementing it," his sister said.

Support HuffPost
The Stakes Have Never Been Higher
Popular in the Community