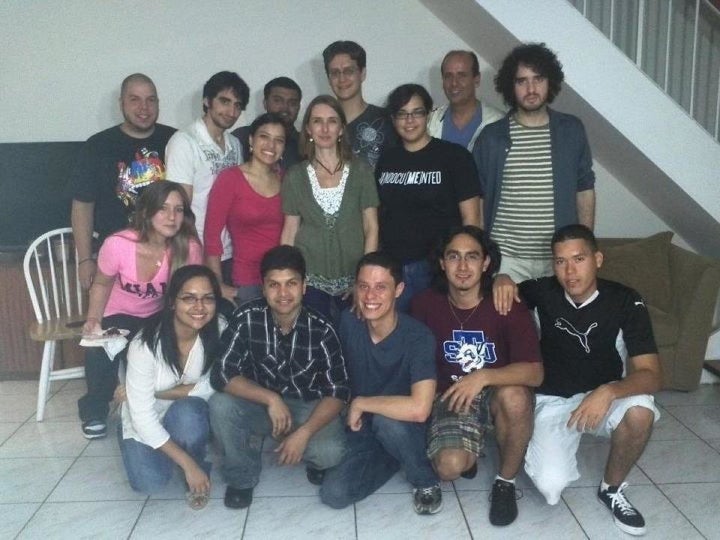 After protests across the country pressed Immigration and Customs Enforcement to free Shamir Ali, the 25-year-old Bangladeshi immigrant was released by immigration officials on Thursday, nine days into his detention.
Ali came to the United States from Bangladesh when he was seven, and has lived in Florida since. He hopes to eventually earn a bachelor's degree in business administration and work in the United States. But Ali, who he has no permanent legal status, was caught up in a raid on Oct. 19 by the Federal Bureau of Investigation and ICE.
Ali said his time in detention, though short, was psychologically traumatic. Broward Transitional Center, where Ali was held, is considered one of the better immigrant detention centers in the country and has outdoor space for detainees. Still, Ali said it felt like prison, especially after his initial request for release was declined.
"It's still a confined space, which is jail," he said. "The psychological effect on me was so unfair. I didn't know how long I was going to be in there; I didn't know why I was still in there."
After Ali was detained, Students Working for Equal Rights, an organization Ali's a member of, and other young immigrants' rights supporters called for his release, saying his detention was directly in contrast with a recent Obama administration policy. The policy, outlined in a June memo and an August announcement by senior administration officials, said the government would target immigration enforcement efforts on undocumented criminals. Some young people who, like Ali, entered the United States as children and hope to attend college would be allowed to stay as the administration continues to push for the DREAM Act to give them long-term legal status.
Ali was told he could go home on Oct. 27; he called it "the happiest day of his life." He was granted deferred action and will be able to work and attend school with in-state tuition under temporary legal status until next year. He said he is grateful to ICE for releasing him so quickly.
But Ali said he should have never been held in detention at all, based on his clean criminal record and ties to the community.
"I was only there for nine days, but based on the Morton memo that was released a few months ago, I shouldn't have been detained at all," he said. "As soon as I got detained, they could have done a background check on me and known that I had no criminal record and have been here all of my life."
Ali said Immigration and Customs Enforcement authorities declined his first request for deferred action, citing the fact that he has no family in the United States. His father left when he was a child, and his mother returned to Bangladesh.
Still, Ali said he has many friends in Miami, where he lives, who have become a sort of family. When he was released, several of them came to the detention center to welcome him back. He said the work of his friends, as well as immigrant advocates across the country, are to thank for his release.
"The immigrant rights movement -- they fought so hard for me," he said. "The petition, the protests, everything that was done really got my case out."
Not all undocumented immigrants in detention are as lucky, he said, which is why he will continue to push for passage of either the DREAM Act or comprehensive immigration reform that would give some legal status to undocumented immigrants in the United States.
"I just want ICE to really respect the memo that was released," he said. "You can tell by meeting somebody that this is their home, that they are an American, and hopefully they wouldn't keep them in detention at all, or for a short time at least. We can't do this kind of push for everybody."

Calling all HuffPost superfans!
Sign up for membership to become a founding member and help shape HuffPost's next chapter