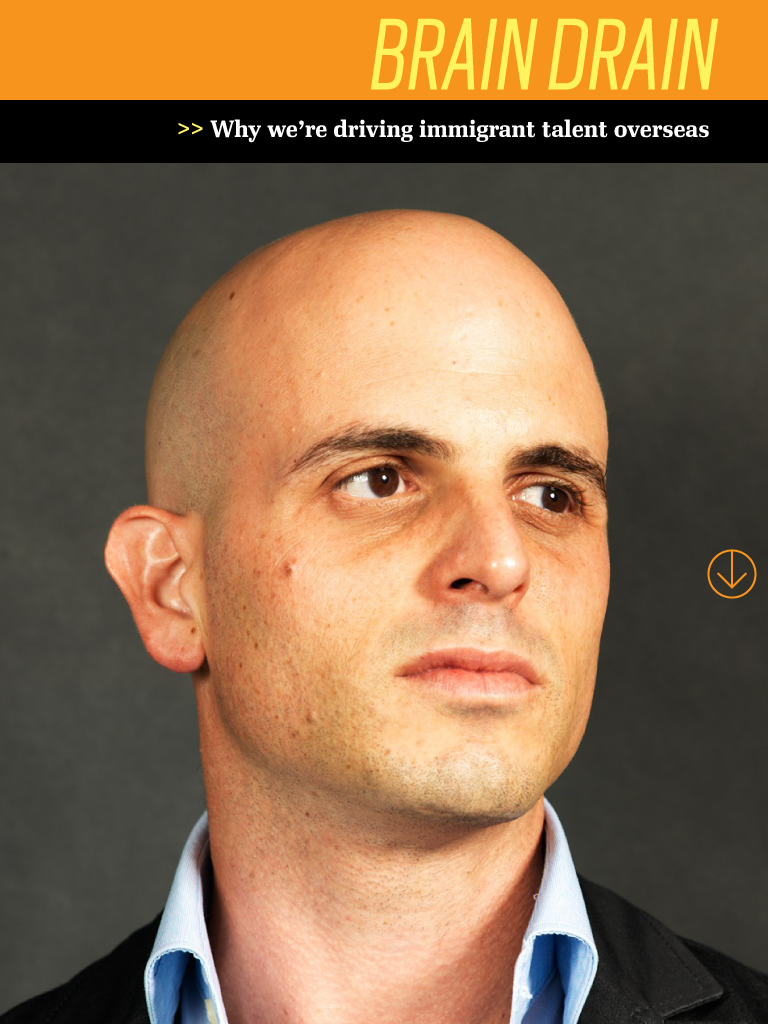 (Photo by Cody Pickens)
Asaf Darash, an Israeli entrepreneur, was putting his 18-month-old son to bed when he received the news he had been dreading. He had applied to renew his temporary visa back in April. It was now the middle of September, a few weeks away from his visa expiration, and immigration officials had still not responded. As he watched his son fall asleep, he opened an urgent email from his attorney. His application was denied. He faced deportation.
"You read it and you're like 'No, this can't be right,'" Darash recalled. "I remember standing in the middle of the house and thinking 'What do I do now?'"
Darash moved to the United States six years ago to study computer science at the University of California at Berkeley. After earning a Ph.D, he started a company, Regpack, that helps organizations process online registrations. He worked 16-hour days for two years to get his startup off the ground. Now, those long hours are paying off. He is attracting investors and adding clients. And he is doing something unusual in a bleak economy: He is creating jobs. He has 15 employees in San Francisco, and plans to hire dozens more.
Darash has a soft voice, piercing brown eyes and a smile that reveals a small gap between his front teeth. His head is shaved bald. He is, in many ways, not a typical tech entrepreneur. At 38, he is old by startup standards. While many of his peers wear t-shirts and sandals to the office, Darash dresses in button-down shirts tucked into designer jeans and black leather shoes.
I met Darash a few weeks after his visa was denied at his office in downtown San Francisco. The windows were open, and you could hear the clang of trolley bells down below on Market Street. Behind him were framed photos of his wife and two kids — ages 8 and 18 months. It was a Thursday morning, and he had just showed off his company's software to a potential client. Later, he would meet with his programmers and talk to investors. Then, he would close his office door to talk privately with
lawyers about his last-minute options to remain in the country.
Stories like his are not unique. They're also troubling for the U.S. economy, advocates say. For the first time, the number of immigrant-founded startups is in decline, as foreign-born entrepreneurs struggle to obtain a limited number of visas and green cards and decide to launch companies in other countries that offer perks to start businesses there. Losing founders like Darash, who launch startups that create jobs, means that America risks losing a source of employment and a competitive edge in the global economy as the country claws its way out of a recession, they say.
For years, immigrant entrepreneurs have propelled the growth of Silicon Valley, building some of the most successful tech companies in the world: Sergey Brin, co-founder of Google, was born in Russia; Elon Musk, co-founder of PayPal and Tesla, was born in South Africa; Vinod Khosla, co-founder of Sun Microsystems, was born in India. When they immigrated, it was likely easier for them because there was not a backlog that there is today, according to Vivek Wadhwa, a professor at the Pratt School of Engineering at Duke University who researches high-tech immigration.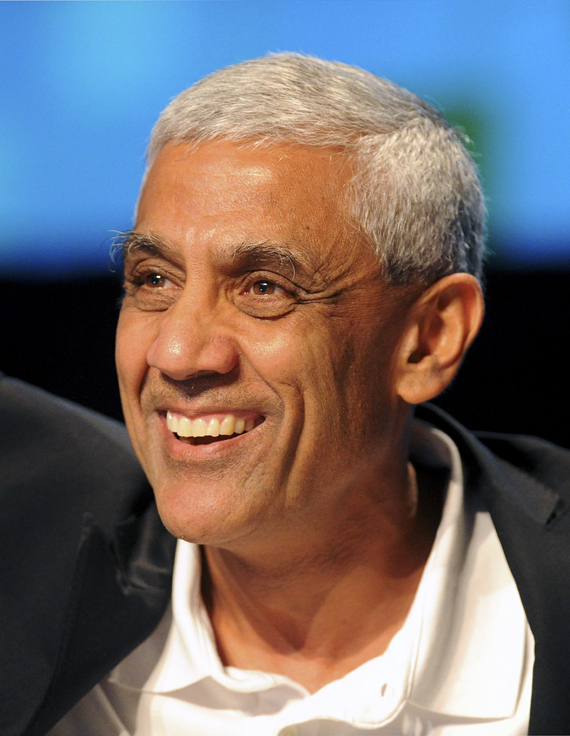 Vinod Khosla, co-founder of Sun Microsystems. (Noah Berger/Bloomberg via Getty Images)
An estimated three out of every four startups fail, if not more. But by the conventional wisdom of Silicon Valley, Darash's chances were even slimmer. For one, he does not have a co-founder. He insists he doesn't need one. (Paul Graham, creator of the startup incubator Y Combinator, has said having a co-founder is critical because "a startup is too much for one person to bear.") Darash also never worked for a major tech company before, so he did not have the network of contacts that help other entrepreneurs find engineers and meet investors.
But what he has lacked in support and connections he has made up for through a work ethic that borders on obsession.
"Asaf is a stubborn guy," said Adam Gries, a childhood friend and founder of Smart Bites, a smartphone app that teaches people English. "He gets into his head that something is going to happen and he's tenacious."
Darash awakes every morning at 4:30 a.m., takes the BART train from his home in Berkeley to San Francisco, and arrives at the office by 6 a.m. He works for an hour, then walks across the street to the gym to swim and lift weights (A back injury he suffered while serving in the Israeli army requires him to stay physically strong). He typically does not go home until 9 p.m., after his children have gone to bed. Employees say he is a "total workaholic" who sends emails past midnight and sleeps just a few hours a night.
"I have a one-and-a-half year old who sees his Daddy maybe three hours a week," Darash said. "It's hard to explain how much sacrifice you make to bring a company from an idea to something real, especially if it's a company with high-level technology."
He is hands-on about all aspects of the company, from courting new clients to writing code. But lately, Darash has been distracted, spending valuable hours gathering documents and talking to lawyers, instead of running his company. His wife recently flew back to Israel to find housing and a school for their kids in case they have to leave the United States. He describes feeling a range of emotions: anger, fear, frustration. Mostly, though, he is confused. In his homeland of Israel, politicians fight over who can attract more foreign entrepreneurs. The United States, he says, should be rolling out the welcome mat for him, not ushering him out the door.
"I could not even comprehend this would become a problem," he said. "I'm creating a company. I'm creating jobs. There's nothing bad in what I'm doing and there's nothing I'm taking away from someone else. The only thing I'm doing is creating more!"
Since 2005, the number of immigrant-founded startups in Silicon Valley has declined from 52 percent to 44 percent, according to Wadhwa, who argues this drop is cause for "serious alarm" because America needs to attract immigrant entrepreneurs for its economy to recover.
"The United States risks losing a key growth engine right at the moment when it's economy is stuck in a deep ditch, growing slowly and struggling to create jobs," Wadhwa wrote in his new book, The Immigrant Exodus.
Their recent decline could be linked to entrepreneurs finding better business prospects abroad, especially in countries with growing economies like India and China. But advocates say a major reason why immigrants are launching fewer startups in the United States is because they are struggling to secure visas to remain in the country.
The number of H-1B visas, or temporary worker visas for skilled immigrants, is capped at 65,000 a year, with an additional 20,000 available for immigrants with advanced degrees. Demand for those visas far outstrips supply. (This year, United States Citizenship and Immigration Services, or USCIS, received about 277,000 petitions for H-1B visas.) And each country is restricted to 7 percent of the 140,000 employment-based green cards that are issued annually, meaning immigrants from China and India often must wait more than a decade for permanent residency. These limits were not a problem before, but have now fallen far short of demand as millions of immigrants with high-tech skills have flocked to the United States.
Foreign-born entrepreneurs can face additional obstacles. To qualify for an H-1B visa, applicants must prove that someone else controls their employment. For immigrant founders, that means creating a separate board of directors and relinquishing some ownership of their company. Darash and his lawyer say that his visa was denied because, according to immigration officials, he did not adequately prove that someone could fire him. Visa applicants who are entrepreneurs must also pay themselves the prevailing wage of a chief executive, which many are unable to do because they have invested their money in building their businesses.
Such rules are meant to ensure companies don't outsource H-1B workers to outside contractors or use visas to save money on payroll. A USCIS spokesman said the agency "takes seriously our responsibility to detect and prevent immigration benefit fraud, especially where it poses a risk to the integrity of our nation's immigration system or national security."
But by creating such obstacles for foreign entrepreneurs, the United States risks losing the next big tech company to another country, advocates say.
"If Mark Zuckerberg had been a foreign student, Facebook would never have gotten started in the United States. He wouldn't have had any options," said Eleanor Pelta, an immigration attorney and past president of the American Immigration Lawyers Association.
Chris Bentley, a spokesman for United States Citizenship and Immigration Services, said the agency does not comment on specific cases. But he said each visa applicant is considered individually. "Each case is unique," he said. "There's no cookie-cutter path that applies to everyone."
The Obama Administration announced a plan last year to make it easier for immigrant entrepreneurs to qualify for visas. Foreign-born founders could qualify for a "national interest" waiver — and waive other visa requirements — if they show "exceptional ability." Federal immigration officials approved about 4,000 petitions for national interest waivers this year. But immigration lawyers say the standard for meeting them is difficult.
Darash's situation is similar to that of another Israeli entrepreneur, Amit Aharoni, who in 2010 founded a company called CruiseWise, which helps people find online deals for cruise packages. Last fall, Aharoni, 32, learned that his visa application was denied because, according to immigration officials, the job of chief executive "is not a specialty occupation that requires an advanced degree," he said. The letter stated that he must leave the country immediately.
Aharoni booked a flight the next day to Canada, where he stayed with friends while trying to resolve his situation. His co-founder managed the company's day-to-day operations, but while Aharoni was gone, the company struggled.
"To work remotely is far from ideal, especially when trying to meet a deadline or grow a company," Aharoni said in an interview. "These are crucial times in a company's lifecycle. You have to be there with the team."
Six weeks later, ABC News broadcast a story on Aharoni's situation. The next day, immigration officials reconsidered and approved his visa. Aharoni said they did not give him a reason for why they changed their minds, though he suspects it was due to media attention surrounding his case. Still, his dilemma — along with Darash's — shows the types of roadblocks that many foreign-born founders can face, Aharoni said.
"Asaf's case is another demonstration of the unfriendliness to immigrant entrepreneurs and people who are taking a lot of risks to build businesses here," Aharoni said.
In Congress, a bipartisan group of senators introduced a bill in May that would allow foreign entrepreneurs to live in the United States as long as they raise a minimum level of financing and employ a certain number of workers. But the prospects of the Startup Visa Act remain uncertain, largely because changes to immigration policy are considered politically controversial, especially during an election year.
Opponents argue that temporary visas allow immigrants to take jobs away from capable Americans, depress wages and discourage American-born students from entering high-tech careers. "The influx of foreign workers has driven the best and the brightest Americans away from the field," said Norman Matloff, a computer science professor at the University of California at Davis and an outspoken critic of expanding visas.
But advocates argue that creating additional visas for immigrant entrepreneurs would not take jobs away from Americans, but instead would create more jobs by allowing foreign-born founders to grow their companies in the United States.
With no imminent fix from Washington, a project called Blueseed has proposed a solution of its own. The company plans to anchor a cruise ship 12 miles off the San Francisco coast where immigrant entrepreneurs can live on the ship and work on their startups. They would not need visas because they would reside in international waters. By the end of 2013, about 1,000 immigrant entrepreneurs are expected to live on the boat, according to Blueseed chief financial officer Sam Bhagwat.
Meanwhile, several countries are offering perks to persuade entrepreneurs to start businesses outside the United States. One initiative, Startup Chile, gives $40,000 to foreign entrepreneurs who launch companies in the South American country. The government-led initiative also offers them free office space and Spanish classes and connects them with investors and mentors. Such aggressive recruiting tactics by other countries — coupled with strict immigration policies in the United States — could hurt America's long-term competitiveness in the global economy, according to Wadhwa.
"Over time, the economic growth that should be happening here is happening in other countries," Wadhwa told Huffington.
"NOT SURE I CAN FIX THIS"
Darash's story began with an early love of computers. As a boy in Jerusalem, he visited his aunt, who was a programmer for an Israeli software company. It was the mid-1980s, and computers were still rare. Darash, who was 11, had never seen one before. He was captivated. "I had a million questions," he recalled. A week later, his father returned from a business trip with a new desktop. Darash taught himself how to code. Still curious, he took the computer apart.
"I remember my father coming into my room and seeing all the pieces on the floor and saying 'What did you do?'" Darash recalled. "And I said, 'I wanted to see how it works!'"
Two decades later, that same fascination with computers brought him to the University of California-Berkeley on a Fulbright scholarship. After finishing his dissertation, he considered a career in academia, but was drawn to the open-minded, risk-taking culture of Silicon Valley.
"I felt like I'd reached a place where I could just be me," he said. "I could say my crazy ideas and people would say 'Oh, that's actually interesting.' It was like living in the best possible place for my situation."
In the fall of 2010, Darash founded Regpack, which sells software that helps organizations with online registrations and payments. Darash calls it a "complex e-commerce solution." The company's clients include groups who run camps, sports leagues, seminars and conferences. In the beginning, Darash hired two programmers off Craigslist and deposited $100,000 of his money in a bank account. The three worked in an office furnished with mismatched Ikea tables and typed computer code late into the night, stopping only to eat takeout or play card games.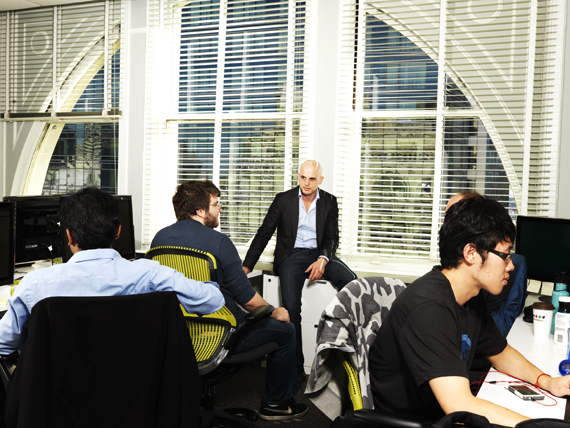 Darash and staff at Regpack's offices in San Francisco. (Photo by Cody Pickens)
Their initial efforts were a disaster. The software didn't work. Customers complained about losing data. But they fixed the bugs, and now, Regpack has found a measure of success. It has more than 200 clients and is adding 15 to 20 new ones each week. It recently raised $1.9 million in funding from investors. This quarter, it will earn about $250,000, Darash said. The company is not yet profitable, but by the end of next year, he predicts it will make between $10 million and $12 million.
The offices of RegPack are located on the 10th floor of the Phelan building, named after a local politician whose father was an Irish immigrant. In one room, eight salespeople, phones cradled against their ears, assist customers. In another, seven programmers wearing t-shirts, jeans, and oversized headphones type line after line of code. A banner on the wall features a computer-drawn cartoon of a blonde-haired woman in a blue pantsuit. She is carrying documents and extending her arm toward the company's slogan: "Regpack, the SMART online registration software."
The company's employees show how Silicon Valley has come to rely on immigrant talent. One programmer is from China. Three others are from India. Darash's assistant is also from Israel. Except for one, they have all become U.S. citizens.
Every Friday afternoon, they sit in a circle and discuss what they accomplished that week while sipping wine and beer from plastic cups. Account managers discuss new clients they pursued. Programmers talk about software bugs they fixed and new features they launched.  "How cool is that?" Darash says after one of them speaks. "That is totally awesome!" he says after another.
"I've seen a big change in him since he built this company," says his sister, Merav Darash, 39, a biologist who lives in Israel. "I've seen a spark in his eyes. He feels like he has come to a place in his life where he finally knows exactly what he wants to do, and he truly believes in it."
But after his visa was denied, Darash felt lost. He confided in a friend who tried to draw attention to his situation on Facebook:
"Urgent visa help needed for a friend to save 15 American Jobs." Soon, Darash began receiving emails and phone calls from strangers who connected him with immigration lawyers and members of Congress. But his immigration status remained unchanged.
Darash then broke the news to his employees. After he spoke, the room went quiet for several seconds. Many had questions: What does this mean for the company? If you leave for Israel, can you come back? "You'll solve this," one employee told him. "You've solved more complicated stuff."
Yes, he had solved complicated problems before. He spent countless hours creating new technology that he believes will make e-commerce more efficient. But there is a logic to how computers work. Federal immigration officials, Darash learned, don't operate by the same logic.
Darash tried to appear confident for his employees. But privately he was uncertain. We sat in his office for 30 seconds in silence as he fought back his emotions.
"It's a lot of pressure," Darash said. "They're saying, 'We believe in you.' And I'm wondering, 'What are you believing in? I'm not sure I can fix this.' It's a type of feeling I've never felt."
If Darash moves back to Israel, his company may survive, he says. But it may lose momentum. He figures it could take six months to reorganize, create new networks and find new employees in Israel. It would also be difficult for him to make day-to-day decisions with a 10-hour time difference between him and his team in San Francisco. For that reason, any new employees that he hires would be based in Israel, not the United States, he says.
"Regpack isn't going away," Darash said. "The question is 'Where will it grow?'"
His concerns go beyond his employees. He worries what this uncertainty means for his current and potential investors. He also is concerned about the impact on his family, particularly his 8-year-old son, if they are forced to leave the country.
"This is a major thing to do to my 8-year-old," Darash said. "He thinks, 'We're here. I have friends.' This is the stage where they build their identity. I don't know how this will affect him in the long-run."
In recent days, he has explored alternatives for staying in the country. He applied for a different kind of visa — known as an E-2 — that is given to immigrants from certain countries who invest a substantial amount of money in a U.S. business. Darash and his lawyer expect to learn the outcome of his application in the coming weeks.
In the meantime, Darash tries to remain upbeat — an attitude that has carried him this far.
"Every entrepreneur is sort of delusional with how optimistic he is because that's what you need to be," he said. "You're taking something that everybody is telling you 'No, it won't work, it's impossible,' and you're doing it anyway. You have to believe it will be okay because otherwise we would never build companies. We would never go and do crazy stuff that makes a difference in the world."
"I have to believe this will be okay as well," he said.
Calling all HuffPost superfans!
Sign up for membership to become a founding member and help shape HuffPost's next chapter