The Trump administration has still not reunited nearly 600 migrant children that it separated from parents at the border in recent months, according to a court filing on Thursday.
In a status report in a case involving a lawsuit brought by the American Civil Liberties Union on behalf of separated migrant parents, the government's lawyers said that more than 1,500 children had been reunited with their parents and about 400 more children were discharged from government custody through other circumstances, some to parents and others to sponsors.
However, the U.S. Justice Department lawyers reported that an additional 572 children remained in government-contracted shelters without their parents ― a full week after the court-ordered July 26 deadline to reunify separated families.
The government had not deemed those parents "eligible" for reunification because they had been deported, had been released into the interior of the country, had failed a background check or had yet to be located. The parents of more than 400 detained children, for instance, were no longer in the U.S. ― which a government official previously said was because they had been deported.
Earlier this week, U.S. District Judge Dana Sabraw in San Diego ordered the government to detail its plan for reuniting kids with parents who were deported or released.
In the Thursday court filings, the Trump administration said it was on the ACLU and "their considerable resources and their network of law firms, NGOs, volunteers, and others" to locate parents who had been deported or released.
The ACLU, in turn, said the onus was squarely on the government to find parents its officials had separated from their children at the U.S. border.
"The Government must bear the ultimate burden of finding the parents," the ACLU said in the filing. "Not only was it the government's unconstitutional separation practice that led to this crisis, but the United States Government has far more resources than any group of NGOs."
In June, Sabraw ordered the Trump administration to reunite the more than 2,500 migrant children officials had taken from parents as a result of Trump's hard-line zero tolerance policy on immigration.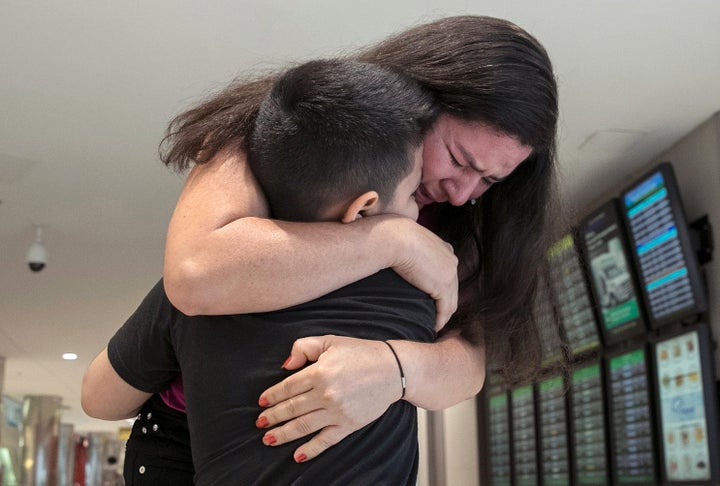 Last week, the Trump administration applauded its own efforts to meet Sabraw's July 26 deadline to reunify families, saying that more than 1,400 kids had been reunited with parents. But that figure didn't include more than 700 children who still remained in shelters, whose parents the government had not deemed eligible for reunification.
Even for families who have been reunited, the struggle to stay together in the U.S. is not over. About 900 parents had final orders of removal, according to government statements in court last week. Some parents will have to make the tough choice of either leaving the U.S. with their children or fighting for asylum and potentially being separated again if the parent is deported and the child stays to seek safety.
Lawyers have also questioned the legality of forms that some parents signed consenting to their own deportations, saying that the clients didn't understand them or signed under pressure.
"The government shouldn't be proud of the work they're doing on reunification," ACLU attorney Lee Gelernt told reporters on a call last week, noting there was much work still to be done.
"It should just be, 'We created this cruel, unconstitutional, inhumane policy. Now we're trying to fix it in every way we can and make these families whole.' Not, 'We're proud we're doing the reunifications,' as if they're showing up to fix some natural disaster. This is a disaster that they created."