Immigrant parents who the government claimed had waived their right to reunite with their children told attorneys they felt pressured to do so, didn't understand what they were signing or did not recall it at all, according to a series of declarations filed in court on Wednesday as part of a lawsuit over the Trump administration's separation of migrant families.
"Many of these individuals indicated that they felt coerced into relinquishing their rights," Aaron Reichlin-Melnick, an attorney with the American Immigration Council, wrote in a declaration. "Still others appeared totally unaware that they had done so. Indeed, some individuals were adamant that they had signed a paper that said they chose to be reunited with their children."
The attorneys detailed their clients' stories in a court filing by the American Civil Liberties Union, which is representing families separated at the border under President Donald Trump. In the first major case challenging the now-abandoned family separation policy, lawyers with the ACLU argued Wednesday that the Trump administration's plan to immediately deport some migrant families separated at the border could undermine legal claims and lead to the deportation of parents who signed their rights away under duress.
The lawyers are asking for an extra seven days to consult with their clients before the federal government deports them.
Multiple parents told attorneys they had been asked to sign a form that would allow their children to be released to family in the U.S. rather than continuing to be held in government custody, according to the declarations. One Guatemalan father said he signed the form "under enormous amounts of stress and confusion" but wanted to be reunited with his child, Reichlin-Melnick wrote.
Some of the fathers said they were taken into a room with as many as 50 other men and given less than 5 minutes to hear about and sign the form, which they did not fully understand. They said they weren't given an opportunity to ask questions and believed they had no alternative but to sign the form, attorney Luis Cruz said in a declaration. None of them were given the option to talk with their children before signing the form, he said.
Another lawyer, Sofia Reive, met with nine fathers the government identified as consenting to deportation. All of them told her, contrary to the government's assertion, that they wanted instead to be reunited with their kids. None of them realized they had signed away that right and agreed to be deported without their children, Reive wrote.
One of the fathers had passed a credible fear interview, the first major step in presenting an asylum claim to the immigration court, according to a declaration. Another, a speaker of the Mam language of Guatemala, thought the form he signed without an interpreter present meant that he could reunite with this daughter.
"Many of the families are so traumatized that it takes hours to establish a rapport and begin gathering information, attorneys said. They described families who could only focus on whether they would remain together."
The government is currently in the process of reuniting families it separated at the border under court order ahead of a Thursday deadline set by federal Judge Dana Sabraw in San Diego. The Trump administration says it's on track to complete some 1,600 reunifications in time ― as of Tuesday evening, it had reunited more than 1,000 parents with their children ― but deemed other parents potentially ineligible.
About 130 parents waived their right to reunification under the court order, according to the government. Some parents have said they want their child to remain in the U.S., including by indicating a family member they could be placed with, a Department of Homeland Security official said. The government has information on parents' rights posted in English and Spanish in each facility, including contact info for the ACLU, and officers are required to read the form to individuals in a language they understand, the official said.
Sabraw ordered the government last week to temporarily stop the deportation of newly reunited families, based on the ACLU's argument that quickly removing them wouldn't allow parents enough time to review their child's legal case. In some situations, a parent might have a final order of deportation while the child doesn't. The ACLU asked that families be given at least seven days after reunification before they could be deported.
The government argued this week that putting strict requirements on when families could be deported was outside the judge's authority and that it had already given adequate time. A government attorney also balked at the ACLU's plan to file additional declarations, arguing in court on Tuesday that the opposing attorneys had given "almost no notice" of the initial request for a week-long period before families could be deported and now could be trying to expand its demands.
The ACLU argued in its filing, backed by the declarations from other attorneys, that there were significant challenges facing legal providers if families begin arriving by the hundreds to family detention facilities in Texas in coming days.
Processing and aiding that many families at once ― all in different stages of their immigration cases ― isn't possible, even with an army of volunteers eager to help them, lawyers said.
"I am concerned that not even seven days will be sufficient to meet with and advise the hundreds of detained families that we are expecting to arrive at Karnes," said Manoj Govindaiah, director of family detention services at the legal aid group RAICES.
Some children are showing up without documentation describing how their own legal cases have proceeded thus far, creating more delays as attorneys try to track down the information, lawyers said.
There are also logistical constraints: visiting areas without enough space to conduct many meetings at once, lack of notice about families being sent to the facilities and language barriers that require interpreters to communicate with some clients.
Many of the families are so traumatized that it takes hours to establish a rapport and begin gathering information, attorneys said. They described families who could only focus on whether they would remain together and parents who weren't willing to be apart from their kids but were also hesitant to speak in front of them about the abuse they suffered in their native countries that could be relevant to their case for asylum.
"Even benign questions ― like the question asking mothers to list the names and locations of their children on our intake form ― produce tears and paralysis," Shalyn Fluharty, managing attorney of the Dilley Pro Bono Project helping detained families, wrote in a declaration.
Before You Go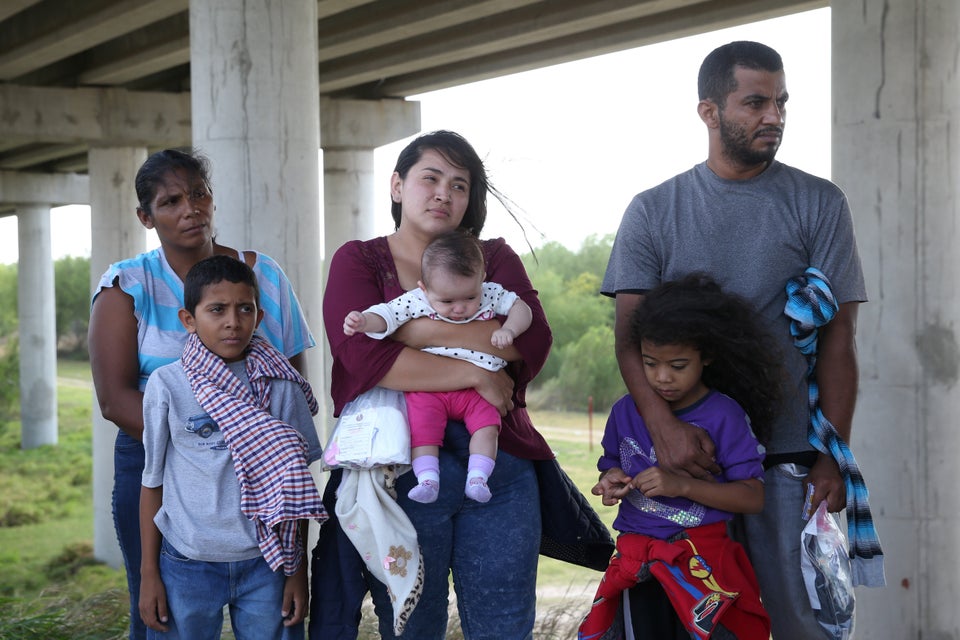 Immigrant Families At The U.S.-Mexico Border
Popular in the Community