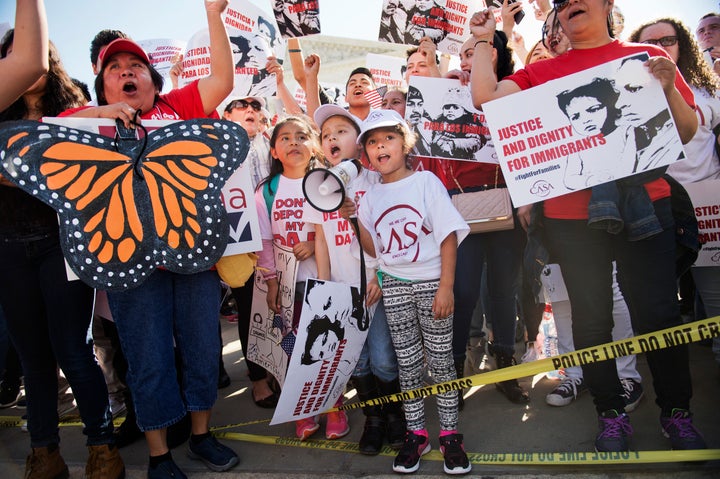 Several immigrant rights groups announced Tuesday that they will spend a week protesting the deportation and detention policies of President Barack Obama, timed to mark the one-year anniversary of his announcement of executive actions to expand deportation relief.
Obama, who has presided over more deportations than any other president, has long faced protests from immigrant rights activists who argue that he has the power to craft a more lenient enforcement policy, despite opposition to immigration reform from Republicans in Congress.
But nearly a year ago, many critics of the president's deportation record turned their attention to Republicans instead, following Obama's November 2014 announcement that he would use his executive authority to shield an estimated 4.4 million people from deportation and offer work authorization.
"There's a tendency to blame Republicans for the lack of implementation of DAPA -- and for sure, they've played a role in that," said Tania Unzueta, an organizer with the #Not1More campaign, using a shortened name for the Deferred Action for Parents of Americans policy, which offers deportation relief for undocumented parents of U.S. citizens. "But we tend to forget about the role that the president has in the way immigration is enforced and the lack of accountability that [U.S. Immigration and Customs Enforcement] has."
"We're trying to make sure that, especially as the one-year anniversary of DAPA passes, that we're looking for solutions that are useful for immigrant communities, not just Democrats or Republicans in an electoral context," Unzueta went on.
While Obama has proposed an unprecedented executive reformation of deportation policy amid Republican opposition to comprehensive reform legislation, other elements of his enforcement policy remain contentious. Most Democrats in Congress, for example, have pressed Obama to reverse his administration's recent expansion of family detention -- a policy the White House says it has adopted in an effort to discourage the arrival of more migrants from the violence- and poverty-plagued Central American countries of Guatemala, El Salvador and Honduras. Tens of thousands of unaccompanied minors and mothers traveling with their children crossed into the United States last year, many of them requesting asylum or other forms of humanitarian relief.
ICE has also managed to regain ground that it lost in the lead-up to Obama's proposed changes to deportation policy. The same day Obama announced those changes, he also discontinued Secure Communities, a fingerprint data-sharing program that helped ICE identify undocumented immigrants arrested by police for reasons unrelated to immigration.
Immigrant rights groups hated the program, arguing that it undermined immigrant communities' trust of police and ensnared many people into the deportation dragnet who didn't have so much as a conviction on their criminal records. Scores of local jurisdictions and the entire state of California sharply limited their cooperation with the program after the 3rd U.S. Circuit Court of Appeals ruled last year that detainer requests issued by ICE were voluntary -- and not, as the Department of Homeland Security had previously insisted, mandatory.
Los Angeles County Sheriff Jim McDonnell said last month that he would allow ICE agents back into the jail system to identify undocumented immigrants for deportation who aren't shielded by California's 2013 Trust Act, which limits the state's cooperation with ICE. Law enforcement officials in Georgia's Fulton County have similarly proposed allowing ICE to re-enter the local jail, one year after lawmakers passed a resolution urging the sheriff to limit cooperation with federal immigration authorities.
"What we've seen since Nov. 20, apart from the fact that these reforms haven't moved forward, is that deportations and detention continue," Rosi Carrasco, a Chicago immigrant rights organizer, told The Huffington Post. "We're not seeing results... Our community has learned that when ICE and the police work together, everyone loses. They should stay separate."
At the same time, the Obama administration has clearly changed course. Last year, the administration deported 231,000 undocumented immigrants -- the lowest number of expelled undocumented immigrants of any year since 2006, according to the Associated Press.
Popular in the Community