On Saturday July 24th, four adamant supporters of the federal DREAM Act courageously stood before Senate Majority Leader Harry Reid (D-NV) in full cap and gowns at a Netroots Nation luncheon in Las Vegas to protest his lack of conviction on a bill that would allow a pathway to citizenship for undocumented youth.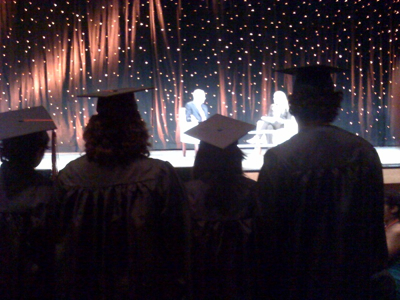 The students, two of Mexican, one of Argentinean and one of South Asian descent, are part of a national, growing campaign of students "coming out" as undocumented in order to bring attention to the nine-year-long battle to pass the bipartisan Development, Relief, and Education for Alien Minors (DREAM) Act, S. 729, known as the DREAM Act.
During the "Ask the Leader" luncheon moderated by Daily Kos' Senior Policy Editor Joan McCarter, the four students stood silently just a few feet away from Reid in a room of over 2,000 attendees as the majority leader answer questions regarding the DREAM Act and other issues.
"No one, and I'm not a boastful man," started Reid, "but no one has worked harder on immigration than me; I got the scars to show it... but I'm not going to do the DREAM Act unless I have 60 votes."
Saying he did not want to raise false hopes for thousands of young people throughout the nation, Reid sat in his chair onstage, not once taking a moment to acknowledge the students who stood before him, even as attendees beckoned him to look at the students.
"He didn't acknowledge us, and I think that symbolizes how much he has avoided the issue," said Matias Ramos, a graduate of UCLA and one of the students who participated in the demonstration.
In a meeting with student advocates days earlier, Reid informed students that comprehensive immigration reform (CIR) "was not going to happen" this year and vowed to move the DREAM Act forward as a stand-alone bill if supporters of CIR gave the green light.
Lizbeth Mateo, a graduate of California State University Northridge and a student who has been front and center on this debate, confirmed that 20,000 petitions from CIR advocates were delivered to Reid thirty minutes before his appearance at Netroots.
In conflicting, yet not surprising turn of events, Reid made no remarks about those petitions and shifted his rhetoric towards passing a larger comprehensive immigration reform bill.
"I think the most meaningful part to me was how hard he was trying to shift his vision and try to find a way to not see us, pretend we were not there," said Ramos.
It's not the first time undocumented students have felt "invisible" in the context of immigration reform. Many of today's undocumented population arrived to the United States as children, and have been educated in American schools.
Many have graduated from accredited universities, without any form of financial aid, or have sought patriotic service in the military only to be turned away. They are stuck in limbo, unable to gain employment, put their degrees to good use and contribute to a flailing American economy.
Just a day prior, at the "Ask the Speaker" luncheon, Speaker Nancy Pelosi (D-CA) stated in a moderated conversation with progressive political blogger Cheryl Conti of JackandJillPolitics that the DREAM Act was "aptly named," as the House is committed to CIR.
"Our Congressional Hispanic Caucus doesn't want us taking one piece that might be appealing, and leaving the undocumented behind," stated the speaker.
"Our principles are secure our border, enforce our laws, protect our workers, don't exploit workers coming in, but have a path for legalization for those who are here not fully documented, and if we take off some of the rosier pieces of it, the thought is it would diminish the prospect for comprehensive immigration reform," she added.
While the Congressional Hispanic Caucus may have their opinions, Speaker Pelosi would be wise in consulting other ethnic groups, like the Immigrant Rights Program at the Asian American Law Caucus, who find that one in every five Korean Americans are undocumented, many under the age of 18.
The continued use of Latino-Hispanic-only lens when discussing the DREAM Act or CIR is not only incredibly misleading rhetoric, but dangerously allows one ethnic group to be a target for hate speech and discriminatory laws like Arizona's SB1070.
On Reid, students are left with an uneasy feeling about whom to trust.
"One of my biggest concerns," says Mateo, "is that his staff and himself keep saying that he is our friend, that he is our ally, that he is with us, but he keeps giving us mixed messages, so it's not clear if he is with us or not."
Meanwhile, despite the very public and brave efforts that many undocumented students throughout the nation have demonstrated, their fates rest in the hands of both Democrat and Republican legislators immobilized by fear-mongering and threats of looming elections, unwilling to act and do the very job they were elected to do.
Popular in the Community