from On The Future of Wagnerism, Huffpost blog series by Lawrence D. Mass
"Art, if it is to be reckoned with as one of the great values of life, must teach...tolerance." —Somerset Maugham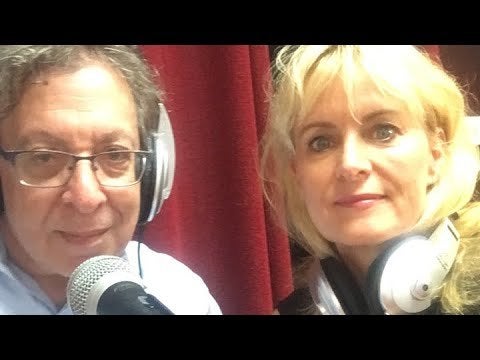 Steven Lebetkin, composer, with Amy Andersson, conductor and founder of Orchestra Moderne NYC
Ever precious and however threatened in the current political climate, freedom and tolerance were in the air for the Carnegie Hall debut of Orchestra Moderne NYC, a youthful, culturally diverse and enterprising group that aims, according to music director and conductor Amy Andersson, to "connect audiences with culturally relevant and meaningful music...to create musical experiences that celebrate humanity and connect to important social issues."
The program opened with a rousing Overture by Lolita Ritmanis and featured the world premiere of a skillful and soulful Violin Concerto by Steven Lebetkin, impressively played by Momo Wong. The second half opened with Copland's ever powerful Fanfare for the Common Man, and concluded with Peter Boyer's celebratory Ellis Island: the Dream of America. Individually and cumulatively, these pieces evoked the hopes, dreams and courage of American immigration experience.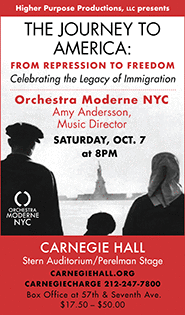 The Journey To America: From Repression to Freedom, Concert Program
The parents of Lolita Ritmanis emigrated to America in 1944 from war-torn Latvia. Because of the Soviet occupation that followed the war, they never fulfilled their dream of returning home, but their daughter did. Her Overture to Light was inspired by a building designed by a classmate of her father who became a renowned architect. The National Library of Latvia is also known as the "Castle of Light." It opened in 2014 and is considered a symbol of freedom. Ritmanis has worked extensively in television and film, garnering 10 Emmy award nominations and winning in 2002 for Batman Beyond.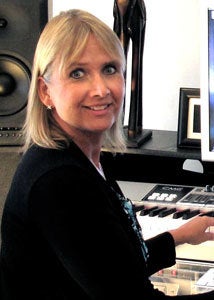 Lolita Ritmanis, composer
Steven Lebetkin is descended from a line of Jewish musicians and composers who immigrated to America during the Third Reich, including Karol Rathaus, who was a student of Franz Schreker. Indeed, in Lebetkin's shimmering jugendstil textures, you can hear the distant sounds of the Austrian-Jewish composer's opera, Die Ferne Klang (The Distant Sound). Rathaus was a Jewish composer from Poland who was a pioneer in film scoring in advance of Erich Korngold. Rathaus emigrated to New York in 1938 and founded the Queens College Music Department in 1939. "I am here today as a descendant of this tradition," affirms Lebetkin, "and to carry the torch of great musical composition technique that survived the repression of Nazi Germany to the freedom of America that still rings true today."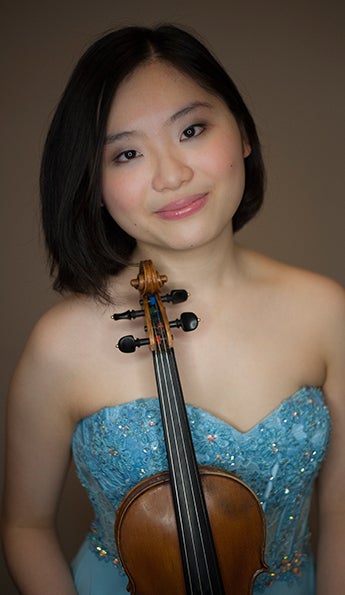 Momo Wong, violin soloist
Finally and climactically, there was Boyer's Ellis Island: The Dream of America. This immensely successful work (170 live performances by 75 orchestras) had its premiere in 2002 and is slated to be shown on PBS in 2018. The work showcases 7 voices from the Ellis Island Oral History Project. In their own words, immigrants from Poland, Ireland, Hungary, Greece, Italy, Russia and Belgium, a number of them war refugees, one of them Jewish, tell us heartbreaking and inspiring stories of their ordeals, strength and hope. Each of the actors—Stacey Lightman, Myles Phillips, Rori Nogee, Daniel Kreizberg, Annie Meisel, Austin Ku, Carol Beaugard, and Karen Johal—brought presence, passion and pathos to their lines.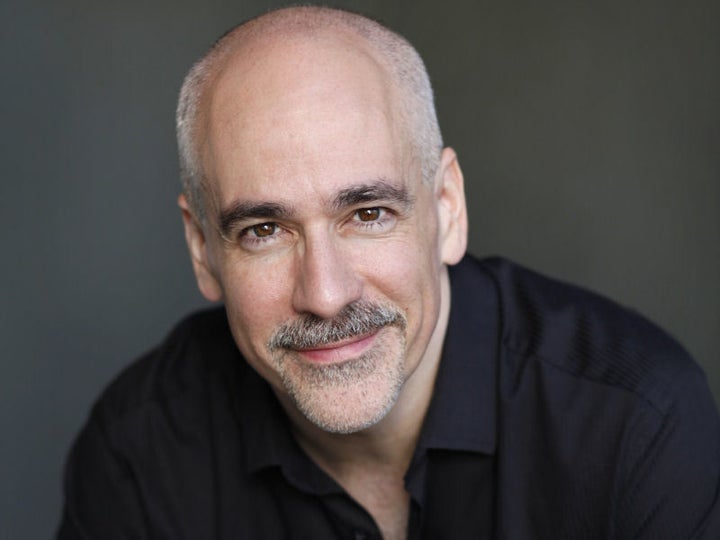 Peter Boyer, composer of Ellis Island: The Dream of America
The eclectic piece was accompanied by slides of Ellis Island scenes, mostly old black and white photos; all of which lead up to the inevitable concluding scrim, in full color, of Lady Liberty as one of the immigrants reads the immortal words by Emma Lazarus that are inscribed on the statue: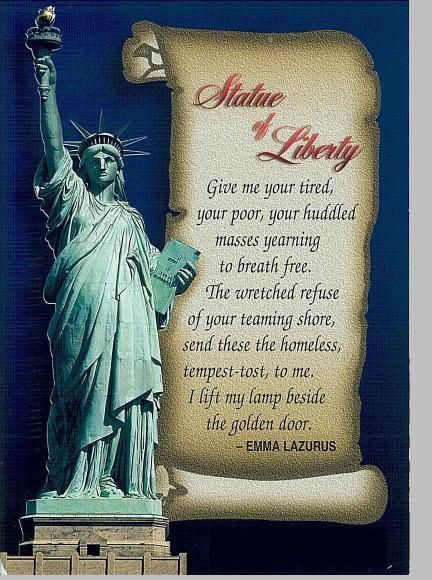 ______________________________________
So moving. Because of the "interesting times" we live in, however, the evening also evoked the darker history of immigration in America. When was the last time you were at Ellis Island? It's worth a revisit now, for all the heartwarming history of hopeful humanity, of course, but also to view its museum showcasing of all the different peoples that were vilified as they immigrated in numbers to America. There is not an ethnic or religious group you can think of that escapes this breathtakingly long and comprehensive list: Irish, Italians, Germans, Scandinavians, Africans, Chinese, Japanese, Vietnamese, Muslims, Blacks, Catholics, Protestants, Jews, Hindus, and on. The only notable omission I could find was of gay people, who until very recently were regarded as "psychopathic personalities" and refused entry or subject to deportation as such. For the common man of immigration experience, vilification of the other has been their constant nemesis, their fraternity-hazing initiation into America. "Land of the free and home of the brave," yes, but also of the ignorant and bigoted; the land that also enslaved, restricted, segregated and bullied at every turn and as this history repeats itself yet again today.
This history of vilification of the other is by no means limited to immigrants to America. It's everywhere else and transhistorical. One need only look at the histories of World War 1 and 2 and the present-day refugee crises in Europe, throughout the Middle East and everywhere else to appreciate the scope of this challenge to what should be universal values of humanitarianism.
All of which reverberated for me in Carnegie Hall, one of whose most featured composers has been Richard Wagner, musical history's greatest vilifier of the other. When it comes to prejudice, you have to search far and wide to find a more repellant voice of mean-spirited ignorance, bigotry and prejudice than Wagner. If you haven't ever done so, consider coupling that trek to the Ellis Island Museum with a reading of Wagner's infamous essay, "Judaism in Music." *
"Our eagerness to level up the rights of Jews was stimulated by a general idea rather than by any real sympathy...for we always felt instinctively repelled by any actual, operative contact with them."
"The Jew speaks the language of the nation in whose midst he dwells from generation to generation, but always as an alien."
Compare that with Donald Trump on Mexicans: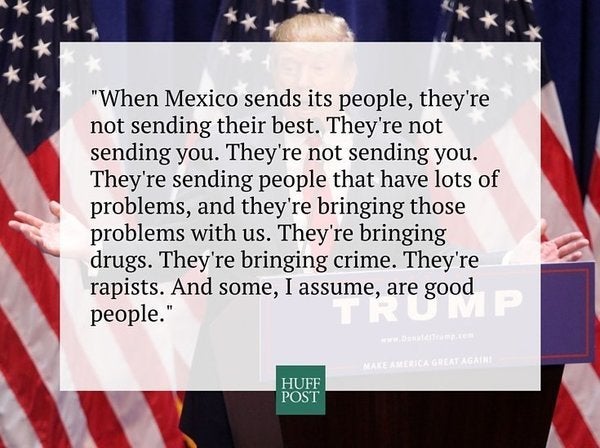 As for the big takeaway from Wagner's opera Die Meistersinger von Nurnberg, in which vilification of the other is central to both plot and meaning (as it is likewise in other of Wagner's works), turns out it's the same as Trump's: Make our country great again!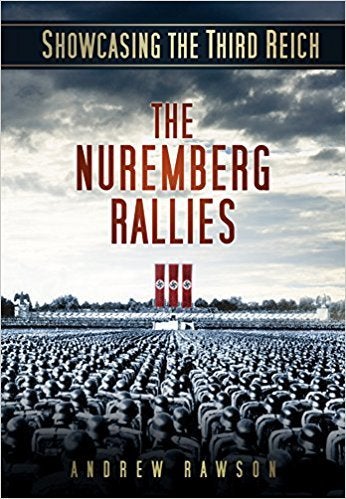 The following admonition to the German Volk concludes Wagner's Die Meistersinger von Nurnberg:
Awaken! ...Beware! Evil tricks threaten us. if the German people and kingdom should one day decay, and foreign mists with foreign vanities they would plant in our German land, what is German and true none would know. Therefore I say to you: Honor your German Masters. Even if the Holy Roman Empire should dissolve in mist, for us there would yet remain Holy German Art!
______________________________________
In an essay entitled "The Strangers in Their Midst" in a recent issue of the New York Times Book Review, two new books on current immigration crises are discussed by writer Pankaj Mishra. The first book, The Strange Death of Europe by Douglas Murray, posits that in its transformation into Eurabia, Europe is committing suicide. The second, The Crisis of Multiculturalism in Europe by Rita Chin, suggests a far more complex picture of immigration patterns, past and current, and an affirmation of future possibilities. "As in the late 19th century," writes Mishra, author of Age of Anger: A History of the Present, "demagogues displace the anxieties of powerless people onto a clearly identifiable social group: immigrants or refugees. The mechanism of scapegoating—catalyzing mass disaffection and providing it with a simple culprit—has gone into overdrive in Europe and America..."
The Journey to America: From Repression to Freedom is not over. That is, according to Orchestra Moderne Director Amy Andersson, this very successful event was actually a first part of what is currently envisioned to be an evolving creation. Part 2, she told us, will be about immigrants who did not come here through Ellis Island. Hopefully, the authoritarian incursions on freedom that have dogged immigrants historically and that menace us currently won't gain enough power to undercut or even censor such plans, as they did in Nazi Germany.
*Of interest to this discussion is a doctoral thesis, Richard Wagner 1813-1883: Anti-Semitism and Immigration by Anton Douglas.
Popular in the Community