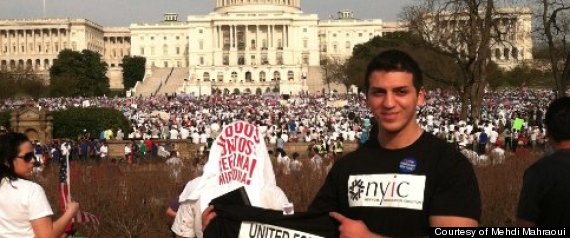 WASHINGTON -- When Mehdi Mahraoui, a 22-year-old legal resident, was a child in Morocco, he thought the coolest possible job would be to sell bleach. There was a man who came to their neighborhood in his village to sell it, and he was always dressed in bright colors and seemed, to Mahraoui as a small child, to live a good life. His father asked him what he wanted to be when he grew up, and he told him bleach peddler. His father didn't like that -- he sold their house and car and saved to come to the United States so Mahraoui would have better opportunities.
Mahraoui was undocumented for 14 years after coming to the U.S. at the age of 7 before finally adjusting his status. He's now entering his senior year of college at John Jay College of Criminal Justice, which he began attending after his high school friends and crew teammates helped him raise $2,000 to pay the out-of-state tuition -- the fee he owed even as a longtime-New York City resident, because he was undocumented.
His father never imagined his son would have the opportunity that came this week. After he was asked to come to the White House, Mahraoui said, he ran to his parents and said, "they want me to meet with the president!" "The president of what?" his parents asked. Mahraoui barely believed it himself until Barack Obama opened the door to let them into the Oval Office.
Mahraoui has an 8-year-old citizen sister and another who is undocumented, but eligible for the deferred action Obama announced during the campaign, a policy that allows some immigrants who came to the United States as children to apply for temporary relief from detention and deportation.
Dreamers' parents are still undocumented, however, and Mahraoui's mother is in deportation proceedings. If deported, she would be among hundreds of thousands of people removed from the country each year by the Obama administration, which increased deportations to the record level of more than 400,000 last year.
Mahraoui wasn't shy about letting the president know what his administration was doing to his family.
"That was my message to Obama: How do you justify separating my mom and my two younger sisters? How do you justify that?" he said. "It wasn't in an aggressive way, I was just sharing my story and said, 'look, we're suffering, and if you can, if there's anything you can do to stop this, help us out.'"
Mahraoui was one of seven people, all of them either undocumented immigrants or family members of immigrants, who met Obama and Vice President Joe Biden at the White House to talk about why reform is important to them. They got about 45 minutes to tell their stories and the stories of their families, and to urge the president to continue his push for immigration reform.
The meeting happened the same day that the Senate Judiciary Committee passed the bipartisan "gang of eight" immigration bill and sent it to the Senate floor. It would mean people like Mahraoui's parents and sister could become legal residents and then, eventually, citizens.
Obama has pledged his support, and promised those in the meeting that he won't stop trying. Mostly, according to participants, he and Biden simply listened. Here are some of the stories they heard.
Diana Colin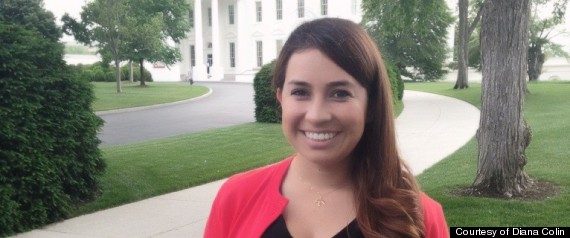 Diana Colin, a 24-year old legal permanent resident, got on a plane back to California a few hours after meeting with Obama and Biden. It was a big week for her family; one of her younger brothers, Jaime, who is undocumented, graduated from college on Wednesday. Her other younger brother, a U.S. citizen, graduated two days later. She has one younger sister who is also a citizen.
Colin was undocumented for most of her time in the U.S. after coming from Mexico when she was two. That meant she and her brother had to work long hours when they were in college so they could pay their out-of-state tuition. Their parents run a dry cleaning business, and Colin spent three days a week there from 8 a.m. to 7 p.m., all while going to school with a full course load. She learned to drive but couldn't get a license, so one day on the way to a final she was stopped. She missed the exam and had to take the entire course over again.
She became a legal resident after she got married about a year ago, and next wants to go to law school and eventually run for Congress.
Her brother now has deferred action, but her parents are fully undocumented. She told Obama that his family's story of hard work and achievement was actually much like her family's.
"My family was just like his," she said. "We were community members, we were members in our church, we were parents, daughters, sons, students, workers, but the only difference is he's a citizen and that we aspire to be citizens."
Melissa McGuire-Maniau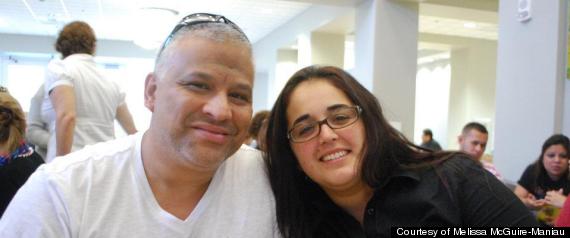 Melissa McGuire-Maniau, a 36-year-old U.S. citizen and Air Force veteran, didn't grow up knowing or caring much about immigration issues. But eight years ago, the Winter Park, Fla., resident went on a blind date with Hector Maniau, the brother of her good friend Beatriz Vega. "The rest is history," she said of their relationship.
But it's not a history many U.S. citizen couples share. Maniau was undocumented -- he came to the U.S. from Mexico with his family when he was 17 -- and even after marrying a citizen, it's not easy to adjust someone's status. McGuire-Maniau set out to learn as much about immigration as she possibly could, because she knew that going about things the wrong way could lead to him being denied a green card or, worse, detained and deported.
It almost happened anyway. After studying the laws and hiring an attorney, the couple filed papers for a spousal visa in January 2008. A month later, Immigration and Customs Enforcement showed up at their home, McGuire-Maniau said. She and her family stayed inside, terrified, and didn't come to the door. Two days later, ICE officers were back. She said officers blocked her car in at the end of the driveway as she was backing out to take their children -- they now have three -- to school, and asked her to step out. She still didn't reveal her husband's location.
ICE backed off for a while, but agents returned in October 2011, and that time the family was unlucky. Maniau was detained for three days in the Broward Transitional Center, a privately owned immigrant detention facility that focuses on non-criminals but is nonetheless criticized for being much like a jail. By 2011, McGuire-Maniau had been involved in immigration issues for half a decade, and she was well-connected enough to make some noise about his case. Her husband was released on a prosecutorial discretion policy that Obama had announced earlier that year.
Maniau got his green card about a month ago, and their family is safe to be together. McGuire-Maniau is currently finishing her senior year of college, and plans to eventually become an immigration attorney. But Beatriz Vega, Maniau's sister and one of his wife's best friends, can't be with her family; she was deported in 2010 and is now living apart from her teenage children.
When McGuire-Maniau spoke to Obama and Biden, she talked about both her husband, her sister-in-law and the other undocumented people she has come to know through her organizing work with the Florida Immigrant Coalition. Her concern is what will happen to the people whom the immigration bill doesn't help. That's why she wants to be an immigration lawyer.
"Let's not kid ourselves, this comprehensive immigration reform is not going to go nearly as deep as it needs to go to really remedy all of the problems," she said. "It will be massive, it will be fairly comprehensive, but not comprehensive enough, and I know that post-[reform] there will still be problems. It's not going to be a cure-all, so we have to be ready to face those challenges. ... Once I finish my school I can come back and help, and maybe make it better."
Kevin Hyun Kyu Lee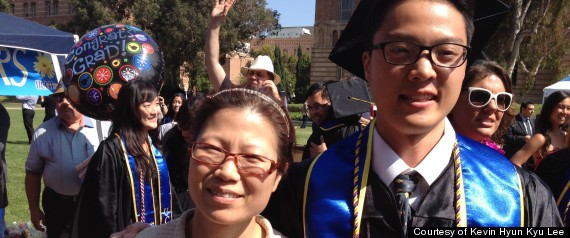 About a year ago, Kevin Hyun Kyu Lee, a 23-year-old undocumented immigrant, was on his way to his graduation from UCLA when his mother called with good news. The Obama administration had just announced that Dreamers -- young people who came to the U.S. as children -- would be able to apply for deferred action from deportation. He barely believed it, but turned on the TV when he got to his friend's house to prepare for the ceremony and saw Obama announcing the new policy on television. His friend was also undocumented, and one of the few people Lee had told about his status.
"We started jumping up and down, because he was saying that not only would we not get deported, but we would be able to get temporary relief," he said. "That was an amazingly memorable moment."
On Tuesday, Lee's birthday, he got to thank the president in person. Lee came to the U.S. from South Korea with his parents when he was 9 years old. He knew he was undocumented, but didn't talk about it much until a year ago, when he finally "came out" as undocumented. He's now an advocate for immigration reform and a community organizer for the Korean Resource Center in Los Angeles -- he can legally work now that he has deferred action -- and encourages others to be open about their status as well so they can fight to stay.
"It sounds easy to come out and tell your story, but what it really takes from them is coming out of the shadows," he said. "It takes a lot of courage. I would just like to thank all of those people before me who were able to share their stories, because those people were my inspiration. I hope in the future maybe some other shy or timid Dreamer who is in the shadows would hear my story or somebody else's story and come out and share and be more active."
Angie Kim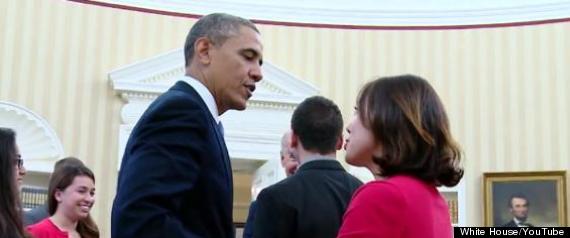 Angie Kim received deferred action in April after coming to the U.S. from South Korea when she was 9 so her family could be closer to her U.S.-citizen grandparents. She's 29 years old now, and has been living in the country undocumented for two decades. Her family's effort to get legal residency was halted when her grandmother died; she had been sponsoring for her son, Angie's father, to get a green card and the process went away when she was no longer there to do so.
Their legal status has been a considerable strain on Kim's family, and she knows her parents struggle with feeling powerless and somewhat guilty to have put their family in such a situation.
It's been hard for her, too. The current college student said hasn't been able to get work she knows she could do well, because she is undocumented and until April wasn't certified to work legally.
"You're so limited in so many ways, almost every way," she said. "You can't get a proper job, regardless of your talent and your experience and your skills because of that one piece of paper. It stops you, it holds you back from doing anything else. You feel very helpless at the same time; it's really not in your control."
When she talked to Obama and Biden, she asked them to remember that the debate isn't about numbers, it's about people.
"I mentioned one thing to [Obama] and I said I wanted him to remember that this is not about policy. People are not policy," she said. "You're dealing with human lives, and you can't narrow down and define people by laws or policies or regulations. It doesn't do justice, I don't think."
Miguel Leal, whose wife is undocumented; Justino Mora, a Dreamer; and Kate Kahan, legislative director for the advocacy group Center for Community Change were also in attendance.
Watch part of the meeting, from the White House's "West Wing Week"
Calling all HuffPost superfans!
Sign up for membership to become a founding member and help shape HuffPost's next chapter
BEFORE YOU GO
PHOTO GALLERY
Controversial Immigration Laws