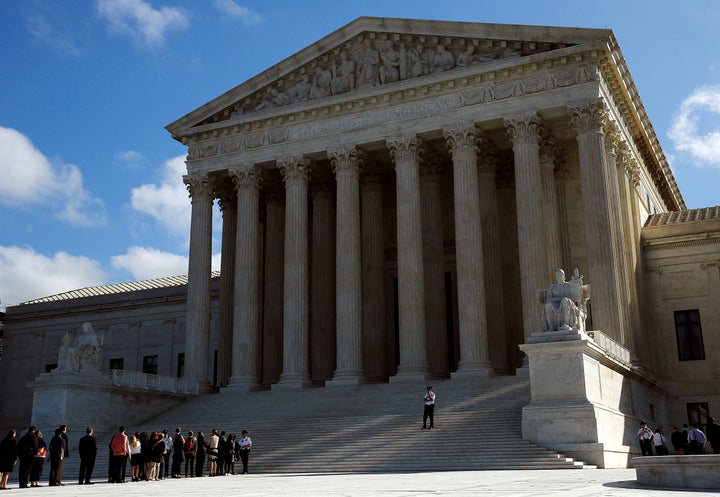 Immigration is baked into our country's DNA. The way we welcome newcomers speaks volumes about who we are and the values we hold dear as a nation. And when families seek refuge and opportunity in America, the Supreme Court has a big say in how they are treated and how children are protected. But this issue has sadly been used to score cheap political points and stoke fears about changing demographics and economic uncertainty.
In the wake of Justice Antonin Scalia's death last February, and with three more justices who will be in their 80s in the next president's first term, we could soon see up to four new justices who could determine what the Constitution and federal law mean for the rest of our lives.
Because the Supreme Court is shorthanded now and evenly divided philosophically on key issues including the legalities of issues affecting the basic rights of immigrants, not only the court – but the lives of millions of aspiring Americans – hang in the balance.
A future Supreme Court could halt any further progress toward fair and reasonable immigration policies. It could prevent aspiring citizens from contributing to the country they love.
Unfortunately, today's Court is sometimes part of the Washington gridlock. In June, it cleaved four-to-four in the case United States v. Texas, leaving millions of immigrant families and their U.S. citizen children stuck in legal limbo, not knowing for certain whether immigrant loved ones would come home at the end of the day.
Here's what happened: An appeals court blocked President Obama's executive actions to temporarily spare undocumented parents of U.S. citizen children – as well as those with green cards – from deportation, which also would have allowed them to seek permission to work lawfully in the United States. When the Obama administration appealed, the Supreme Court's eight justices deadlocked.
The Court has a duty to ensure nationwide uniformity and consistency on important questions of federal law, including the meaning of constitutional rights. In this case, the Court punted.
There's more: The Obama administration asked for a reset. It went back to the Court to ask for a rehearing. It said matters of such great consequence ought to be decided by a full nine-member court, which "should be the final arbiter of these matters through a definitive ruling." Request denied.
When the Supreme Court deadlocks, constitutional law is thrown into disarray. Sometimes a deadlock can mean that individuals have different constitutional rights depending on where they live. At other times, it can mean one extremely conservative judge in the Southern District of Texas can decide immigration policy for the entire nation. That is what happened here.
When the Supreme Court deadlocks, there is no settled law for the nation as a result. The underlying issues in United States v. Texas should come back before the Supreme Court in a later round of litigation; will the Court give a final answer then, or duck?
Because Senate Republicans have waged an unprecedented seven-month blockade of Chief Judge Merrick Garland's nomination, it's no exaggeration to say the Court has actually been consigned to a state of dysfunction. In the immigration case and some others, the supposedly final arbiter of the law has been paralyzed.
Just take a look at other ways the Court affects immigrants' lives. A Court majority made clear in 2012 that immigration policy is properly a matter for the federal government to decide, not the states. It struck down major facets of a restrictive Arizona law designed to make life unbearable for immigrants and those who interact with them.
More than 30 years ago, the Court held that the Constitution guarantees all children, regardless of immigration status, equal access to a basic public education in grades K-12.
This year, the Court already has agreed to consider appeals involving the use of deadly force by a Border Patrol agent at the Mexico-Texas border and another involving the ability of detained immigrants to get bail hearings.
Presidents occupy the White House for four-year terms. Supreme Court justices, on the other hand, serve for life. Will our next Court respect the constitutional values of liberty, equality, and justice for all? Or will it be a court that can't deliver justice at all? The future of the Court matters supremely, and it offers a monumental reason for Americans to make their voices heard.
Calling all HuffPost superfans!
Sign up for membership to become a founding member and help shape HuffPost's next chapter
BEFORE YOU GO
PHOTO GALLERY
31 Latinos Share Their Most Eloquent Thoughts On Donald Trump