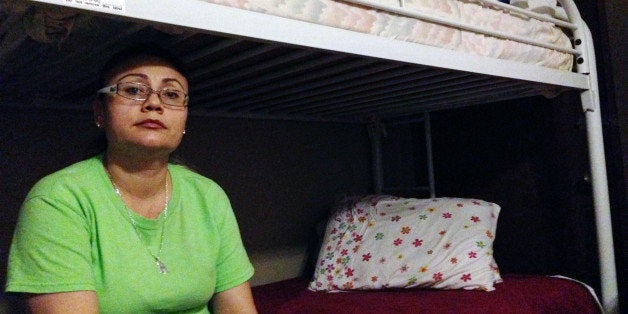 But the final two are still living inside the churches, seeing no other way to avoid being sent back to their native countries, far away from their spouses and children. The religious groups and leaders housing them, along with their family members and undocumented immigrants who were in sanctuary in the past, are now fighting for them to be allowed to stay in the U.S.
"As people of faith, we feel there's no other option but to find a way to do whatever we can to keep families together," Rev. Alison Harrington of Southside Presbyterian Church in Tucson, Arizona, which is housing one of the immigrants, said in an interview.
Harrington was part of a group that met in Washington last week to discuss immigration enforcement with Department of Homeland Security officials and congressional staffers. Representatives from Church World Service and the Mennonite Central Committee also attended, as did two immigrants who were previously in sanctuary but have since received stays of removal. The youngest member of the group was Gerardo Grijalva, Jr., 12, whose mother, Rosa Robles Loreto, is a Mexican immigrant in sanctuary in Harrington's church.
Some undocumented immigrants who face deportation but want to remain in the U.S., often to stay with their families or avoid violence in their native countries, view taking sanctuary in churches as a last resort. Although Immigration and Customs Enforcement is allowed to enter places of worship for deportation purposes, they often avoid raids in sensitive areas such as churches or schools unless there's a dangerous felon or suspected terrorist involved.
The two remaining immigrants in sanctuary are hoping for stays of removal that would end the imminent threat of deportation. Arturo Armando Hernández Garcia, a married father of two from Mexico, has lived in a Denver church since October. Loreto has been living in Harrington's church since August, away from her husband and two sons. They stay with her on weekends and visit during the week, but her son noted that she misses his baseball games and other parts of his life. He said it was nice to know that she is safe, "but hard that she's away from us."
The group urged DHS officials to make sure Immigration and Customs Enforcement agents around the country are actually following priorities put forward by Homeland Security Secretary Jeh Johnson last November, instructing them to focus on deporting people who were a danger to the community.
That prosecutorial discretion is all the more important given the delay of a planned expansion of more formalized relief for some undocumented immigrants, which has been held up in the courts.
"So many people were looking toward being able to apply soon for [the programs], and now that they can't and their status is still in limbo, people are living in fear of deportation," said Rev. Noel Andersen, national grassroots coordinator with Church World Service. "In some cases, like Arturo and like Rosa, the type of prosecutorial discretion that they're promised or even not promised isn't efficient enough."
After receiving a stay of removal, Angela Navarro came with the group to Washington to push for relief for the others. She took sanctuary in Philadelphia last year so she could remain in the U.S. with her husband and two children.
"It's hard not to think of others still living in that situation," Navarro said through a translator.
Calling all HuffPost superfans!
Sign up for membership to become a founding member and help shape HuffPost's next chapter
BEFORE YOU GO
PHOTO GALLERY
11 Ways Immigration Reform Helps The Economy