Several immigrant detainees are decrying the conditions at a remote, privately-run detention center in Lumpkin, Georgia, following a protest that was forcibly suppressed last month.
Four detainees at Stewart Detention Center -- as well as family members and activists who work with immigrant detainees -- have described a facility where people remain locked up for 23 hours at a time, meals consist largely of potatoes served three times daily and punishments, including solitary confinement, are meted out for simply asking questions.
"My understanding is that this is not a prison, this is a detention center," Luis Pineda, who has been locked up at the detention center for four months, told The Huffington Post. "But it's being run like a maximum security jail."
A major protest broke out at the facility in the first week of September, prompting the private prison contractor that runs it, Corrections Corporation of America, to use non-lethal force. This included what detainees and advocates described as rubber bullets or paintballs or some other non-lethal projectile. Authorities confined the detainee population to their cells after breaking up the disturbance and closed the facility to visitors for several days. Several detainees were punished with solitary confinement.
"This is a corporation that has become militarized," Anton Flores, of Georgia Detention Watch, told HuffPost. "Even in the units where no acts of resistance took place there were consequences."
"This is a corporation that has become militarized"
Immigration and Customs Enforcement said in a statement to HuffPost that CCA informed the agency about a disturbance on Sept. 3.
"As a result of the disturbance, CCA implemented lockdown procedures in accordance with an established policy in order to ensure the safety of both detainees and facility employees," the statement said.
The facility was operating normally by Sept. 7 and the ICE Office of Professional Responsibility is investigating the incident, according to the statement.
Neither CCA nor ICE would discuss specific contingency plans or weapons used to contain disturbances, which is confidential information. But the general policy for responding to such emergencies authorizes the use of force, including deadly force, depending on the severity of the disorder. The guidelines also permit putting detainees who have been involved in disturbances into isolation.
The general guidelines note that several factors can increase the likelihood of protests and other disturbances, including "heightened complaints about food," "increasing complaints about recreation," and "inaccurate or incomplete information about detainee cases or facility policies."
Detainees, activists who work with them and officials linked to the facility disagree about how and why the protest started. One detainee told HuffPost that the incident started when a case manager complained about being tired within earshot of another detainee who said that she should go home if she didn't feel well. The case manager responded by threatening to put him in solitary confinement, according to the detainee who said he witnessed the interaction.
"She told him to put his shoes on and he said 'no,' because he knew she was going to take him to the hole," the detainee told HuffPost. Several people then crowded around the detainee who was being threatened with solitary and refused to return to their cells, he said.
Other detainees offered different accounts. Some said the bad quality of the food motivated the protest or pointed to the long periods of time people are forced to stay in detention without being able to appear before a judge.
"From what I heard, they started breaking microwaves and TVs, they wouldn't eat no food," a detainee who was locked up in Stewart Detention Center after the protest told HuffPost. "They feed us with potatoes, morning, afternoon and night every single day. I can't feed my dog with the food they give us. They only give chicken once every two weeks."
An ICE official disputed that conditions or at the detention center motivated the disruption or that the food differs much from that served in other detention centers.
"The disturbance was driven by detainees designated with our highest threat level," the ICE official told HuffPost in an email. "These were detainees who have spent time in state institutions and knew exactly what they were doing and that it would prompt a lockdown."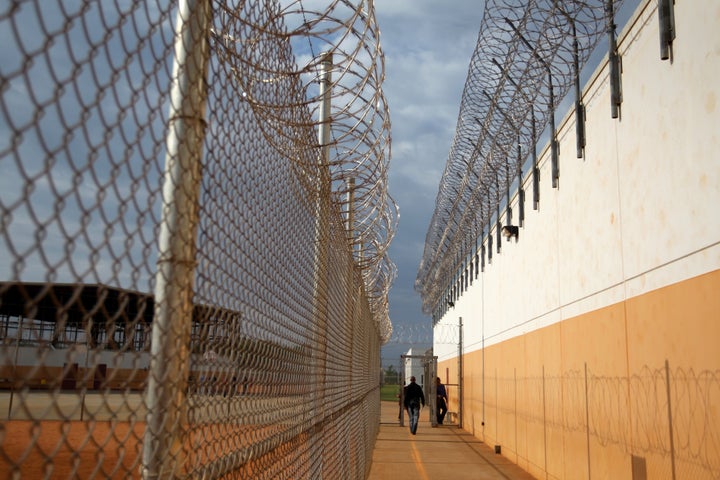 Jonathan Burns, a CCA spokesperson, refused to provide a tally of how many people were placed in solitary confinement as a result of the protest and accused "the media" of "preconceived bias" in a statement to HuffPost.
"Providing a safe, humane and appropriate environment for those entrusted to our care is our top priority," Burns' statement said, "and we work in close coordination with our partners at ICE to ensure the well-being of the detainees at Stewart Detention Center."
Some detainees, however, said the company's guards punished them with solitary confinement over the mere perception of minor insubordination, even if they weren't involved in the protest.
"I didn't get to participate in the protest, but I did get sent to the hole," Abel Mccleesh Martinez said, referring to solitary confinement. "Everybody kind of went crazy. I got sent for not following instructions."
Mccleesh Martinez said he was in isolation for a week.
"I thought it was petty," he added. "Right after I got sent, one after another, just like flies, started coming in. Just for not following directions. There were several others who were sent to the hole for petty things."
All of the detainees who spoke to HuffPost agreed that conditions at Stewart fall short of what they had encountered either at other detention centers.
They all said the bulk of meals consisted of potatoes served three times daily. One detainee said the food was unsanitary and, in one case, contaminated with bugs.
Detainees said the poor quality of the food is a calculated move by CCA to press them into buying food at the commissary, where they said items like cookies and coffee are priced higher than they are in stores.
"The cookies, I see them [for $1] at the dollar general all the time, because me and my wife like to save money so we shop around," one detainee said. "Here they're $4. They're making like 500 percent profit off everyone here. They're getting really filthy rich here off a small commissary for poor people."
The conditions at the center have alarmed some relatives of detainees. Joe Basher, whose wife's cousin is detained at Stewart, told HuffPost he started digging into media reports and talking with activist groups like Detention Watch after hearing his relative's complaints. His concerns rose after he, his wife and his mother-in-law were turned away -- after they had driven for three hours from their Atlanta home -- when they went to visit their detained relative during the lockdown.
"Obviously they [Basher's wife and mother-in-law] were panicked -- they didn't know what possible reason there could be for a security lockdown," Basher said.
Since the protest, detainees said they had seen changes, like being allowed more recreational time. Several detainees also said an outside official had visited the facility. They thought he was a government official and speculated that he might be assessing conditions at the center. But the ICE official said no such visit took place, and that the individual the detainees referred to may have worked for CCA, who refused to comment about whether or not senior officials from the company visited Stewart.
"They caused damage to the facility just to get attention in there," detainee Mccleesh Martinez said. "And it seems like it worked. Things have been getting a little better."
CORRECTION: A previous version of this article stated that Anton Flores is from Detention Watch Network. In fact he is from Georgia Detention Watch.
Popular in the Community