The Tenement Museum's mission calls on us to "enhance appreciation for the waves of immigration that have shaped and continue to shape America's evolving national identity." In the wake of an election that offered a platform to anti-immigrant sentiment and exposed deep divisions in the US, we must acknowledge that not all Americans believe that immigrants should help to shape our national identity. More specifically, while many Americans may be comfortable celebrating how previous waves of European immigrants contributed to the forging of modern American identity, they may shy away from the idea that more recent Asian, South American, Middle Eastern or African immigrants continue to help forge that identity.
Undeniably, the majority of our museum visitors arrive ready to engage with the history of American immigration and consider how it connects to our present. In our tours, we provide space for open conversations, as we do not advocate for specific contemporary policies or politicians. However, as has been noted in some recent press articles, the heat of the election season occasioned a few challenging visitor exchanges, including one sharply worded complaint that a tour guide spoke "broken English," and did so with a strong accent.
This type of complaint serves a useful purpose, for it helps us to reconnect to our mission statement and allows us to respond through stories—not soundbites, lectures, or sermons—to reveal real, ordinary people in all of their complexities. What would a visitor who lauds immigrants "back then" for learning English think if she walked through the tenement hearing German voices in the 1870s, Yiddish words in the 1900s, or the Italian language in the 1920s? In 1900, immigrant Jennie Levine had three children under the age of eight and shared her 325-square-foot apartment with her husband's garment shop and its workers. The 1900 census tells us she did not speak English (indeed, only half the building's residents did). Standing today in her recreated apartment, our visitors quickly grasp that Jennie would not have had the time for English classes, nor room to study. We can imagine her at her coal stove, boiling water for laundry while her eldest daughter, Pauline, helps her younger siblings with their homework. Did Jennie feel pride? Difficulty? Perhaps both?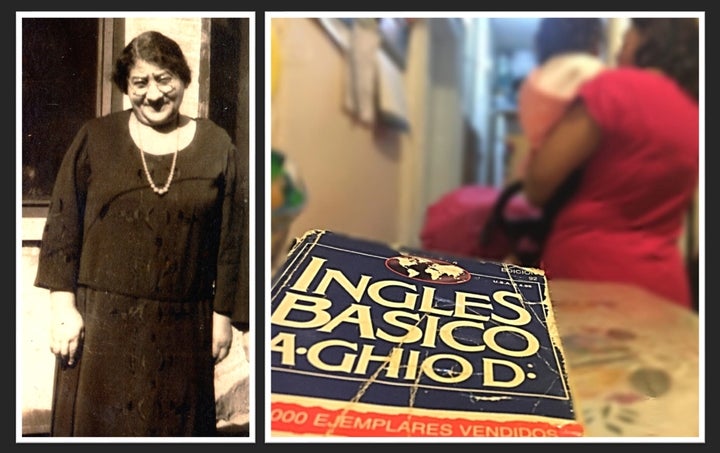 Inevitably, visitors draw comparisons to the present, and we recently have enhanced these discussions by adding stories written by contemporary immigrants and their children (collected through our Your Story Our Story website). In the Levine kitchen, for example, an educator might show an image uploaded by Jefferson, a high school student, which shows an Ingles Basico textbook, overshadowed by a stroller. Jefferson explains how his mother wants desperately to learn English, "everywhere she goes—schools, hospitals, work, subway, she feels voiceless." She began to study the textbook, but after Jefferson's sister was born, "she gives all the time from the busy evenings to her daughter…My Mom keeps pushing her heavy stroller…." This story helps us view Jefferson's mother as a modern-day Jennie Levine, underlining how across time and space, immigrant parents often sacrifice their own opportunities in order to care for their children.
Jennie's story might offer hope to Jefferson, for the 1910 census tells us she later learned English; in turn, we see how language acquisition is an evolving process for immigrants then and now. Students have posted dozens of photos of foreign language dictionaries and whether translating to English from Chinese, Korean, Russian, or Spanish, they all testify to the way immigrant parents studied English as they worked and raised children. Theresa Chen, writing about her father's Chinese-English dictionary, reflected: "Now, this dictionary sits on our bookshelf not only as a symbol of pride for my dad, who can speak relatively fluent English, but also a reminder of the struggles that a language barrier can pose for all immigrants, even today."
These stories help us confront misconceptions about immigrants past and present, and underline connections, both between past and present and those among us today. If you are an immigrant or the children of immigrants, your stories help us to trace common threads across cultures, and realize how we all adapt old rituals to new environments. If you are the grandchildren or great grandchildren of immigrants or migrants, we realize memories may have faded somewhat, but we urge you to contribute your stories and uncover their complexities. When my daughter submitted the story of my first American ancestor, my great grandmother, we focused on a pair of Sabbath candlesticks brought over from the Ukraine in 1906. But recently, as I tried to enhance the scope of my great grandmother's story, I uploaded a drawing of a bathtub. This bathtub lets me share another aspect of her life: during Prohibition, she made bathtub gin to help support her seven children. She, like Jennie Levine and perhaps the woman with the stroller, always felt more comfortable in her native language. Nevertheless, she gave everything she had so that her children could achieve their own versions of the American dream.
We can't resolve today's political debates solely by sharing our family histories with each other, but we owe it to the past residents of 97 Orchard Street to examine their lives not with romanticism, but honesty. By the same standard, we owe it to today's immigrants, their modern-day counterparts, to think of them as real people, not stereotypes. The selflessness and drive of these individuals to sacrifice all that is familiar in order to build better lives for their children will continue to contribute to the character of our shared national identity. Their stories, and your stories, are our American story.
Related
Popular in the Community