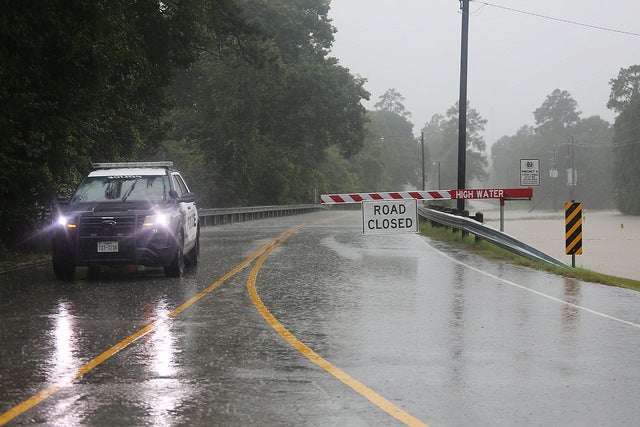 Houston is currently dealing with the catastrophic effects from Hurricane Harvey. The statistics regarding the storm are staggering, with an unimaginable figure of 27 trillion gallons of water dumped over Texas and Louisiana over the course of more than two days. Thirty-five people have so far been confirmed dead, 35,000 others have been forced out of their homes, and 225,000 customers lost power.
While this storm has hit all residents of Texas hard, for the estimated 600,000 undocumented immigrants who live in Houston, conditions are especially harsh, especially as the state has actively contributed to the anti-immigrant hysteria that the Trump administration has unleashed.
Earlier this year, Texas Governor Greg Abbott signed SB4, one of the most punitive laws ever seen in this country against sanctuary cities. The bill would allow police officers to ask residents about their immigration status and would grant authority to suspend or remove elected officials from office for non-compliance.
Fortunately, the racist SB4 law that Gov. Abbott signed was blocked two days before it was set to go into effect.
U.S. District Judge Orlando Garcia said, "There is overwhelming evidence by local officials, including local law enforcement, that SB 4 will erode public trust and make many communities and neighborhoods less safe, there is also ample evidence that localities will suffer adverse economic consequences which, in turn, harm the State of Texas."
Now the Deferred Action for Childhood Arrivals (DACA) program that gave a work permit and legal status to 800,000 undocumented youth is at risk due to the threat of a lawsuit from 10 state Attorneys General, led by none other than the Texas Attorney General Ken Paxton.
Now those same undocumented immigrants who have been living with anxiety and fear because of Donald Trump's and the state of Texas' anti-immigrant policies are especially vulnerable after the catastrophe they are enduring in the wake of Hurricane Harvey.
Even as people prepared to evacuate as Hurricane Harvey barreled toward Texas, U.S. border patrol released a statement saying that the agency was not planning to close roadside immigration checkpoints north of the Rio Grande Valley.
"Border Patrol checkpoints will not be closed unless there is a danger to the safety of the traveling public and our agents. Border Patrol resources, including personnel and transportation, will be deployed as needed to augment the efforts and capabilities of local-response authorities," the agency said in a statement.
The American Civil Liberties Union of Texas criticized the agency for this regrettable decision.
"Safety should be a priority regardless of immigration status," said ACLU policy strategist Astrid Dominguez. "This is very concerning for the community. It sends a wrong message."
While Border Patrol and Immigration and Customs Enforcement (ICE) released a statement clarifying that routine enforcement would not be conducted at shelters or food banks, the anti-immigrant climate that has been fomented in Texas has led many to distrust the authorities.
There are reports that people are avoiding shelters in Houston due to the presence of Border Patrol agents and Border Patrol boats on flooded streets has caused panic in the community.
These are the consequences of scapegoating an entire community of people for cheap political gain. People are putting their lives at risk at a time when they need services most. This in turn makes the job of rescue and law enforcement agencies harder because people are justifiable afraid to seek help.
The people of Texas need to focus on rebuilding in the aftermath of Hurricane Harvey. Criminalizing and persecuting immigrants will only sow distrust between the authorities and the community, making the healing process all that much harder.
Thomas Kennedy is a communications fellow for the Center for Community Change.
Popular in the Community