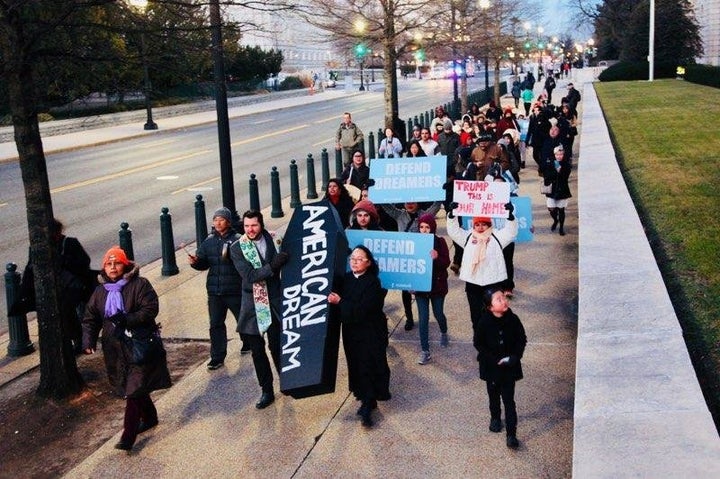 Activists took to the streets of Washington, D.C., this Tuesday to protest the immigration deal President Donald Trump revealed in January.
Immigration advocates from several organizations, including the National Korean American Service & Education Consortium (NAKASEC), the Korean Resource Center and the Central American Solidarity Association, as well as several Dreamers, held a funeral procession for the "American Dream" on Capitol Hill after Trump unveiled a plan that would provide a pathway to citizenship for Dreamers while harming other immigrants.
"With this funeral procession, we are seeking to stress the urgency of passing a clean DREAM Act now," Sam Yu of NAKASEC told HuffPost in an email, calling on Congress to pass a plan without measures that would put other immigrants in jeopardy. "For so many folks in our communities, these matters are life and death; with this funeral procession, we are hoping that our legislators will understand that too."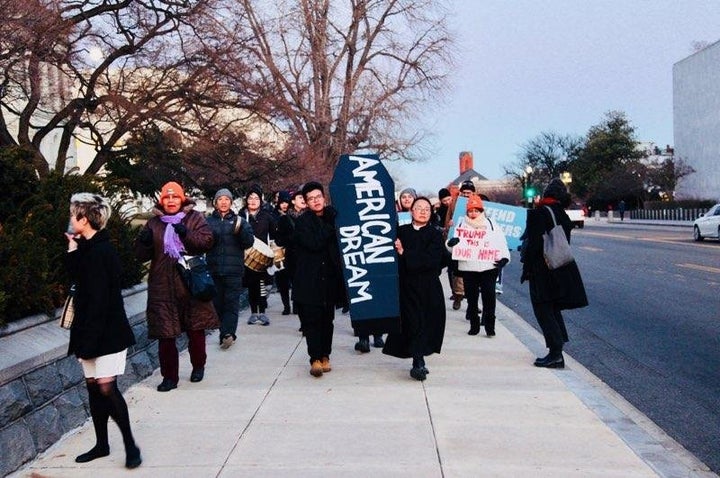 Dozens of protesters marched around Capitol Hill, holding a coffin with "American Dream" written on the lid, ahead of Trump's State of the Union address. That evening, Rep. Judy Chu (D-Calif.) brought NAKASEC's Jung Bin Cho, who is a DACA recipient, to the event as a guest. 
Yu noted that Trump's plan disproportionately targets communities of color. The plan includes steep border-security increases and an end to the diversity visa lottery program. It also calls for the end of what Trump calls "chain migration," a term immigration restrictionists use to describe allowing immigrants to sponsor their family members to join them in the U.S. Immigration activists have long rejected the term, using "family reunification" instead. 
The diversity lottery primarily affects immigrants from Eastern Europe and Africa, including those from some of the areas the president reportedly called "shithole countries" in a meeting last month. And the vast majority of Asian immigrants come to the U.S. through the family-based immigration system, reports show.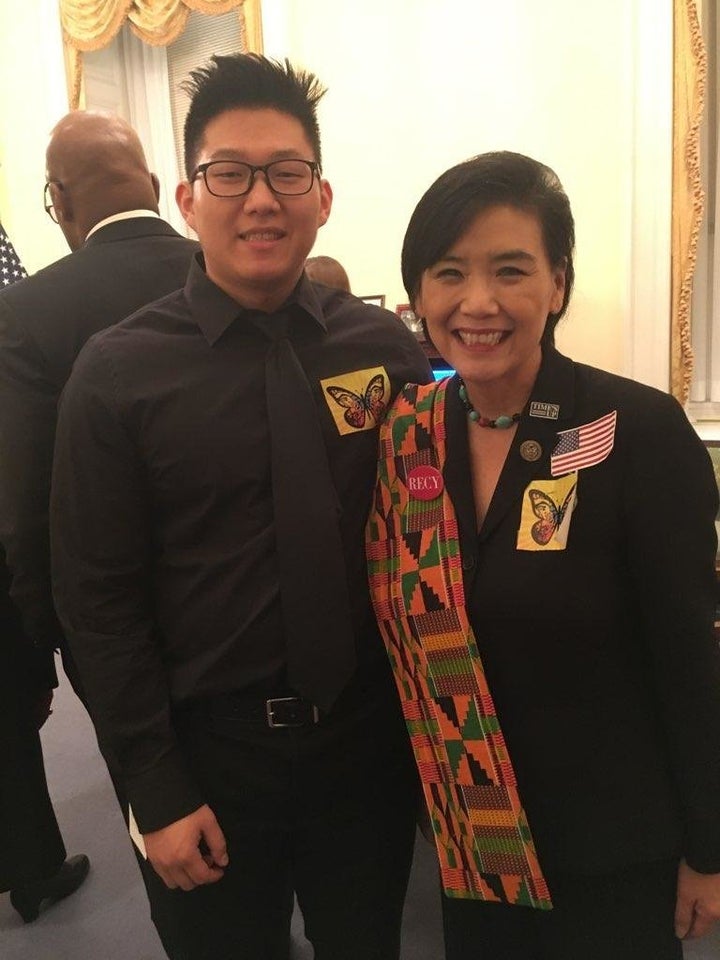 "This pillar in Trump's plan makes it clear that he is trying to make America White Again by excluding non-European folks from the country," Yu said. 
However, Yu believes it's important to continue pushing for a proper solution for Dreamers. 
"I am absolutely confident that our communities will continue to stand strong in the face of these constant anti-immigrant, racist attacks. But, it is difficult to say whether or not immigration policy will change because that is up to the lawmakers," he told HuffPost. "I propose that lawmakers should not only listen, but also internalize the stories that undocumented youth are sharing, have already shared, and will continue sharing until a permanent solution for all their communities is reached." 
REAL LIFE. REAL NEWS. REAL VOICES.
Help us tell more of the stories that matter from voices that too often remain unheard.