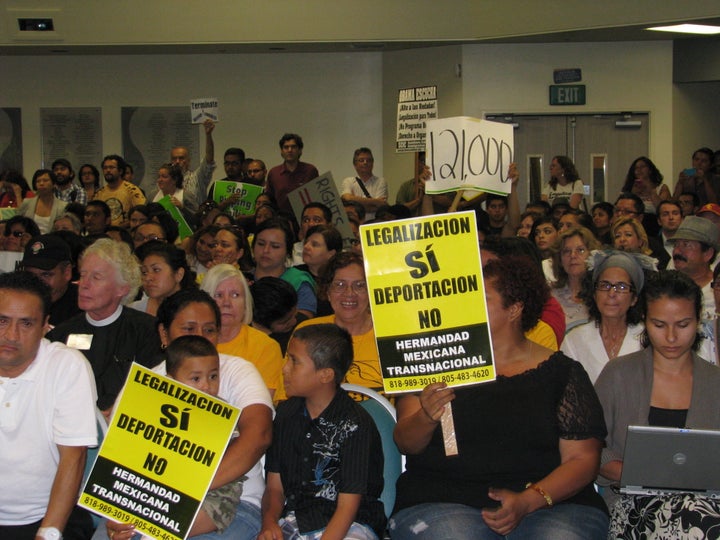 LOS ANGELES -- On Thursday, the Obama administration announced the Department of Homeland Security would begin a case-by-case review of 300,000 deportation cases, advising that undocumented immigrants who did not have criminal records would be able to remain indefinitely in the United States and apply for work permits.
This decision was welcomed by immigration reform advocates who have been actively opposed to the implementation of the Secure Communities program, which they indicated was responsible for the unintended round-up and deportation of thousands of non-criminal immigrants, forcibly separating many families and adding further financial hardship to these mostly poor immigrants.
DEMANDING CHANGE
Blanca Perez, Isaura Garcia and Adam Espinoza all have one thing in common: They say they have suffered abuse at the hands of police as a result of the federal government's Secure Communities immigration enforcement program.
With support from immigrant advocacy organizations, the three alleged victims called this week for the disbandment of the Secure Communities program and the resignation of 22 members of the program's Homeland Security Advisory Council, which includes law enforcement authorities, advocates and scholars.
"Obama, where are your promises?" Espinoza asked during a hearing on Monday with federal advisers to the Department of Homeland Security at St. Anne's Residential Facility in Los Angeles. "Take away this [Secure Communities] monster and return the favor Latinos did for you so that you could become president."
After recent hearings in Dallas and Los Angeles, HSAC advisers will next meet with community leaders and those who say they are victims of the Secure Communities program in Chicago, Boston and Arlington, Va.
The task force members will submit their recommendations to the Obama administration on how best to focus the Secure Communities program on individuals who pose a true public safety or national security threat.
The administration says the goal of the Secure Communities program is to use "limited resources" in undertaking the search, arrest, imprisonment and deportation of criminals. In practice, any undocumented person who is fingerprinted while in police custody, including victims of crimes, is transferred to immigration authorities.
The program is active in 1,508 jurisdictions in 44 states -- in areas where three-fourths of all immigrants reside, according to the Coalition for Humane Immigrant Rights (CHIRLA). Immigration and Customs Enforcement, an agency under the Department of Homeland Security, plans to integrate 488 additional jurisdictions by the end of 2011, with a complete national expansion in 2013.
Arturo Venegas Jr., a retired chief of the Sacramento Police Department, and one of the members of HSAC being asked to resign, acknowledged on Monday that Latinos are facing extreme hurdles when it comes to immigration.
"The immigration problem in this country has a Latino face; I will put mine out there for those who don't have a voice when I see all the stupidities of the [Secure Communities] program," said Venegas Jr. "It's easy for them [the protesters] to tell me to quit, but I'm also an immigrant. I was born in Jalisco; I am a Vietnam War veteran, and those [of us] from Jalisco don't crack."
THE PRICE OF DEPORTATION
Before Monday's hearing with HSAC members, activists held a protest in front of the emblematic mural of the Virgin de Guadalupe in Olvera Plaza in downtown Los Angeles. A coalition of immigrant-rights activists wearing T-shirts and holding posters -- emblazoned with the words "Who would Jesus deport?" and "I am undocumented" -- denounced the Secure Communities program.
Immigrant-rights advocates, as well as faith-based, civil and human rights organizations said that since 2008, the now-mandatory program has resulted in the deportation of 47,000 people from California alone.
"Our message is of total repudiation of S-Comm," said Angelica Salas, executive director of CHIRLA of Los Angeles during her presentation to the federal task force. "Secure Communities is a fiasco that needs to end immediately," she added.
But authorities are fighting to keep the program in place.
"We have much to do," Gary Mead, director of Enforcement and Removal Operations for ICE, told AOL Latino after the hearing. "But the program will not go away."
Protesters argued the program has been in place since 2008 "under an assumed identity, and has been applied with the intention of deceiving the American public," said Chris Newman, legal counselor of the National Day Laborer Organizing Network. The program was originally classified as voluntary and DHS gave local communities the choice to "opt out." However, when Illinois and New York announced in May and June that they would no longer participate in the program, DHS said it would still require the states to share fingerprints with immigration enforcement officials.
At the end of the hearing in Los Angeles, Mead told AOL Latino that ICE's Enforcement and Removal Operations plans to deport 400,000 people this year. "We're going to focus more on the criminals," Mead said. "There is no quota [for deportations], but with the resources we have, we're going after the true criminals and fugitives of ICE."
Mead added that in fiscal year 2010, 390,000 people were deported, of which 195,000 (51 percent) were criminals. In 2009, there were 360,000 deportations, of which 160,000 (44 percent) were criminals.
Hector Villagra, executive director of the American Civil Liberties Union of Southern California, said the program is a threat to public safety because it undermines civil liberties and leads to the deportation of people charged with minor offenses who do not have a criminal record.
"This fatally flawed program should disappear. It eviscerates the trust between local police and the immigrant communities," Villagra said. "The federal government has no business arming states and municipalities to accept a program that undermines public safety and foments racial discrimination."
Others assured immigrants that they do not have to fear the Secure Communities program. Jose Perez Jr., LAPD Deputy Chief, told AOL Latino that Special Order 40, which has prohibited LAPD officers from carrying out federal immigration business since 1979, will not change.
"The community can sleep in peace," Perez said. "We have far too much work to worry about to be doing more that doesn't even correspond to us."
A TERRIFIED COMMUNITY
Those like Blanca Perez (who used a fictitious name), Isaura Garcia and Adam Espinoza said they are calling for the end of the Secure Communities program because ICE agents not only arrest alleged criminals, but also detain those who do not have legal documentation -- despite having clean criminal records -- resulting in deportations and the traumatic separation of thousands of families.
Perez, 38 and a mother of three, said that on Feb. 7 she was detained, handcuffed and subjected to the deportation process for selling ice cream outside a school in Van Nuys, a neighborhood in Los Angeles. She said she was detained because she did not have a vendor license to sell ice cream in public.
Perez added that she was separated from her 9-month-old baby for 10 weeks -- first confined to a detention center in Los Angeles County, then transported to a detention center in Lynwood, then taken to a jail in the city of Santa Ana and finally sent back to Los Angeles.
Upon her release, Perez said she was forced to wear an ankle monitor and that a judge put her on probation for a year.
"Having been separated from my baby, I thought I would die in jail, and I even contemplated suicide," Perez said. "The Secure Communities program is provoking a lot of terror."
On March 26, Garcia, 20, said she had an argument with her boyfriend, who wanted to take her son to Mexico without permission. She said she was arrested for calling police and not speaking perfect English.
Her boyfriend pushed her, and she scratched him back, she said. Fearing for her safety, she worked up the courage to call for help and dialed 911. When police saw the scratch on her boyfriend, they removed the handcuffs they had placed on him and put them on her instead, she said.
Garcia said she was detained for one week before her release, without receiving the threatened felony charges, but that she, too, was placed under electronic surveillance and forced to wear an ankle monitor for one month.
"Without justification I spent seven days in jail; had I known I would be treated this way by police, I would've never called," Garcia told AOL Latino. "Instead of helping me, they processed me for deportation."
"At the time, the police immediately decided that I was guilty, saying that I was trying to entrap my boyfriend, but they never even wanted to see the bruises I had all over my body," Garcia recalled. "If I would've known about this program [Secure Communities], of the collaboration between police and immigration officers, I would have never asked for help."
The LAPD later dropped the felony charge, but Garcia was still transferred by immigration authorities within four days and placed in deportation proceedings.
"I don't know the details of this case," LAPD Deputy Chief Jose Perez said. "But her testimony sounds sincere."
Joseph Huprich, Garcia's pro bono attorney, told AOL Latino that Garcia has received police approval for a U visa reserved for immigrant crime victims, which will next be presented to federal immigration officials.
Espinoza, 43, said he faced a similar situation to that of Perez -- he said he sold ice cream on the streets of Huntington Park, Calif., and that police detained him and put him on "hold" for deportation proceedings.
Police Capt. Randy Davis of the South Gate Police Department was not available until next week to comment on what city codes Espinoza violated and what the motives were behind his detention.
Espinoza said he was taken to the ICE offices in Los Angeles, where officers asked him to sign a voluntary departure form from the United States.
"They shouted and tried to intimidate me, but I didn't sign any document," Espinoza said. "I didn't hurt anyone. I'm not a criminal."
Marielena Hincapie, executive director of the National Association of Immigration Lawyers of Los Angeles, said "the solution is simple: The Obama administration needs to end this program today."
REAL LIFE. REAL NEWS. REAL VOICES.
Help us tell more of the stories that matter from voices that too often remain unheard.