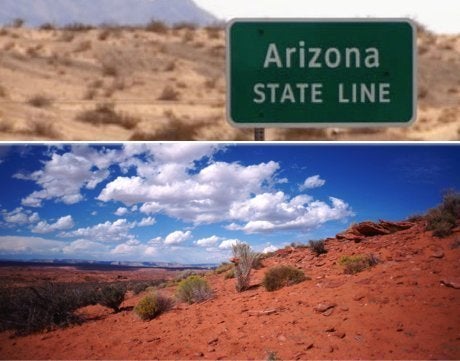 After drafting Arizona's controversial new immigration law SB1070 last year, Arizona state Senate President Russell Pearce held the spotlight and became the anti-immigration poster boy in Arizona and across the nation. One year later, Pearce is on the verge of being recalled, and his pet legislation, SB1070, has been neutered by a federal court and is on its way to the U.S. Supreme Court.
In April, a three-judge panel of the 9th U.S. Circuit Court of Appeals upheld a lower court's injunction against the most controversial parts of SB1070. Monday, Arizona Governor Jan Brewer announced the state of Arizona is appealing directly to the U.S. Supreme Court.
Meanwhile, nonpartisan group Citizens for a Better Arizona, co-chaired by a Republican and a Democrat, say they are on track to meet the May 31st deadline to submit the 7,756 signatures required for a recall election.
A Republican group, Arizonans for a Better Government had also been collecting recall petition signatures separately but shifted their focus to recruiting and grooming potential Republican candidates to challenge Pearce in the recall after it became clear that the nonpartisan group would meet the signature requirements.
Voters in Arizona's 18th legislative district say it's not just SB1070 that has motivated them to sign the recall petitions. In fact, some of the recall supporters I've spoken with also support immigration crackdowns. Most either feel SB1070 goes too far, or they are angry about other legislation Pearce has sponsored.
Although most of the enthusiasm comes from the Democratic side, many recall supporters are Independents and Republicans. Among them, "Russell Pearce is too extreme," is a common refrain.
I thought [Pearce] would be the answer to [immigration] problems, but now he wants to let people bring guns into our schools, and they gave money to businesses to build more houses. I'm stuck in mine. I can't get out from under it, and this guy wants to build more. I know I sound bitter, but this house is my life," said a longtime Mesa Republican who asked not to be named. He shook his head, adding, "I don't know the answer. It's not Russell, but I never voted for any Democrat either.
Business groups have stayed out of the recall fray but have worked hard to neuter Pearce at the capitol. According to the Yellow Sheet, a publication that monitors insider information at the Arizona capitol,
The passage of strict illegal immigration enforcement measures like employer sanctions and S1070 has led some to question the extent of the Arizona business community's clout at the Capitol. But the results of this year's session should put any doubts to rest: Big business remains powerful. Exhibit A is the death of five controversial immigration bills, which included legislation that backers hoped would prompt the U.S. Supreme Court to revisit the issue of citizenship. In addition to intense lobbying from chambers of commerce, CEOs of some of the biggest companies in Arizona put their foot down....
Brewer recently issued surprise vetoes on some of Pearce's pet legislation, including a birther bill, a bill that would have allowed guns on college campuses, and a bill challenging federal healthcare law. Brewer didn't hold back in her veto responses, saying the birthed bill failed "to do anything constructive for Arizona" and calling the gun bill too "poorly written" to become law.
Pearce has also come under fire recently for taking illegal trips paid for by the Fiesta Bowl. He and his wife traveled to Chicago and Boston courtesy of the Fiesta Bowl, even staying at the upscale Ritz-Carlton.
In past years, Pearce was criticized for his associations with self-proclaimed neo-Nazi J.T. Ready and for forwarding white supremest clippings via email.
Citizens for a Better Arizona also announced on Facebook that they have registered more than 1,000 new voters within the district. Most, they say, registered to vote in order to support the recall effort.
Popular in the Community